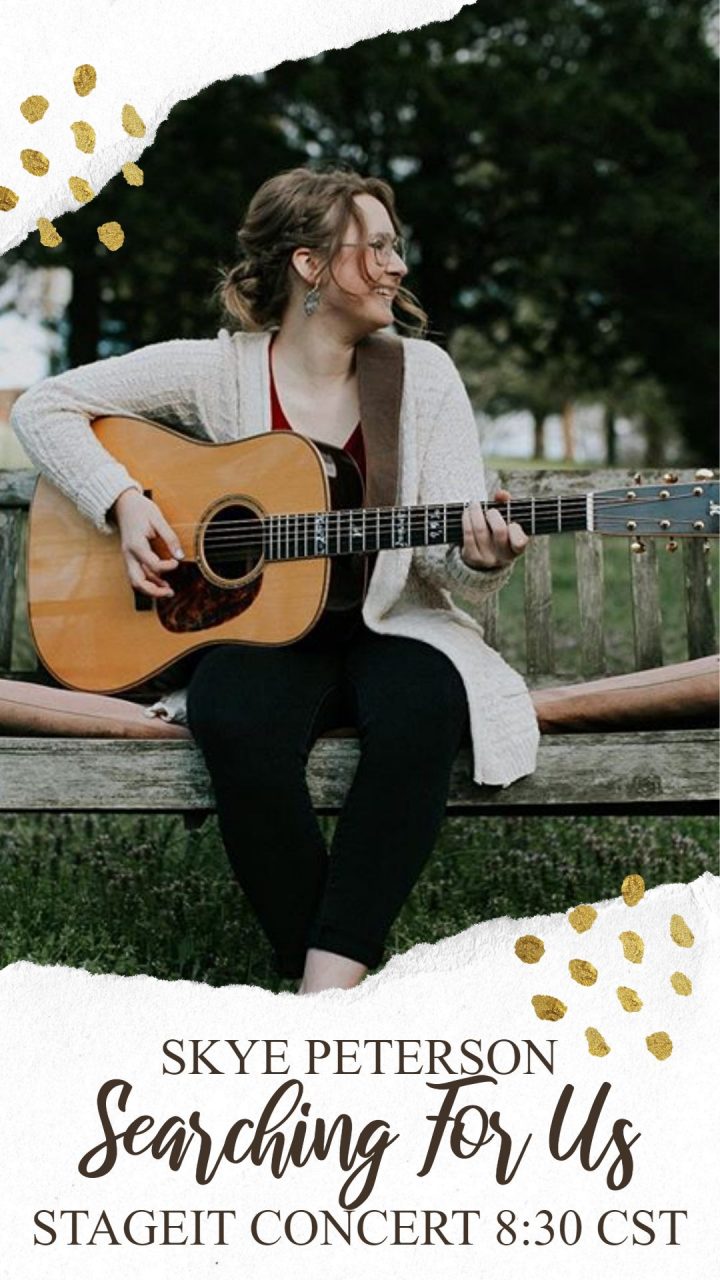 Skye Peterson is definitely someone Rebelutionaries should know about. She's been making music since she was a child and writing music seriously since she was a young teen. Now, she's seventeen and just released her second EP record.
The daughter of long-time recording artist and fantasy author, Andrew Peterson, Skye was planning to tour with her dad to sing the songs from her record but COVID-19 and quarantines disrupted those plans.
Tonight (Saturday, March 28), her and her family are putting on a release show on Stageit.
She agreed to sit down and chat over Zoom about her record, how the gospel influenced her writing, and the process of making a record.

Chris Witmer: For those who might not know who you are, how would you describe yourself to them when they ask "Who is Skye Peterson?" What would you say and what would you want them to know?
Skye Peterson: Yeah, so I'm 17. I'm a singer-songwriter. I've been writing music for the past couple years but my goal is to be honest through my music and hopefully bless people by sharing my story and what Jesus has done through it.
Chris: You said you've been playing music for a couple of years? How long have you been writing and recording music.
Skye: Yeah, I put out an EP when I was 14 called "Tell Me Again." I feel like my music has–hopefully!–grown since then. When I was 13, I started really trying to write and grow and learn and that's when I discovered people like Sara Groves and Rich Mullins and Sandra McCracken and was really influenced by their music. My dad's a singer-songwriter too, so ever since I was little, I've kind of had music in the house. It was always around. It almost seemed like a normal part of my life. I learned to love it and express what was going on in my heart through that probably around age 13 or 14.
Chris: What inspires you or makes you want to write music, especially regarding this EP? What inspired you as you were writing this one?
Skye: So I went on tour with my dad last spring. And unfortunately this spring I was going to go with him again but that got cancelled due to the virus, which is a huge bummer. It was the "Resurrection Letters Tour" so we did seventeen shows just singing about the Gospel.
I think people experience Jesus in different ways. And in my life and my story I feel like Jesus has become almost like a friend more than like a God. I feel like I have a very personal relationship with him. So, in that time where I was singing my dads music over and over again for seventeen shows straight and just being reminded and overcome with the love of Jesus, I almost felt like I wanted to step out of singing someone else's songs about it and kind of talk about my own story. Which, it feels different than the first EP that I did because I feel like those songs were very inward focused and my goal with this album was to make it upward and not just about my own struggles but how my struggles point me to Jesus.
As sad as it is that the "Resurrection Letter's Tour" was cancelled and everything, I'm so thankful that it is coming out right now because not only is it falling in line with the Easter season but it's also falling in line with spring. I've been in the garden the past couple days with my dad and just seeing the way God timed the Easter season was that we're watching flowers bloom as the resurrection is happening. I just think it's a beautiful picture. So I'm so grateful this might shed a light.
Chris: Tell us a little bit about it. Walk us through some of the songs. Let's say you're stranded on a desert island and have no way to play music, how would you describe it somebody?
Skye: So it's an Easter record. There's a one-minute track at the end that's called "Stay" and it describes the whole record. It uses the music from a previous song called "Guessing Games," but it has a chant from a song called "Searching for Us" which is the title track. In the song "Searching for Us" it has a chant at the end of the song that says "Through valleys of death, Through rivers of blood, Through deserts of grief, He's searching for us." And so that was kind of all wrapped in this last instrumental track. My goal with that was just to summarize the whole EP.
The first song called "Sandcastles" is about creativity and what it means to give your art to the Lord and offer your gifts. It's the idea that Jesus is searching for us through beauty and art. And then the third track is called "Come to Me" and it's how Jesus is search for us through my insecurities and my struggles and my self-loathing. And the fifth song describes what it means to feel distant from the Lord–not feeling that nearness. It's about how Jesus is searching for us through that. And the [fourth] track is called "As I Am" and it's about how Jesus is searching for us through our sin and our unworthiness. So that's kind of the reason why I chose searching for us to be the title of the album because Jesus is always pursuing us. And it's not about feeling guilty like "Oh, I'm not worthy of being pursued." My goal is to express how wonderful it is that we have God, the Creator of the whole universe like, singling us out.
And it talks about in Ezekiel–which is where the song "Searching for Us" comes from–how Jesus will seek out the lost and bring back the lonely. Whenever I read that, I was like "Oh my gosh. Is this actually true? Can the Gospel actually be this good?" So that's kind of where the whole record comes from. It's my gratitude for how good the Gospel is.
Chris: So what was the process of writing and recording the EP like?
Skye: So Asher Peterson, my brother, is a fantastic producer–super talented. I asked him to record "Searching for Us." That was way back in September and we just recorded the one song. Probably spent one week on it. I had already written that song so it went by pretty quickly to just record guitar, record piano, and then from there it was all up to him. I didn't even know I was gonna release an EP until probably December when I was talking to Asher and I was like "I feel like I have enough songs to maybe put something out into the world." Asher had two weeks free in February and I was like "Alright, let's put that on the calendar and do as much as we can." And we just kind of knocked it out.
The third song on the record, "Come to Me" we recorded first and I felt awful about it. I really didn't think it was coming together at all and asked him if we could just not do that song (after we had spent two whole days on it). It's funny cause that's like one of the only songs on the EP that talks a lot about me and my heart. It's from the perspective of God, but it's pretty obviously talking about my own struggles and insecurities. I almost feel like the fact that I didn't want to do that song made me want to do it more.
It's a scary thing to put your heart out there, you know? We ended up putting that one on the record and I'm honestly so thankful for it. I pray that people will be ministered by honesty. I think that's often what blesses people most is just being honest with things like that. We recorded it all in I think only three weeks. And then Asher did his thing and then sent it to the mixers.
Chris: Was there ever a moment in recording or writing the music or in pursuing your career as a musician that you felt like giving up or felt like "Ah, this isn't worth it"?
Skye: Oh my gosh, yes. So many times. I've been taking music seriously for probably two years maybe three years. And it's so exhausting. I mean like, I'm at the easiest part right now, and it's emotionally draining. My family and I had a listening party last night and listened to the whole record start to finish. And I feel like I'm not going to listen to it for like the next year. Just because, like I said earlier, it's a scary thing to express yourself. It also feels like a part of me at this point and it's just kind of scary.
I think when you're doing things for the Lord, that's when the enemy takes you out most. When he knows you're doing things that are glorifying God, that's when he's like "I have to find a way to get to her." I feel like that's been so evident in my life. I feel when people are most ministered by my work is when I feel the most discouraged. It's weird because it doesn't seem like that would be the case, but it really is discouraging sometimes when it feels like I try really hard and then I'll look on Instagram and get only 5 follows instead of 6. The devil can really just grab a hold of the little things that you don't even know that you're holding on to. So something that I've had to really learn is to fight back against those voices.
Even with this release, last night was hard for me because I put these high expectations on myself and I know that it's not going to be as satisfying as it seems like it should be. This morning when I woke up, I had to just tell myself I'm going to post this one thing and then I'm going to try and not look at my phone today. Because no matter how many things I get on social media, it's never going to be enough. I could get all the followers in the world and I could still be like, but "Why isn't this person following me?" It's just this mental game that is exhausting. I think when things like that happen it makes me want to push back on it more. When there's resistance it makes me want to just shove it in the devils face and be like, "No this is what I'm called to do." The fact that it's hard makes me want to do it more.
Chris: What would you say to any young person who is in that spot right now who is feeling weary or feeling like they've given a lot and they're feeling discouraged or feeling like giving up–whether that's in music or writing or whatever it is that they're pursuing in life?
Skye: I would say to keep going! 1 Timothy tells us that we're not supposed to neglect the gift that we have. "Sandcastles" kind of describes this. I've heard a pastor ask the question "Are sandcastles worth being built?" If these sandcastles are our expression of creativity, like a wave is about to come and knock it down and nobody is probably going to see this creation. Or if you're–I don't know–a cook or whatever, there are little jobs most people probably won't see. But we're always called to give our giftings to the Lord. Even if our specific gifting is different, we're always called to give it.
Madeleine L'Engle talks about how all art runs into a giant ocean. It doesn't matter if it's a river or a trickle or just a couple drops. Either way, as long as you're contributing to this ocean of art, then God will be glorified. So, keep going and keep giving those gifts! Even if you're not Mozart or Beethoven. Keep giving. That's all we're called to do and all these things will come after that.
Chris: So do you have a favorite song from the EP or is that like choosing favorite children?
Skye: It might be. But I honestly just really like the last track. I'm really proud of it. And Asher did such a good job with it. Yeah, there are a couple songs that are just closer to my heart than others. The Guessing Games song I wrote from an experience I had in Peru. I've been on a couple missions trips. Guessing Games was written for my friend Lanie who came to know Jesus on the mission trip. Which was interesting because she was going there to serve and she ended up not being a Christian and becoming a Christian while she was there. Which is crazy how God can turn a life around like that.
Yeah, I think that's something every single person in the universe has related to. God can feel so distant sometimes. And that's what makes faith hard is that distance is required for faith sometimes. The chorus of the song says "Just remember trusting in something you can't see is faith." We can't have faith if we're not trusting in something. That song just feels really close to my heart. I lived in Africa last summer for two months and have been through that feeling of "Is God really there?" and if God isn't there then what am I doing and why am i serving? To hear that song, even if no one else is blessed by it or hears that song, I'm glad that I wrote it for my own sake to remind myself that he is right here and he is closer than the air that we breathe. Even if we can't feel it, that's what faith is. So, I think that would be my favorite song.
You can catch Skye tonight at 8:30 central time on Stageit or begin streaming the EP on iTunes or Spotify.
---