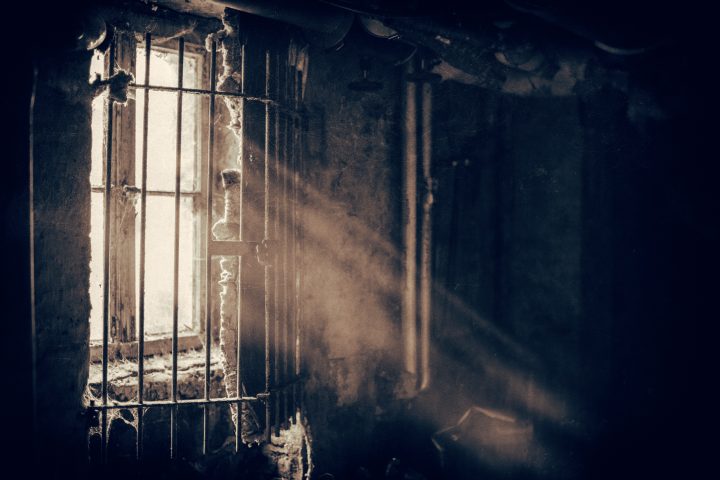 As I've been dealing with social distancing, canceled events, and the overarching fear and uncertainty engulfing our world, I've been thinking about Dietrich Bonhoeffer and the final two years of his life, which he spent in prison for suspected political resistance against the Nazi regime.
While our circumstances and Bonhoeffer's are very different, I believe there's much we can learn from how he dealt with them.
Bonhoeffer's Life In Prison
For the first eighteen months after his arrest in April 1943, Bonhoeffer was imprisoned in Berlin's Tegel Prison. Though he could receive letters and packages, he was permitted to write to his parents only once every ten days. Thus, any messages he wished to pass to his fiancee Maria, to whom he'd recently become engaged, had to be included in the family letter. For several months, he was denied all visitors. Finally, in early June, his parents were permitted to visit and a few weeks later he was allowed to see Maria. Soon after, he was granted permission to send one letter every four days, and he alternated between writing to his parents and to Maria.
During his imprisonment, he missed out on attending the wedding of his close friend Eberhard Bethge and niece Renate. He was only a few miles away, yet his inability to share in this much-anticipated celebration tested Dietrich's determination to remain in good spirits. Since he couldn't preach at their wedding, he wrote the young couple a special sermon, which became a classic and is still read at weddings and anniversaries today.
Dietrich was still in prison when, less than a year later, Renate gave birth to a baby boy—Dietrich's godson and namesake. He spent Easter and Christmas in prison twice, and wrote with longing about how much he would like to hear a good sermon and meet with other believers in church.
For the most part, his days were spent alone. He organized his time, dividing it between reading, writing letters, working on various writing projects, and exercising, both in his cell and for a half hour every day in the prison courtyard. He filled pages of correspondence to his friend Eberhard, which were smuggled out of the prison and mailed by a guard. Some of Bonhoeffer's most profound and well-loved writings were penned in the isolation of prison. Previously, Bonhoeffer had written theological works and essays. In prison, along with continuing to work on theology, he tried his hand at fiction and poetry. His poem, Who Am I?, is one of the most poignant and moving works I've ever read.
Eventually, Bonhoeffer was permitted to visit the prison sick bay and listen to the radio, as well as spend time with the prisoners and guards there. He actually found himself so busy that he wrote he had to be careful how he managed his days, otherwise he wouldn't have enough time to accomplish everything he needed to do!
Meanwhile, his family was dealing with the stress of air-raids, food shortages, and the war. The well-being of his loved ones, especially his elderly parents, was a source of anxiety for Dietrich as he was unable to help them as he would have wished. On top of all this, he was also undergoing frequent and intense interrogation.
How Would Bonhoeffer Approach Covid-19?
Though we remember him as a hero, Bonhoeffer was as human as the rest of us. He was concerned for his parents, he missed his friends, he dealt with impatience about the length of his forced confinement, and he longed to spend time alone with his fiancee. Yet despite it all, he lived every day "as unto the Lord," comforting and encouraging his fellow prisoners, and entrusting himself to God, knowing the future was not his to control. Repeatedly, he told his family and fiancee not to worry about him, and sought to be a source of strength to them, despite the distance between them.
In October 1944, Bonhoeffer was taken from Tegel Prison to the Gestapo prison on Prinz-Albrecht-Strasse, due to the crackdown on suspected conspirators following the failed attempt to assassinate Hitler on July 20th. There, confined to a 8×5 cell, unable to so much as glimpse daylight, all visitors denied him, he faced circumstances far worse than Tegel. Yet he continued in the habits he'd developed, and those prisoners who managed a rare moment with him in the shower room or air-raid shelter wrote later of how he sought to comfort his fellow inmates by passing them notes containing Scripture, how his politeness and good spirits bolstered theirs, and how even when bombs exploded over the prison, he remained completely calm.
In a letter Bonhoeffer wrote to Eberhard in the summer of 1944, when he realized he wouldn't be released in time to preach at the baptism of his godchild, he said, "I believe that nothing that happens to me is meaningless, and that it is good for us all that it should be so, even if it runs counter to our own wishes. As I see it, I'm here for some purpose, and I only hope I may fulfill it. In the light of the great purpose, all of our privations and disappointments are trivial…"
I imagine if Bonhoeffer were alive in these days of social isolation, disappointments, stress, and anxiety about the future, he would say much the same.
As we face the coming days and weeks, let us remember to Whom we and our future belongs. Let's do good where we can and encourage those around us—we are fortunate to have many ways to connect with loved ones, even while physically separated. Let's give grace to those around us and to ourselves, not denying our very human emotions, but trusting God with and through them. Let's spend time in prayer, seeking God for strength, wisdom and comfort for ourselves, and for the many suffering.
Am I then really that which other men tell of?
Or am I only what I myself know of myself?
Restless and longing and sick, like a bird in a cage,
Struggling for breath, as though hands were compressing my throat,
Yearning for colors, for flowers, for the voices of birds,
Thirsting for words of kindness, for neighborliness,
Tossing in expectations of great events,
Powerlessly trembling for friends at an infinite distance,
Weary and empty at praying, at thinking, at making,
Faint, and ready to say farewell to it all.
Who am I? This or the Other?
Am I one person today and tomorrow another?
Am I both at once? A hypocrite before others,
And before myself a contemptible woebegone weakling?
Or is something within me still like a beaten army,
Fleeing in disorder from victory already achieved?
Who am I? They mock me, these lonely questions of mine.
Whoever I am, Thou knowest, O God, I am thine!
-Dietrich Bonhoeffer
---