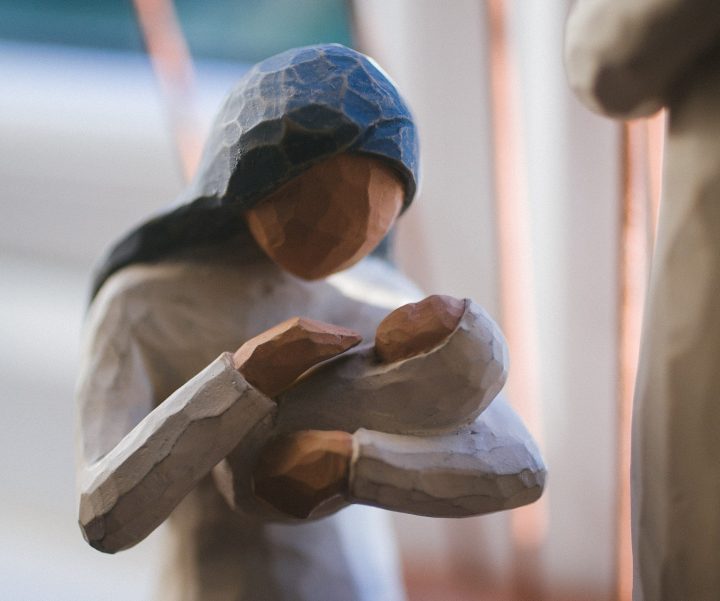 All throughout the Bible, God appointed and chose people that were lowly in the eyes of the world to accomplish His will. One such example is Mary.
Mary was just a normal girl, living in the city of Nazareth and betrothed to Joseph. Her age isn't known, but it's assumed that she was a teenager. I'm sure Mary had her own plans and expectations for how her life would go, until an angel appeared to her one night . . . and turned her life upside-down.
Mary's Story
"In the sixth month the angel of Gabriel was sent from God to a city of Galilee named Nazareth, to a virgin betrothed to a man whose name was Joseph, of the house of David. And the virgin's name was Mary. And he came to her and said, 'Greetings, O favored one, the Lord is with you!' But she was greatly troubled at the saying, and tried to discern what sort of greeting this might be. And the angel said to her, 'Do not be afraid, Mary, for you have found favor with God. And behold, you will conceive in your womb and bear a Son, you shall call His name Jesus. He will be great and called the Son of the Most High. And the Lord God will give to Him the throne of His father David, and He will reign over the house of Jacob forever, and of His kingdom there will be no end." (Luke 1:30-31)
I can imagine Mary's shock when she heard this news. She was only a teenager. Too young. Unprepared. She had to be terrified and nearly speechless.
"And Mary said to the angel, 'How will this be, since I am a virgin?' And the angel answered her, 'The Holy Spirit will come upon you, and the power of the Most High will overshadow you; therefore the child will be born…" (Luke 1:34-35)
Notice that Mary never questioned God's ability to do this. She simply said, "How will this be?" She believed God was capable but didn't know what it would look like. The thing she says next is what stands out to me most.
"And Mary said, 'Behold, I am a servant of the Lord; let it be to me according to your word.' And the angel departed from her." (Luke 1:38)
Though overlooked by the world, God had a special and ordained purpose for Mary.
Mary's Character
I think there are three valuable lessons we can learn from Mary's character.
1. She submitted to God's plan
Although Mary was frightened by the angel's news, she never refused to take on the task God was handing her. She willingly obeyed His plan. I believe this is why God chose Mary. He knew she was a faithful servant, that she would willingly follow Him wherever He led her. Knowing of the gossip and hate she was going to receive for not being married, she accepted what the angel had told her. If it was God's plan, she was willing. Mary looked at her situation with an eternal perspective. I hope when adversity comes my way, I'll have the same response.
2. She trusted that God knew best
Although the news seemed intimidating to Mary, she never questioned God, instead she demonstrated trust in Him. Her whole life had been rearranged, but she trusted that God's ways were higher than hers and that He had a perfect plan. I think that so many of us today get so frustrated when things don't go our way, but what if we just simply trusted God's plan over our own?
3. Her humility before the Lord
Mary knew she was not capable of what the Lord had called her to do. She knew she was not worthy of this privilege. She was right on both points, and her humility before the Lord is something I admire. Mary's humility before God ensured that He would be with her every step of the way, strengthening her to fulfill the purpose He had given her.
Learning From Mary's Example
How can we learn and grow from Mary's example?
Submission may look like surrendering our plans to God and trusting Him in the uncertainty of our lives. Or changing your major because He has something different in mind for your life. For me, it was leaving a friend group because I knew they weren't a godly and edifying influence. Submission is not easy, and it requires us to deny ourselves and take up our cross daily (Matthew 16:24). We have to trust that the One we submit to works everything for good. He knows what we need more than we do!
When disappointments happen or God redirects our life, we must learn to trust that He knows best. When you don't make the sports team or get into the school you want, ask Him for help in trusting that He has something better in mind for you. When you're left out, trust that it may be God's protection. When you feel incapable, trust that He will guide you and go before you.
A huge example of humility before the Lord is when we turn to Him for salvation. When we're saved, we acknowledge that we're sinners in need of a savior. Humbleness is also putting others' needs before our own. Recognizing that our ways are not always the best way and submitting to God's plan.
While we shouldn't idolize Mary or place her on a pedestal, we can look to her and every other Biblical figure, as examples in our Christian walk. They teach us what to do and what not to do. Their stories teach us about God, who He is, and how He can be trusted with our own stories. Mary, just a young teenager, gave us an amazing example of what it looks like to be a follower of Christ.
"Do you wonder as you watch my face if a wiser one should have had my place? But I offer all I am for the mercy of your plan." (Breath of Heaven)
---