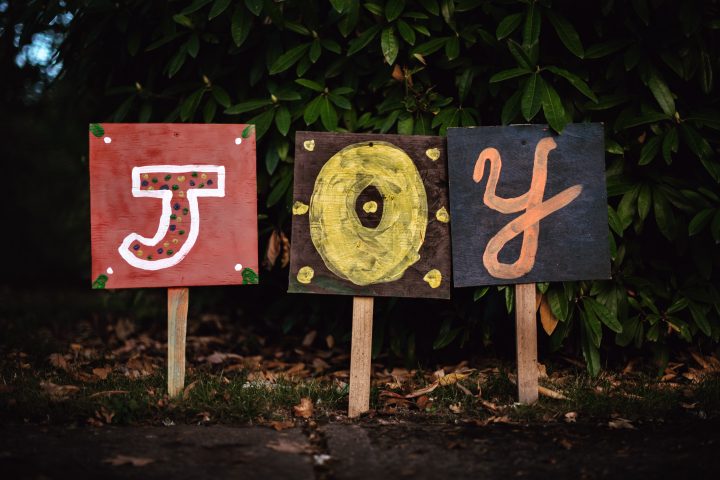 We live in a very joyless society. People claim to be 'happy', but depression, despair, and suicide run rampant. Individuals are increasingly seeking happiness in the temporal—drugs, entertainment, work, and relationships—or some 'connection' to the spiritual realm through meditation, new age remedies, and soul-searching sessions.
But when we look inwardly to find the source of our satisfaction, we are bound to turn up empty, disillusioned, and hopeless. When we look at ourselves or our circumstances, we are trying to find eternal joy in the temporal.
This search is doomed to destroy us because we are looking in the wrong place.
So, where should we look for joy? And how can we experience lasting joy when we are also experiencing trials, drowning in grief, and feeling overwhelmed by all that's going wrong in the world around us?
True Joy Focuses On The Character Of God
It is only when we look to Christ that we can find the source of our joy. He is the Creator, Sustainer, and Giver of joy. When we look intently at His character, we cannot help but be filled with joy that this is our God.
If we try to find satisfaction in our character, growth, or Christlikeness, we will end up hopeless and disheartened. But when we instead focus on Who Christ is, who we are seems a little less significant. His character overshadows our failings, and in His perfection, we find our hope of redemption.
It is Christ's death that saves us, His power that redeems us, and His perfection that grants us holiness. Our circumstances, no matter how fearful, depressing, or difficult, can never shake the foundation of our salvation because that foundation is God's unchanging and perfect character: He never changes, therefore our salvation is assured, and thus our joy can be unwavering too.
Joy is an active choice to linger long on Christ and His character, rather than obsessing over the fallen world, our shortcomings, or our current feelings.
Our foundational source of joy comes from the fact that Christ has saved us and enabled us to have an intimate relationship with Him through His word and prayer: "…Your word was to me the joy and rejoicing of my heart; For I am called by Your name, O LORD God of hosts" (Jeremiah 15:16).
The "Father of Lights, with whom there is no variation or shadow due to change" (James 1:17), has adopted us. We are called by His name and redeemed by His blood: isn't even the realization of this truth alone enough to warrant our rejoicing?
True Joy Is Rooted In Our Salvation
We are to run the race "looking unto Jesus, the author and finisher of our faith, who for the joy that was set before Him endured the cross, despising the shame, and has sat down at the right hand of the throne of God." (Hebrews 12:2). His endurance on the cross in our stead is a reason to rejoice each and every day.
It is our job to choose to be joyful, and to focus on His goodness and righteousness rather than solely on our failings or weaknesses. That said, we needn't be afraid to confront the darkest, deepest, and most sin-stained places in our soul. Instead, we can face them, and then lay our failures, our rebellion, and our self-righteousness at the foot of the cross, confident that Christ's blood and grace are sufficient to redeem and sanctify even the most unworthy sinner.
Know who you were as an unregenerate sinner; know who God is as a holy, perfect Judge; and know who He has made you to be as a new creation in Christ.
His work of redemption is what fuels our joy because we know our salvation is possible only by Christ's atonement for us, not our merit, holiness, or actions. None of our efforts contribute to our salvation, and yet Christ is still pleased by our desire to glorify Him and empowers us by His Holy Spirit to do so more and more. We can have joy knowing that God is our Father and that we can please Him by serving Him in the strength He provides.
Our circumstances may be fleeting and fickle, but God's love is unshakeable and our salvation immutable: "But let all those rejoice who put their trust in You; Let them ever shout for joy, because You defend them; Let those also who love Your name Be joyful in You" (Psalm 5:11).
When we trust that Christ can save fully and eternally, everything else falls under that overarching sovereignty. Dwell on His sovereignty in salvation and you will see more of His providence in your circumstances.
Joy is a conscious choice to rejoice in Christ, and our salvation is what prompts this response of joy: "18 Yet I will rejoice in the LORD, I will joy in the God of my salvation" (Habakkuk 3:18).
When you feel your heart growing dull, when the pain and grief of this life threatens to overwhelm your satisfaction in Him, remember that He is able to renew our joy and reopen our eyes to His goodness: "Restore to me the joy of Your salvation, And uphold me by Your generous Spirit" (Psalm 51:12).
Don't wait for the joy to come; focus on the glorious truths of salvation, and joy will be the natural response of a heart that has been reawakened to the beauty of redemption.
True Joy Is Founded In Our Eternal Hope
Life is painful…grief, loss, and the agony of broken relationships undoubtedly drain our joy. It's okay to grieve and to feel keenly the brokenness tearing at our lives. But we can have joy amid the pain, peace in the trials, and a strength of character that can only come from Christ because we know where we are going. This life is just a fraction of an eternity that will be spent worshipping and enjoying God. With such a future, should we really be so fearful and joyless about this short time in between?
When the future seems bleak, look to the future glory that Christ is preparing for us. Keep your eyes fixed on Him and His goodness, and whilst the pain won't leave, neither will He. We know that He carries our broken, battered, and bruised souls in the palm of His hand.
He carries us through the pain, and He will bring us through the midst of many fierce storms and over perilous places until we are safely harboured at our heavenly home: "but rejoice to the extent that you partake of Christ's sufferings, that when His glory is revealed, you may also be glad with exceeding joy" (1 Peter 4:13).
Despite the hardships we endure, He is preparing us for heaven and an eternity of joy-filled worship and delight in Christ.
He is the One who will 'keep you from stumbling and…present you faultless before the presence of His glory with exceeding joy' (Jude 1:24).
True Joy Is a Choice To Draw Near To Christ
We may not feel joyful in the trials of life. We may feel as though every reason for having joy has been snatched away from us and replaced with every reason to sink into desperate gloominess. The colour seems to have faded from the world and everyone else's smiles seem to be a mockery of the happiness they have and that we have been denied.
And yet, we have more reason to be joyful than any others, because in our trials God shows Himself faithful. When we go through heartbreak, we are given a precious, though painful, opportunity to see how God tenderly carries us through the pain.
We see His tenderness and His sympathy with our weaknesses. As we walk through the trials of life, God's fatherly care is revealed in the mundane and the majestic.
A sunrise becomes proof of His goodness and power, a ray of sun a reminder that He is watching us, or the peace of nature a declaration of His undying love and sovereignty. He is there in the highs and lows, in the grandeur of success and the isolating agony of grief.
He is there beside us in every moment, He knows our suffering, and He understands our pain and heartbreak more than we do. He is always with us. He is the One who "fill[s] you with all joy and peace in believing, that you may abound in hope by the power of the Holy Spirit" (Romans 15:13). The joy and peace He gives us is more than enough to conquer every fear and fill every troubled corner of our souls.
When we are suffering, it is our responsibility to look to Christ, to raise our tear-stained faces to Him and hand over ourselves to His safekeeping. Joy involves a moment-by-moment decision to know Christ and to trust Him in our deepest, darkest places.
God created us as emotional beings with the capacity to experience joy, and the Bible makes it clear that the path to true fulfilment and joy is by pursuing Christ with everything we have and trusting His sovereignty in each situation we find ourselves in.
We find joy by drawing closer to the source of true joy, God Himself: "You have made known to me the ways of life; You will make me full of joy in Your presence" (Acts 2:28).
The Ultimate Source of Joy
The choice to pursue joy in Christ must be a daily decision, and as I am so often convicted, a moment-by-moment decision too. I fail more times than I can count, but focusing on Christ's character and my identity as His redeemed child helps to overcome my anxiousness and restless emotional tendencies.
I pray that we look to Christ's character and His finished work on the cross, that we draw near to Him in our hardships recalling our eternal hope in Him, and in so doing, intentionally seek to make Him our ultimate source of joy and satisfaction.
---