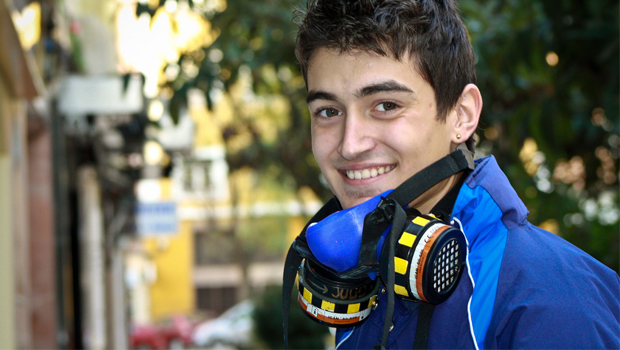 ---
(MarketWatch) — The number of teens with summer jobs has fallen roughly 30 percentage points since the late '70s. In 1978, nearly three in four teenagers (71.8%) ages 16 to 19 held a summer job, but as of last year, only about four in 10 teens did, according to data from the Bureau of Labor Statistics for the month of July analyzed by outplacement firm Challenger, Gray & Christmas.
It's been a steady decline, seen even during good times: During the dot-com boom in the late 1990s, when national unemployment was only about 4%, roughly six in 10 teens held summer jobs. Even recently, with the economy recovering, fewer teens opted for jobs: Last year's summer job gain was down 3% from the summer payrolls in 2012, the report revealed.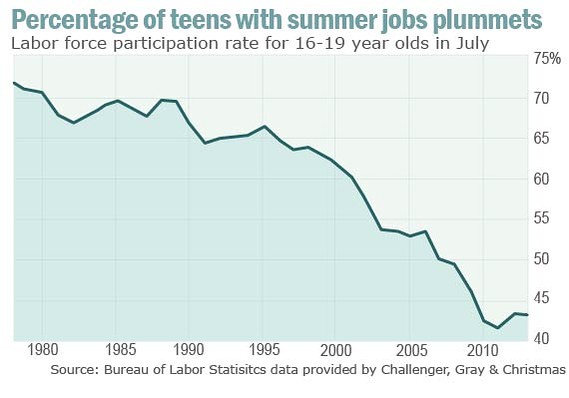 What's more, John Challenger, the CEO of Challenger, Gray & Christmas, says this is a trend that will likely continue. "We're in a different era," he says. "Being a teen is different than it used to be."
Of course, some of this low teen unemployment can be blamed on the lackluster economy. Indeed, teen unemployment is more than 20% (remember that unemployment rates only measure those actively seeking jobs), in part because they are competing for jobs with other groups, including recent college grads and those with work experience.
But that can't quite explain why fewer teens are working even during periods of economic expansion, says Challenger. He says that teens who are dropping out of the workforce represent only a small portion of those not working; instead, he says, most of these teens are choosing not to work in the summer.
Indeed, there were nearly 11.4 million 16- to- 19-year-olds who were not in the workforce last summer — and of those only about 951,000 (or 8.3%) said they wanted a job, according to data from the Bureau of Labor Statistics that Challenger, Gray & Christmas analyzed.
"While the number of 16- to 19-year-olds not in the labor force who want a job has remained relatively flat since the mid-1990s, the number not wanting a job has steadily increased," the report revealed.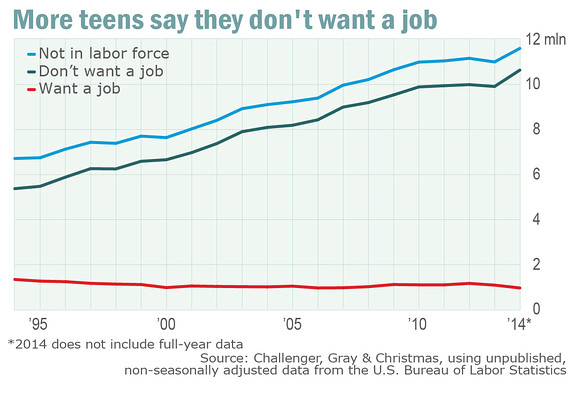 This doesn't mean that teens are simply tanning by the pool or binge-watching Bravo (though some certainly are).
Challenger says that many teens are in summer school (rates of summer school attendance are at one of the highest levels ever, he says), volunteering, doing extracurricular activities to pad their college applications and trying out unpaid internships.
And all of these are worthwhile endeavors (well, minus the tanning and Bravo), especially as it becomes more competitive to get into many elite colleges.
That said, experts say that paid work has value for a number of reasons — and that teens (even those who plan to go to college) who don't do it may be at a disadvantage.
"It's critical for teenagers to work, to begin to understand the working world, the value of a paycheck" says Gene Natali, co-author of "The Missing Semester" and a senior vice president at Pittsburgh investment firm C.S. McKee. "Choosing not to work a paid job has consequences."
---
Share Your Thoughts in the Comment Section!

There are currently __ Comment(s)
---
Photos courtesy of Sebastian Raskop and Flickr Creative Commons.
---