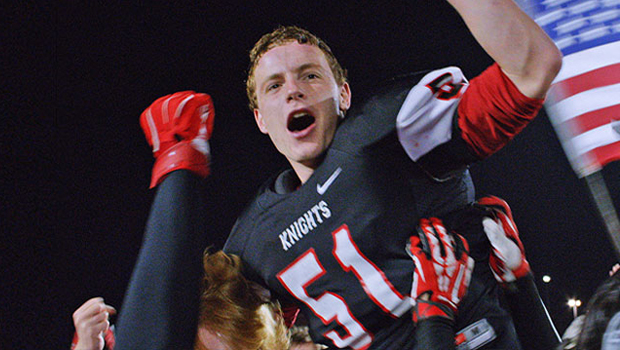 ---
The Rebelution is one of my favorite blogs. I love the continual reminder to do hard things, especially as young people. So when I heard about my neighbor Christian Osterhout's story, I knew I wanted to share it with fellow Rebelutionaries.
Christian didn't get to choose his hard things; they were chosen for him in middle school when he learned that both his parents were very ill.
His dad who had a genetic form of ALS, slowly deteriorated and passed away when Christian was only in 9th grade.
As if dealing with the loss of his dad wasn't enough, he had to become caretaker for his mother who was struggling with Scleroderma. At the beginning of his senior year he lost her as well.
Christian said he wasn't tempted to be angry with God during these trials he was facing – he was angry with God.
And yet somewhere in his sophomore year, in dealing with loss and disappointment, the Lord drew him close and he chose to trust the plan his Heavenly Father had for him.
Christian wasn't the only one who had the opportunity to do hard things. Christian's football coach Chris Roberts began taking him out to lunch weekly after his dad passed away and invested in him like a father.
Once his mom passed away, the Roberts family didn't just say they would be there for him; they were. They brought him into their home and made him apart of the family.
When I asked him how he responded to his parent's deaths, Christian said "Well, at first, I responded very well. But, something that often people don't understand about death is it's a long process and it's a marathon, and like a marathon, everyone's kind of cheering you on for the first couple miles but then everyone kind of starts to leave for the rest of the race. Really, when you lose somebody it's about 20 month of recovery."
He went on the say that the constant love and support of the Roberts made a huge impact on his life and his ability to cope with such deep grief.
Christian's story has been picked up by NFL Films and has been nominated for the Together We Make Football contest — I really encourage you guys to go vote for him!
Those 13-and-older can vote once-per-day and if you aren't old enough, you can ask your parents to vote for you.
Click on this link to go to the voting page and click on Christian's name to watch his video and vote.
If he wins, he and the Roberts will win a trip to the Superbowl.
But more than just hoping to see him win, it would just be awesome for their story to be able to touch lives and inspire others to remember to trust the Lord with our struggles and that we should be willing to make sacrifices to minister to those who have lost loved ones or those who are going through trials.
---
Share Your Thoughts in the Comment Section!

There are currently 5 Comment(s)
---
Photo courtesy of Together We Make Football and the NFL.
---