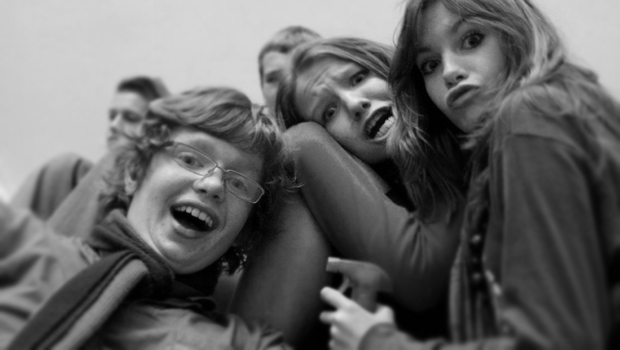 ---
I think being a teen is crazy. It's like a roller coaster and we're standing on the loop-de-loop. (Or something like that. I've never been great with analogies.) Anyway, I wanted to talk about five things that make the teen years crazy, and what we can do about them.
1) Stress
Life is stressful… there's no denying it. School, pressure from everywhere, more freedom and more responsibility, tragedies…you name it, we feel it.
Not to mention, life is hard. Bad stuff happens. The older you get, the more you understand and are told about. And it's hard to deal with.
One of my many comfort verses is Psalm 4:8, which says, "In peace I will both lie down and sleep; for you alone, O Lord, make me dwell in safety."
God is our peace. We can rest in Him. We can have peace in the crazy.
2) Relationships
Boys, girls, hormones! There's all this pressure coming from the world, saying, "Being single is bad. You need someone to satisfy your every need. How can you get it? Start dating! Give your heart away. Quick! And your body too."
But… all these new longings are confusing. I mean, who doesn't want someone to love them for them? Hold them and comfort them? Save them? We all want that, but it can't be satisfied by a human relationship. It comes from a relationship with God… and if we don't realize this, we are gonna be lost.
3) School
Yup. School. I don't like it any more than you… but we gotta do it. Sometimes I get so frustrated and freaked out over it. But it's so small in the grand scheme of life, so here's a verse that helps me through.
"Do not be anxious about anything, but in everything by prayer and supplication with thanksgiving let your requests be made known to God. And the peace of God, which surpasses all understanding, will guard your hearts and your minds in Christ Jesus." — Philippians 4:6-7
We will make it. Really. (I'm going to save this post to my favorites so I can read it every day and be reminded of this.)
4) Everything Changing
Everything is changing. It's not really fair. Lives change, friends move away, life. is. insane. The one thing that I have to hold onto is this — Jesus never changes. Ever.
Hebrews 13:8 says that "Jesus Christ is the same yesterday and today and forever." He never changes, even when everything else does. I can stay secure in that!
5) Pressure — From EVERYWHERE.
Social pressure. Emotional pressure. Physical pressure. Family pressure. Everything says "GO HERE! DO THIS! DON'T SO THAT!" And it's hard. Need I say it again? IT IS HARD! Who do I please when I'm being torn in fifty bazillion directions? Well, here's who.
"But just as we have been approved by God to be entrusted with the gospel, so we speak, not to please man, but to please God who tests our hearts." — 1 Thessalonians 2:4
We need to live to please God, not man. That takes a lot of pressure off, doesn't it?
Life is crazy. But not impossible.
Being a teen is hard. But we have the Creator of the Universe on our side!
We don't need to worry. God's got this.
It will be okay. We will survive our teen years… and by following God, we will THRIVE.
What are your biggest challenges as a teenager?
---
Share Your Thoughts in the Comment Section!

There are currently 8 Comment(s)
---
Photo courtesy of Rach and Flickr Creative Commons.
---