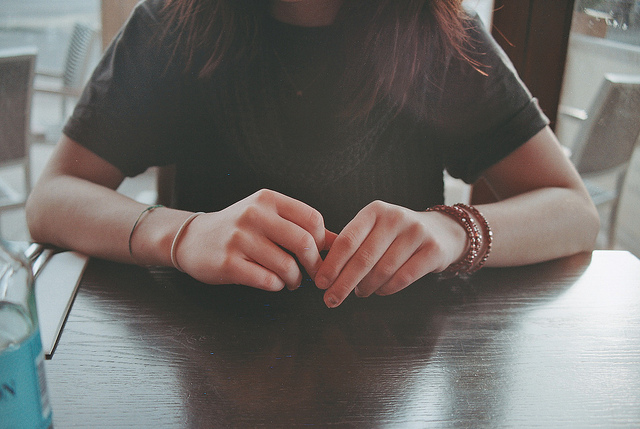 ---
I am a perfectionist. I like presenting my life as a nice, clean, pretty package for all the world to ooh and ah over. I like my Facebook profile to coordinate. If I don't get one hundred percent on a test I feel as if I've failed- even if I get 95%. If I stutter over my words in public, I am left feeling ridiculous for the rest of the day. I hate it when my struggles are exposed. When my life looks a little messy.
Perhaps you are nodding your head in complete agreement. Maybe- just maybe- you can relate.
The thing about perfectionism, however, is that you are setting up your own standards. For me, perfection is generally defined as those wonderful moments when I feel happy- also known as those moments when everything is going my way. When I feel accomplished. When I feel successful. Then, when life is not going my way and I feel stressed, not accomplished, and far from successful I define myself as a failure.
"I can never live up to my own standard."
If I set my own standard of perfection, then I will never be 'good enough' and I will never be able to reach the heights of "happy". If I set my own standard of perfection, then I will always remain a failure in my own eyes. I can never live up to my own standard. And that's why it is so comforting to know that I don't have to define myself according to my failures or successes- I am defined by God! He calls me His very own masterpiece.
Christian celebration band, Rend Collective, recently posted the following on social media: "…Maybe you're wrestling with the phrase 'good enough'- we all do sometimes. The thing is, we don't claim our victories for ourselves and toss our failure into the arms of Jesus. He claims them all. He claims us entirely. Which means we're no longer slaves to our failure or our successes. There's no longer 'good enough', there's just 'His'."
I absolutely love these words! We can never be 'enough' but, as Christians, we are His. This is the truth we must rest in.
You see, if I am completely honest with myself, I idolize perfection. Instead of relying on God, I struggle to be 'good enough'. While God has already defined me as His precious child, I blindly scramble around, trying to control my own life and reach the heights of perfectionism. That said, time and time again, I only reach the depths of depression and stress.
I am missing out on living this life fully because instead of crying out to God and admitting 'I can't live this life without You!' I am reaching inward and trying to satisfy my own self, hopelessly attempting to reach my standard of perfection… trying to prove myself perfect in the sight of those I know and love.
"To be like Christ doesn't mean we have to be perfect."
God calls us to be like Him. To be like Christ doesn't mean we have to be perfect. Rather, we are trying to be like Him because we aren't perfect and He is.
I don't want people to see my ugly side. I don't want them to see my struggle in a school subject, my struggles in life, attitude, etc. I want to appear perfect. I want to be perfect. But sometimes, we need to share our stories and ugliness. Remember, it was through Jesus' scars that doubting Thomas believed.
Through our stories, struggles, and messiness, maybe-just maybe- we'll bring encouragement and Light to others. Struggles- even the seemingly little ones (like math!)- are what make us human. Friends, family, and even those we don't really know, crave transparency. They desire honesty. Just like you and I foolishly believe we're the only ones who struggle, so do they. And sometimes, all it takes is admitting, "I am not perfect, but God is."
"Sometimes, all it takes is admitting, 'I am not perfect, but God is.'"
If we say that we have no sin, we deceive ourselves and the truth is not in us. If we confess our sins, He [God] is faithful and just to forgive us our sins, and to cleanse us from all unrighteousness. If we say that we have not sinned, we make Him a liar, and His word is not in us. 1 John 1: 8-10
Share Your Thoughts in the Comment Section!There are currently __ Comment(s)
---
Photo courtesy of Steven and Flickr Creative Commons.
---