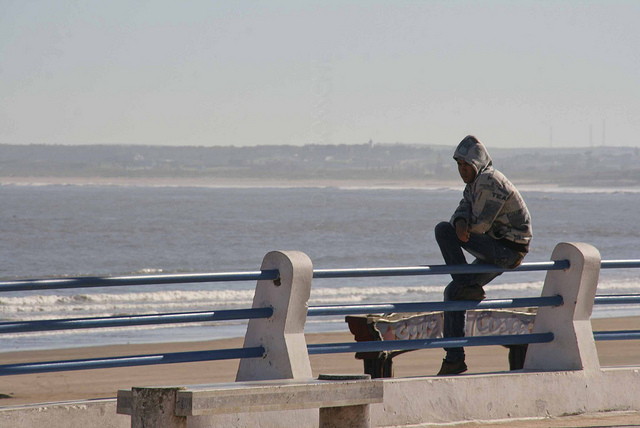 ---
Have you ever heard the story of Peter and the magic thread?
It's about a boy who was always wishing he could be at the interesting parts of life, so a strange lady gave him a ball with a piece of string coming out of it and all he had to do was pull it a little and it would skip ahead to another part of his life.
I was a lot like Peter when I was younger. I used to spend so much time dreaming about the future and wishing that it was here. I would imagine myself all grown up, dating the man of my dreams and then getting married and raising my own family.
Now I am 18-years-old. I am dating a loving and godly young man with the purpose of marriage. All those things I used to look forward to are beginning to happen.
But looking back, I realize I wasted so much time dreaming about the future that I didn't get to enjoy the stage of life that I was in. I was too caught up in wishing I was at a different stage of life.
Ephesians 5:15-16 says this:
"Look carefully then how you walk, not as unwise but as wise, making the best use of time, because the days are evil."
Just to clarify, I am not saying that it is bad to think ahead and make plans for the future. I think it's good to have an idea of where you want to be or what you want to do farther down the road. Having goals and plans are what help us accomplish things and drive us forward.
The problem comes when our whole focus is set on the future instead of the here and now.
Wishing we could just be done school, college, or university and get on with our lives, that the opportunity for our dream job would suddenly appear, or that that special someone would hurry up and find us.
God gave you this time in school to learn more and grow in the field you want to one day have a career in. You should be grateful for the opportunity to be where you are and be trying to learn as much as you can instead of wishing it was over already.
Waiting for the opportunity to get into your dream job can be a real struggle, but maybe God has somewhere else He wants you to be before you get there. Or maybe He's teaching you to trust Him, that He has a plan and that it will all come together at the right time and in the perfect way.
The big one for me was waiting for my Romeo to come along. I would spend my nights dreaming about what he would be like and the way he would sweep me off my feet.
Then the day came when we met and our romance began. And it wasn't until a couple months after we had started dating that I realized how much time I had wasted waiting for him to come along.
I could have been working on building strong friendships with others, but I was too busy watching for him. I could have spent so much more time growing in my faith, but instead I was thinking about the kind of man he should be.
If there was one piece of advice I could give to my younger self, it would be this: enjoy your singleness while you still have it. Your Romeo will come along before you know it and you'll have the rest of your life to be with him.
This is so much easier said than done. Believe me, I know. But God has promised to give you strength and He won't let you down.
One thing you can do is pray.
Pray that you would learn and work hard before you finish school and make a difference where God has put you.
Pray that you would be patient while waiting for that job to come and that you would do your best wherever you end up, even if it's not where you wanted to be.
Pray that you would enjoy the time of singleness that you have and that you can use this time wisely to grow and build other relationships. Pray for your future husband or wife, that God would protect them and guide them through the struggles of life and that they would use their time of singleness wisely.
God has a perfect plan and you can trust Him with your story.
"For I know the plans I have for you, declares the Lord, plans for welfare and not for evil, to give you a future and a hope." — Jeremiah 29:11
---
Share Your Thoughts in the Comment Section!

There are currently __ Comment(s)
---
Photo courtesy of Mzximvs VdB and Flickr Creative Commons.
---