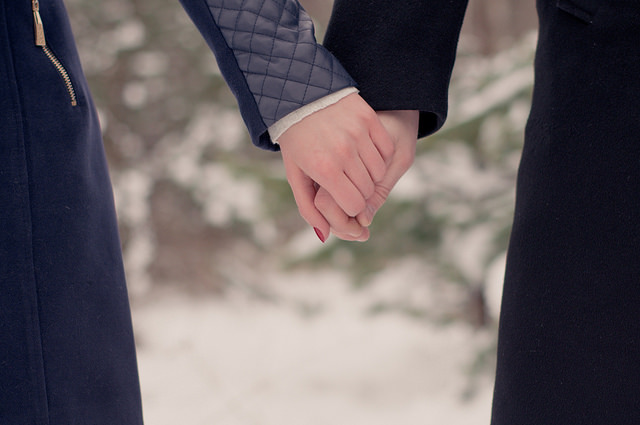 "My love, will you marry me?
Will you let me be the man that will be committed to serving you and sacrificing for you as I lay down my life every day in order for you to experience true redemption and new life?
Will you do me the honor of being my wife, and staying by my side as I lead you and honor you as the queen of my life?"
I don't know if I will use these exact words when I finally propose to the woman I love, but I enjoyed typing that out and can actually picture scenarios in which I could get down on one knee and propose.
This is a bittersweet topic because I really want to get married. I always expected to be married much earlier in my life.
Right now, my biggest dream on this temporary side of life is to be a husband and a father. I want that more than I want money, a Grammy award, and a lifetime supply of ice cream and Oreos.
Here's the thing, if I was the writer of the script of my life (considering possible delays), the latest I would have been married would have been yesterday.
However, I am not the writer of the script of my life and today I am still an unmarried man.
How TheRebelution Made Me Desire Marriage
When I was 16-years-old I came across a movement of young people called rebelutionaries that is all about making the most of youthful days.
I realized that by design young people are in fact expected to strive for maturity and take on responsibility with an energy that can transform our world.
With this paradigm shift taking place within my mind, a real desire began to take root within my heart: a desire to be a husband.
Getting Married Young is Considered Weird
Every year since then I made plans to learn what it is to be a husband. I prayed God would give me a wife by the time I turned twenty-one.
He didn't.
The older I've grown, the more I realize how counter-cultural my desire was at my age and how counter-cultural it is to get married young. I can think of a few conversations I've had with people where I'd tell them my thoughts on marriage and would receive amused and bewildered reactions.
Marriage is usually a subject that teenagers or young adults today don't think about or plan for.
I'd also say that many parents don't raise children to be ready for marriage. Sure, they prepare their kids to receive quality education and to build successful careers, but they don't intentionally raise future husbands and wives.
I find this interesting and somewhat heartbreaking. Perhaps this is a case of misplaced priorities?
To be honest, I'm now at a point where I'm frustrated with the way so many people think of marriage. And I'm fed up with how my own mind was poisoned by a philosophy that sounds wise but doesn't have a foundation in faith.
"See to it that no one takes you captive by philosophy and empty deceit, according to human tradition, according to the elemental spirits of the world, and not according to Christ." – Paul
The culture we live in views marriage as something to be put off for as long as possible. From the time we are children we view marriage as something that gets in the way of things that 'really matter' in life.
We see it as an enemy to career prospects, an enemy to academic pursuits, and an enemy to freedom and enjoyment.
We push it away and hold it off for as long as possible until we reach a point where feel that we have accomplished what we want to in life and are now ready to casually hope we get married and have a kid (usually for amusement).
Even Christians Can Believe Marriage is a Burden
People who believe in the true and living God have also fallen prey to this false philosophy of marriage being a burden. And I now see many young people who suddenly feel they are being 'called' to singleness.
The truth of the matter is that the divinely ordained institution of family is under attack and we are the ones holding the gun and pulling the trigger.
As I started to realize how I had fallen prey to this philosophy, I also started to notice how our culture is determined to make it difficult for us to get married while we are still young.
School schedules are so tight that there is barely time for students to eat and sleep, working hours are long giving us little time to do anything else, and few forums exist that are designed to develop relationships and character.
The world doesn't really care about marriage or about the forum that illustrates the greatest example of love. It has been ferociously attacked by materialism, feminism, and individualism.
The Idols of Money, Security, and Comfort
My strong desire to be a husband has never gone away but as I started to get accustomed to the way culture thinks, I discovered how anxious I became to make money – and to make tons of it.
I sometimes think that if I drove a Range Rover and made a six figure salary few people would frown upon my age or the age of the girl I plan to marry. As men, we believe that money makes us attractive and the best way to sell ourselves as potential husbands is by showing people how many zeroes our checks can fit.
We don't really think about the importance of nurturing good character or of living by faith. It's like money makes up for what we're not.
It certainly does look like at the end of day people's wrong views on marriage are centered around money, security, and comfort.
We are often told that academic qualifications and a 'good job' get us all these things. So we pursue those qualifications and jobs like they are the most important things in life and like they're the only things that really matter.
We're also told that it matters for us to be respected, to be admired, and to be powerful or influential because that's where our value lies.
Do You Believe the Lies?
As young people, we chase after power and prestige at any cost, and as believers, we live ashamed of our faith by living with the same futile and hopeless mentality as our culture.
We buy the lies of feminism believing its low views of womanhood.
We live selfishly for ourselves and our personal prosperity.
We believe sophistication is conveniently summarized in materialism.
We believe God's truth is outdated and irrelevant when it addresses the futility of these things.
"He who finds a wife finds a good thing and obtains favor from the Lord." – King Solomon
God Created the Family, And It Was Good
What people don't see is that real and lasting prosperity in communities and countries begins and is protected by the institution of family. From the beginning of creation, marriage was a tool through which humanity was able to exercise dominion and authority over the earth.
Eve was made to be a helper to Adam in his God-given work to steward the earth, an ambassador of the God who created all things. In a perfect world God thought that it was not good for man to be alone, to have no helper and companion. The union between man and woman represented the perfect union of the Father and the Son in the Godhead.
As God's image bearers, marriage was one of the ways He made it possible for us to reflect who He is. From the beginning of time marriage was a good thing, something God considered necessary.
If God thought of it this way, then why do we think so little of it in our culture?
To what extent has sin corrupted our minds and hearts in pushing away such an amazing institution?
Why do we still believe it stands in the way of other things that God created (such as learning and work) when in fact, God created married to enhance and preserve those things?
Perhaps our greatest problem in our view of marriage is that we do not view it from the perspective of the God who made it. Perhaps our low expectations for young people flow from the same problem: we do not view young people the way God does.
The book of Timothy was addressed to a young pastor who had to be an example of what it looked to be an honorable overseer ("…husband of one wife…not a lover of money…managing his household well with dignity…"). First Timothy 4:12 remarkably outlines the lifestyle that is expected of young people from God's perspective.
When we understand this, it flies in the face of our thoughts that young people are expected to be immature and carefree about life, that young people shouldn't even think about marriage, or that young people do not have the capacity to take on huge responsibility.
Timothy faced adversity, and he stood out as an anomaly in his culture. He may have looked like a fool to many people, but his faith enabled him to live the way God wanted him to live, as an example to all around him.
Understanding this is what shifted my worldview on life, on youth, and on marriage.
There are so many reasons for why we delay marriage but if any of those reasons doesn't fall into the framework that God gives us then we need to be willing to change the way we think about it.
I Want to Be Married … But I'm Not
I still want to get married…hopefully soon because it's getting real out here.
I can't lie; living by faith as it relates to marriage is hard because it goes against how our minds naturally think about it.
It's also hard because it's not a popular opinion held by even our close friends and families. Not all of us will get married young and not all of us will get married period.
However, we need to check our reasons for why we delay marriage when we're so willing to date someone for so many years and put so much importance on other things that treat marriage as an enemy or hindrance to 'progress.'
To be honest, I'm not where I want to be when it comes to being ready for marriage.
There are things I still need to put in place before it happens and it feels like a fight against people's opinions and against culture to make it attainable with the woman I am currently pursuing.
It's been tough for us as we've talked about what it would look like for us to step into a marriage covenant sooner rather than later – particularly in an environment that won't support a decision like that.
If it was up to us our wedding would have been yesterday. Right now we're both learning what trust and faith in God looks like in this season, and boy, we need that in a real way.
So I'm not saying all this as someone who has it all together. I'm a broken man. I often pray that God would use me as an example to others, and the more I pray the less qualified I feel.
However, if in fact, God uses crooked sticks to draw straight lines, then call me a crooked stick any day.
---
Photo courtesy of Wyatt Fisher and Flickr Creative Commons.
---