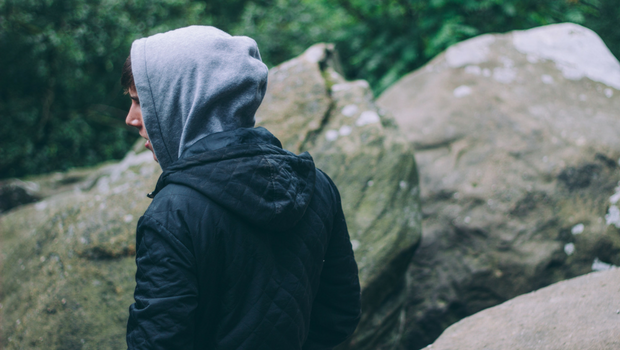 ---
"We are not human doings, we are human beings."
Sitting across from three leaders (having years more of life experience which I wanted to honor), I couldn't help my visceral reaction: I wanted to gag.
I know. I know I know I know. People realize that human busyness is an issue and we need to spend more time on soul-care. I've heard. I do know this need is valid (very valid).
Sometimes, though, it seems like soul-care and self-discovery are the most common advice people give.
Deep in my soul (and actually right on the surface), I just want someone to challenge me, to call me out on my sin, to tell me I need to repent, to push me to have more discipline and to be more committed to simple (and often less experiential disciplines): serving, praying, reading the Word.
Maybe I'm the only one who is a little sick of the soul-talk. But I just can't help it.
I find hard truths in the Word: love my enemies and pray for persecutors (Matthew 5:44) and pick up my cross (Matthew 16:24-26) and count trials as joy (James 1:2) and give thanks in everything (1 Thessalonians 5:18).
Who is calling me beyond soul-care to do these things?
Instead, I often hear I need to "look inside" and "create space" so that we all have "safe places" to share without our feelings getting hurt.
Reality: my feelings need to get hurt more often.
"Do not merely listen to the word, and so deceive yourselves. Do what it says" (James 1:22).
Being | yes, I am a human being prone to burnout, tempted to measure success by a checklist, and neglecting sleep in productivity's name.
Being | but, I've seen what's behind this flawed way of being: a lack of truly being, being present in each moment to the truth – ultimately, to the one who is the way, the truth, and the life and to what He says about how to live this life (John 14:6).
This "being present to truth" isn't mystical; it's having your whole being, your whole focus centered on Jesus, on worshiping and obeying him. I can choose my sin of making an idol out of my productive obedience (and then wallow in perpetual soul-care to try to fix my mess).
Or, I can spend my life in worship of the supreme Being: my Lord and Savior.
I sit in my cubicle and feel myself being pulled to overly-productive thoughts making me want to wallow in "soul-care:" I'm not being extroverted enough, I'm not being caring enough like a Christian should, I should really be doing something else to advance my future. I am caught being inside my head. The present isn't something I often live within.
Being | when I try to maximize my life, I am left in the grips of my own ability. (News flash, it's not as much as I think it is sometimes.)
And I can stay there. I can be the best version that Deborah creates herself to be. I can focus on soul-care and on doing this being better.
What if I went another way?
I can be most fully in the present when I realize that being is not about me. It's about being obedient to Christ, to lifting his name high, about preaching him and him crucified (1 Corinthians 1:23) and counting all else as loss for the sake of knowing him (Philippians 3:8).
It's about being able to lose my tight-grip on myself to ever really find what my personal "being" is all about.
I've been in the search of how to be present. To be present, I don't necessarily need more soul-care.
I must present myself before the Lord (Romans 12:1) and focus so wholly on who he is, his being.
Then, I must pray (Isaiah 55:6). I must rejoice (1 Thessalonians 5:16). I must serve (Luke 17:33). I must go (Matthew 28:16-20). (Yes), I must even do.
How can I ever be without the doing of obedience, the doing of repentance, the doing of surrender?
Lord, give me the humility to let go of me and to grab hold of You and all that you make life to be – to be in each present moment.
---
Share Your Thoughts in the Comment Section!
---