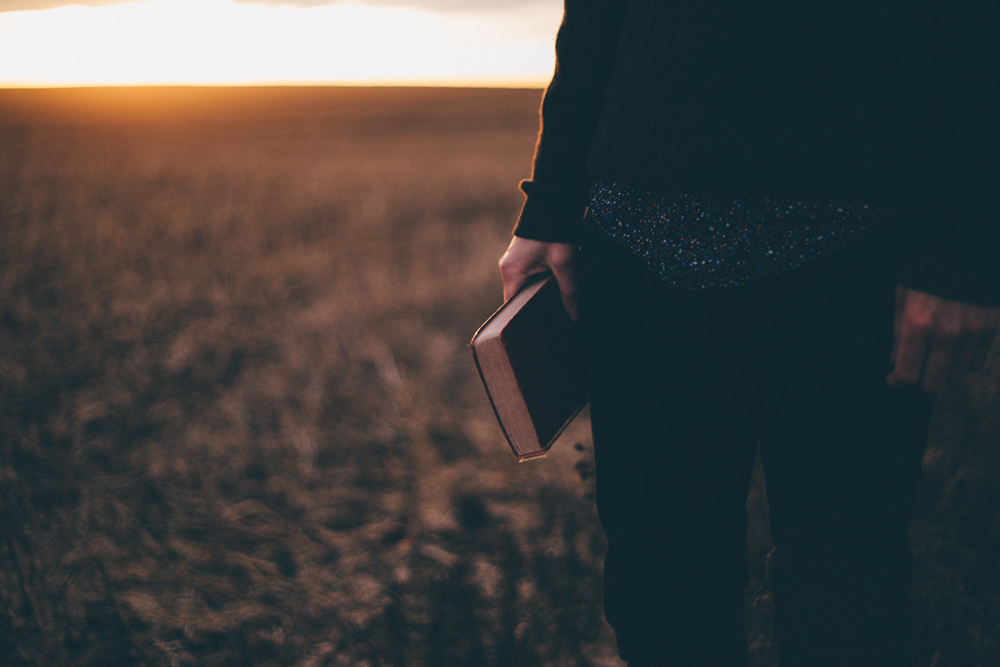 The coffee is steaming hot, its fragrant aroma wafting up to shake the cobwebs out of your brain. Pale morning light filters in the window as you sit down with your Bible and a notebook.
Or maybe it's late at night, and you have your study materials spread out on the bed in front of you for a good half hour of studying before you go to sleep.
What now?
Before you do anything else—before you dig into the word of God, before you try to discern its truths—pray.
Rely On Him
It's so easy to make Bible study about us. I know that from painful experience. We all have a beast in our hearts named Pride, and it loves to corrupt and hijack even the best things.
Oh, look! I'm studying the Bible. I know so much about it now. I definitely know more than she does. I'm so much more serious about my spiritual walk than he is.
We turn Bible study into one more area to prove our superiority and make us feel good about ourselves.
"Let us know, let us press on to know the Lord." (Hosea 6:3) That's the heart of our Christian walk. But knowledge about God can't be divorced from our relationship with God. Knowing our Savior is supposed to lead us to wonder and worship. Not just store up facts and clever phrases about Him.
That's why we have to approach our study of God's word in complete reliance on Him. Don't come to His word with an attitude of, "I'm going to figure it out." Come to His Word and ask Him to teach you. Pray that God would "open my eyes, that I may behold wondrous things out of your law." (Psalm 119:18)
And believe that He will.
The Power He Promised
If all we had for studying the Bible was our own intellect, we would be in big trouble. "The heart is deceitful above all things." (Jeremiah 17:9) On our own, we're liable to misinterpret the Scriptures, twist them to fit our own desires, and misuse them to build up our own self-righteousness while tearing others down.
Thankfully, the God who gave us His Word hasn't left us alone to figure it out.
There are numerous promises in the Bible that can give us great courage as we seek to know God through His Word. Consider this well-known verse from James:
If any of you lacks wisdom, let him ask God, who gives generously to all without reproach, and it will be given him. (James 1:5)
The next verse adds that we should "ask in faith, with no doubting" (James 1:6). God is the source of all wisdom, and as a good and loving Father He delights to give it to us, His children. He is both able and willing, and we can come before Him with perfect confidence to ask for His wisdom as we study the Scriptures.
1 John 5:14-15 contains another powerful promise:
And this is the confidence that we have toward Him, that if we ask anything according to His will He hears us. And if we know that He hears us in whatever we ask, we know that we have the requests that we have asked of Him.
Whatever we ask, if it's according to God's will, He will hear and He will answer. And if there's anything we can be sure is His will, it's that He wants us to know and love Him more. So pray for His help to understand His word, and be certain that He will answer!
What Should I Pray For?
So what should we pray for when we sit down with our Bible and our study tools? Here are a few ideas to start with.
Pray your eyes will be opened to see God's glory in the Scriptures.
Pray you will be able to see exactly what the text says, unhindered by any preconceived ideas.
Pray you'll be able to understand the meaning of the text—what the author intended when he wrote the passage.
Pray your study won't just be head knowledge, but will lead you to stand in awe and adoration before your Savior.
Pray God will show you anywhere your thinking or actions need to change based on the text.
Pray for your love for God and others to be deepened and strengthened.
Prayer is the first and most important step in our study of God's word.
Don't neglect it!
---