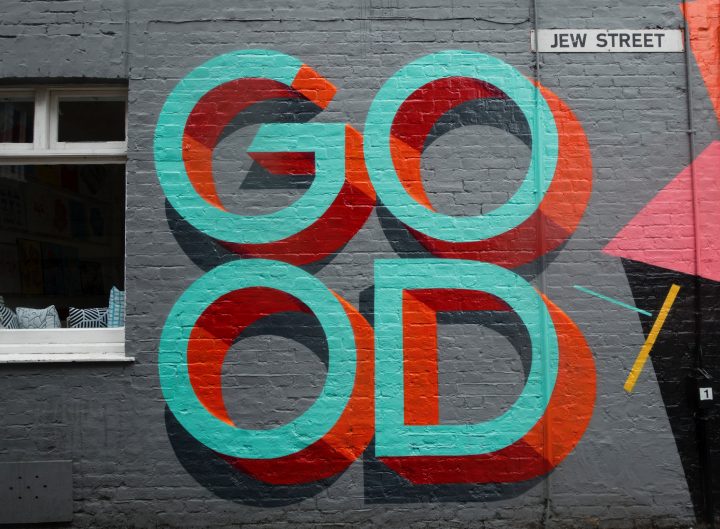 Hey, you—dude in Vans and denim, brushing paint across canvas and concrete—I want to talk to you.
You—the girl sipping coffee, spinning stories across your laptop screen—listen up.
Teen brimming with inspiration, searching for outlets to spill yourself—let me enter your world and offer a hand. Because you and I have something in common:
We're kindled by the passion to create.
We're who culture calls "creatives." We're a generation tired of the bland, boring, and unbeautiful. We itch to make things that matter in a dark world. And chances are likely we both follow Jesus.
That's a gamechanger.
Because when Jesus transformed our lives, he transformed our creativity. He branded it with purpose. Now the gospel infuses every inch of our passions and compels us to create things for a glorious God.
Anything less is a waste.Now the gospel infuses every inch of our passions and compels us to create things for a glorious God. Anything less is a waste. Click To Tweet
Creators are facilitators.
But what does it truly mean to be a creator? What does God intend for young people like us, with paint up our fingernails and poems in our head?
Just what he intended for Adam, Eve, and every other image-bearer: To mirror his glory.
I'm learning to dislike "creative" as a noun for artists. Because the truth is that every man, woman, grandparent, engineer, cashier, and mom is a creative. Fashioned in the image of God, we were each made to reflect him uniquely.
We're facilitators of what's already been created, whether that's a piece of artwork or machinery or a child itself.
In God's family tree, there aren't higher branches reserved for the ultra-creative. We should braid our different skills into one God-exalting tapestry. Because we're one body.
Having gifts that differ according to the grace given to us, let us use them… (Rom. 12:6)
For the body does not consist of one member, but of many… God arranged the members in the body, each one of them, as he chose. If all were a single member, where would the body be? (1 Cor. 12:14, 18-19)
Creative Christian teen, you and I aren't superior. We're simply facilitators of the materials God placed in our hands. Let's not abuse them; let's use them as instruments of service.
Creators are servants.
Josh Garrels is a song artist I respect for both his creativity and humility. In 2012, he gathered a group of musicians on Mayne Island to record an album. Josh viewed his songs as a service project. He handed out his CDs for free. He was generous with his creativity.
Are we?
Or do we hoard our talents to spend on ourselves? Do we view our creativity as means to our ends?
Once again, Jesus changes things. Because the God-man who strung rivers and flung planets didn't flex his skills on earth. He didn't use his boundless creativity to wow his followers. He used it to serve.
Jesus—inventor of water—splashed it to cleanse his disciples.
Jesus—maker of mountains—sat on one to teach his followers.
Jesus—creator of trees—died on one to save his enemies.
May we never cling selfishly to our creativity but expend it generously as servants of Jesus.
Creators are worshippers.
Creative teenagers saved by Jesus have a unique privilege. We get to bask in the gospel's beauty, reach deep into the core of our creativity, and make beautiful things in response.
We get to worship God and impact the world.
Thomas J. Terry and J. Ryan Lister write this:
Creativity helps open heaven's doors to let the light of God's transcendence flood into our head-down, cynic-filled world. We make things to help the world look up.[i]
I worship God by writing about what he's made. You worship God by singing or painting or hammering or strumming or drumming or dancing.
Oh come, let us worship and bow down; let us kneel before the LORD, our Maker (Ps. 95:6)!
We're canvases God painted, carvings he chiseled, poems he penned. We're his artwork—his workmanship—created to create beauty that mirrors him (Eph. 2:10).
Why?
Because he's worthy of excellent craftsmanship and excellent worship.He's worthy of excellent craftsmanship and excellent worship. Click To Tweet
Therefore, my dear brothers and sisters, be steadfast, immovable, always excelling in the Lord's work, because you know that your labor in the Lord is not in vain (1 Cor. 15:58).
Don't waste your creativity.
Dude in Vans, girl sipping coffee, teen who aches to create— please don't waste your skills on worthless things. Facilitate what God has made; serve his people with your art; help the world look up.
From one creative teen to another, let's worship God with what he's given you and me.
That's creativity beautifully spent. That's creativity not wasted.
Remember also your Creator in the days of your youth… (Eccl. 12:1)
---
[i] Thomas J. Terry and J. Ryan Lister, Images and Idols: Creativity for the Christian Life
---