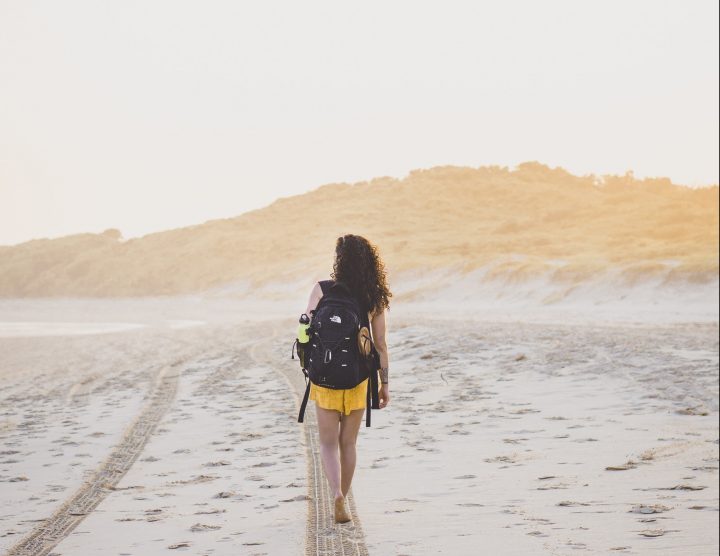 I'll never forget the day that I stepped onto the airplane at the Atlanta airport. This wasn't just any plane or a normal trip. I was going to Australia.
I was terrified, I was excited, and I was questioning my decision all at the same time. I thought I had lost my mind.
About a year earlier, during my senior year of highschool, I felt God leading me to do something that was missions-focused after I graduated. After talking to some friends, I discovered a missions organization called Youth With A Mission (YWAM). As I looked into it, God began making it clear that He wanted me to do YWAM's most well-known program, a Discipleship Training School (DTS).
A DTS is a six month program that focuses on helping students strengthen their relationship with God and also trains and prepares them for the mission field.There are hundreds of DTS locations around the world, and the one that God highlighted to me is in Perth, Australia.
Yep, that's right. On the other side of the world.
During my first flight, I kept asking God, "Why am I doing this?" But looking back to that scared and unsure 19-year-old girl, I don't regret that decision. Not even a little bit.
Yes, it was scary. Yes, it pushed me way out of my comfort zone. But it was so worth it. It was worth leaving everything familiar to me to move to the other side of the world, and here's 3 reasons why:
1: God Became Real
Knowing I was leaving to go to a place that was not my own and with people I didn't know left me feeling pretty helpless. But at the same time it was both beautiful and freeing, because I knew that I could not do anything on this journey by myself or on my own strength.
I had to rely completely on the Lord, and I knew He would sustain me.
I grew up in a Christian family, I've always gone to church and I began my relationship with Jesus when I was young. I have always known about God, but when I left home to go to a place and to be with people I had never met before by myself, He suddenly started becoming more real to me.
It was on this journey that required me to fully surrender that I experienced my Father in ways I never had before.
It was where He spoke to me and told me what He thought about me, and that was the first time I knew without a doubt that it was God speaking to me, not just my own thoughts.
It was where I learned that God is relational and interactive, that He even cares about the simple details of my life.
It was where I discovered that I relate to God and He to me in a way no one else does.
It was where I discovered what it was like to be used by Him to encourage someone and share the Gospel with them.
Saying "Yes" is hard. But when you get to experience Your Father in new ways, it's so worth it.
2: I Gained freedom to Be Who God Made Me to Be
When I left home, I didn't realize how much I had let what other people thought or said about me and my fear of what other people thought of me shape who I was.
At home I am the oldest child in a large family and I am in a leadership position in our church's student ministry. I am not saying these are bad–I actually love being the oldest in my family and I love serving at our church.
But where the problem came in, is when I believed the lies that I had to be the perfect child or leader, that I had to strive to meet the high expectations that I had imagined people had put on me.
When I left for Australia and met the people I would be spending the next six months with, God freed me from all of that. I finally felt free to be who God created me to be.
I arrived in Australia and felt free to be excited for what was ahead–maybe a little too excited.
I felt free to dance and jump during our worship times.
I was free to find joy and laugh in the most simple moments, like eating spoonfuls of ice cream and caramel at the park during our small group time.
Don't get me wrong, I still struggle with people-pleasing and perfectionism. It is a constant and daily battle for me, but at the same time, I have tasted freedom and experienced joy. There are still days where I am entangled in my sin and where I don't feel like being joyful, but after my journey where I experienced joy and freedom, I am looking forward to the day in heaven where we will experience complete joy and be completely free
3: I Learned, "Do not Fear, For He Will Be With You"
Maybe you know what God is asking you to do, but the unknown, the fear and the thought of leaving your comfort zone is keeping you back. That's where I was.
What I didn't mention was that when I found out about the DTS in Perth, it took me almost a month before I finally stepped out in faith and applied.
Why? Because I was I afraid.
I was afraid of moving to the other side of the world, leaving my family and friends for six months, and because I couldn't see the other side.
A leader I look up to finally called me out.
"Kels, you just gotta do it," he said.
I realized that this is what God was calling me to do, and I couldn't hide anymore.
There were no more excuses to be made. I just had to do it. I had to step out, even if it seemed to be the tiniest step. But it was the first step in the right direction. It was a step in obedience.
If you are looking out over the future and you know where God is leading you and you are feeling afraid, hear me say this:
That is normal and it is okay.
It's normal and okay to feel afraid. But let me what is not okay. It is not okay to let your fears and your doubts stop you from stepping out into what God has called you to do.
I don't know what God is asking you to do. It could be going to college, staying right where you're at, or maybe He is asking you to do a DTS with YWAM.
Whatever it is, if you're looking for someone to give you permission to step out, you have it.
Go, follow Him. Step out, even if you're afraid.
Know this, my brave and courageous friend, He will not lead you where He has not already gone.Know this, my brave and courageous friend, He will not lead you where He has not already gone. Click To Tweet
The God Who spoke creation into existence and breathed His own breath into your body is with you. He is on your side.
---