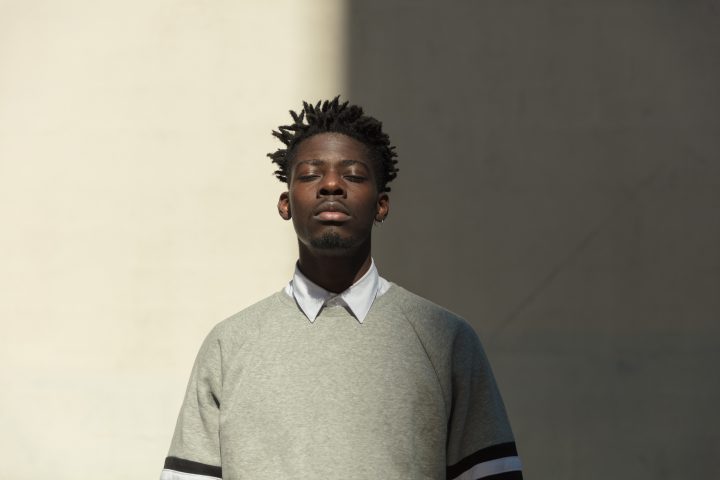 When I was a kid, it was not uncommon for me to go to the grocery store with my mom dressed up as Jesus. My Jesus costume was one of my favorites, but my Batman costume was pretty good too.
This costumed-shopping was a weekly or bi-weekly routine: I would find a new picture or see a new character on a show that I just had to become. Tunnel vision would set in. This was the guy. I would excitedly run in and out of my mom's sewing room, witnessing the exact costume being crafted in the humble, well-practiced hands of my mom, as she flashed a lovingly exasperated smile.
And then that costume would be worn to every grocery store and meal, until I found someone new to become. That costume then, like the rest, would find its way into my heaping box of used-to-be-me's.
I was the son who just couldn't decide who he wanted to be.
A Life of New Masks
I feel more comfortable leaving ambiguous the exact age when these "Jesus-to-Batman" days ended. "Ended" may not be the right word. Changed. Evolved. Maybe even expanded.
Over the years, Jesus costumes turned into athletic jerseys, and jerseys turned into blonde highlights done by my yet again lovingly exasperated mom in our kitchen. Highlights turned into four different colleges attended, with just as many majors excitedly embarked upon, only to be abandoned for shiny, new majors. I even changed my name at the age of 23.
I was the son who chased shiny things, and each filled me with a subtle giddiness. But as all shiny things eventually do, each, in time, lost its glimmer. At least mine did.
When I became a Christian at the age of 19, it's probably no surprise that the mission field had an ever-so-alluring draw to my wandering heart. This led my restless heart to places like Poland, the Dominican Republic, the Czech Republic, and even Cameroon. But no country shined quite as bright as I had hoped.
When Faith Looks Like Staying
I write all of this because at the age of 25, I have learned a valuable lesson that I wish I could have told 15-year-old me. Even now, this lesson is aimed at my own, ever so restless heart:
Often consistency is better (and harder) than radical leaps.
I might even go so far as to deem consistency more radical.
I grew up thinking of faith as a foot stepping into darkness, not knowing where (and if) it would find its footing. Faith was the man who left his job and moved his family overseas, the pastor who constantly reoriented his life every ten years in an attempt to be faithful to his (ever-changing) calling, the man who left his job in faith that God would provide.
Please, don't hear me for one second smearing the faithfulness of a single one of these scenarios (after all, they're made up). I humbly devour missionary books, astonished at the radical faith of such men. I believe God does reward those who trust him enough to follow with open hands and willing hearts.
But I would humbly and gently propose one thing–maybe, sometimes, faith looks like staying. The word faith is the core and root of the word faithful, and yet we can be so quick to separate the two.Sometimes, faith looks like staying. Click To Tweet
being faithful in our faith
In my brain, faithful is the janitor who has unlocked the church for the past 25 years. Faith, on the other hand, is the 22-year-old who jumped on a plane with a guitar, a journal, and a special word from the Lord. But maybe this is a wrong understanding. Maybe the janitor has faith too–faith that God will bring fruit to the humble vineyard right in front of him.
Maybe faith looks like 16-year-olds not just loving the homeless gentleman on the mission trip, but also their parents and siblings. You see, I was ready to be radical at the age of 21, to liberate prostitutes and rescue orphans from Southeast Asia. But I was much less ready to drive my withering grandma around in search of bargains. I would flip through page after page of books about unreached people groups, bringing them before the Lord in prayer, but the Lord never heard the name of my own brother whom I smugly refused to pick up the phone and call.
Please pray for the unreached. Please. But I wish I would have mentioned the name of my own brother in my prayers as well. It was easier to pray for people I had never met than the brother whose faults I was all-too-familiar with, and he with mine.
Run Your Race Well
The famous hall of faith found in Hebrews 11 tracks the lives of the faithful men and women who have come before us–those "of whom the world was not worthy—wandering about in deserts and mountains, and in dens and caves of the earth" (Heb. 11:38). You see, the faithful were found in the deserts and the mountains, in the holes of the earth and in Egyptian palaces, in oceans and in the house of prostitutes. In Hebrews, faith was defined less by location than by dependence upon the Lord. Faith looked more like choosing to trust God with what's in front of them than wild radical leaps—although there were several of those too.
But the conclusion by the author of Hebrews is this: "Therefore…let us run with endurance the race that is set before us" (Heb. 12:1, italics mine). We all have a race. Run that race—the one set right in front of you. And while you run, never stop "looking to Jesus, the founder and perfecter of our faith" (12:2).
Christian Marcel, a 20th century Christian existentialist, comments on this all-too-human tendency to chase shiny things:
"You feel you are hedged in; you dream of escape; but beware of mirages. Do not run or fly away in order to get free: rather dig in the narrow place which has been given you; you will find God there and everything. God does not float on your horizon, he sleeps in your substance. Vanity runs, love digs." ( Homo Viator: Introduction to the Metaphysics of Hope)
My prayer is, Lord, please help me to stop chasing shiny things, and to begin to run the race you have for me. Let faith grow slow and subtly within me as I consistently cultivate this less-than-glamorous ground. Help me to love my brother, my roommates, and the weird guy next to me.
Please draw the nations to your name, starting right here in my little town.
If you want to be a missionary, please, please be a missionary. Go to the nations. But then go, and have faith enough to stay.
---