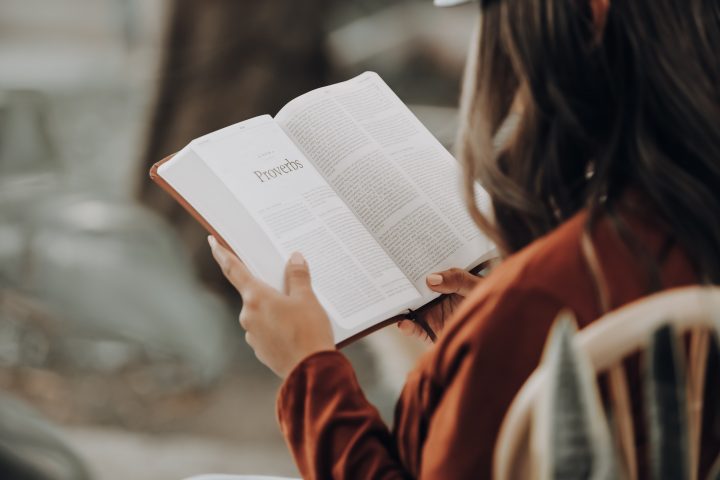 Go ahead, be honest. Are you a little relieved 2020 is almost over?
The beginning of a new year always strikes me as a little strange. I mean, if you really think about it, it's just another day run together with all the rest. 24 hours after the day previous and 24 hours before the next. From day to day, there's nothing special about a new year.
But we still crave a fresh slate, the start of something new and untouched by our mistakes. That's one reason, I suppose, why a new year is always so exciting. It's the time to set new goals, be the starting point in new adventures, to push aside the past and move toward the future.
We ended the last article with the prayer, "Jesus, let me grow closer to You in 2021." That's my heart-cry and prayer for this New Year and I hope it's yours as well.
But we all know that just having a desire for change or growth doesn't always actually transfer over into . . . change and growth. That's why exercising more and losing weight continues to be the most popular New Year's resolution year after year. Presumably because no one actually succeeded in their goal the year prior. The desire didn't transfer over into change and the year-old exercise equipment is now a great coat hanger.
That's not what I want for you in 2021. I don't have any tips for how to stick with a good exercise schedule (sorry!), but I do want to give you six practical tips for how to actually grow closer to Jesus this year and not let good intentions become complacent excuses.
Earlier this year, I released my first book Love Riot: A Teenage Call to Live With Relentless Abandon for Christ. Love Riot calls teens to reject apathetic Christianity and choose to live sold-out for Jesus. In Love Riot, I share several practical tips and challenges for how to intentionally seek Jesus. Spinning off of those points, let's see how they relate to a brand new year.
1. Develop a daily prayer time
Like I say in Love Riot, "Prayer is perhaps the hardest Christian discipline to master. Anyone who's ever struggled with distractions and a wandering mind while trying to pray knows this is true. But it's also one of the most powerful, important, and joy-filled ways to connect with God."
If you want to grow closer to Jesus this year, being intentional in prayer is absolutely vital. For years, I've had a daily prayer time. Along with reading Scripture, that daily time with God has been the most influential decision I've made in my walk with Him. Sure, I've missed lots of days and sometimes I don't "feel" it, but I've always been intentional to come back and not give up.
Why do we pray? We pray to answer God's call to "Seek My face." (Psalm 27:8) We pray to bring our needs and hurts before Him. We pray to get to know His heart. We pray because prayer is powerful and because Scripture commands us to pray. We pray because our relationship with God is just that—a relationship. Like all relationships, our relationship with God requires hard work, time, consistency, and intentionality to grow and thrive.
But also like all relationships, it's easy to get lazy. As you seek to start of 2021 with a more intentional prayer time, you might get excited about it at first but then find yourself slowly losing enthusiasm, missing more and more days, or making excuses. Don't let that happen. In my chapter Seeking Hard . . . or Hardly Seeking? I share 6 practical tips to stay consistent. Here's the Cliff Notes version of the top four.
-Give God the best part of your day.
Don't give Him your leftover time. Put it first.
-Schedule it
Know when and where you're going to pray and make it a daily appointment you always try to keep. For me, that's after breakfast and right before I start work.
-Eliminate distractions
Turn off your phone. Silence notifications. Tell your family about your prayer time so they won't interrupt you.
-Write prayers and prayer requests
Keep a prayer journal to help your mind stay focused on what you're praying for.
It takes hard work and intentionality to develop a consistent prayer time. There will be days you don't feel like it, days you don't have time, or days that you just find your mind spinning a million miles an hour. Don't become discouraged by these hindrances, but choose to intentionally keep saying to God, "Your face, O Lord, I will seek." (Psalm 27:8 emphasis added)
2. Read and study Scripture each day
God gave us His Word for a reason—to teach us who He is. In my chapter Deeper than a One Minute Devo, I say, "The Bible is how we learn about God and how He wants us to live. It's our life manual and marching orders, our perfect standard and what we evaluate everything else through. It's not a dull ritual but a lifesaving, hope-breathing, direction-giving letter that God has written us. We can't love God and not read His words or claim to follow Him and ignore His teaching."
Last year, one of my goals was to dig deeper into God's Word. I realized that I'd plateaued in my study of Scripture and needed to step up my intentionality. My choice to seek God in His Word in a deeper way was one of the lifesavers I clung to during the ups and downs of 2020.
But it's hard. Like prayer, it's easy to get complacent and let our time in God's Word become apathetic or let it slide altogether. Francis Chan says, "God doesn't want religious duty. He doesn't want a distracted, half-hearted, 'Fine, I'll read a chapter . . . now are You happy?' attitude. God wants His Word to be a delight to us, so much so that we meditate on it day and night."
But how does it become a delight? Here's a few tips.
-Pray before you read
God has given us the Holy Spirit to help us learn from His Word. Invite the Holy Spirit to open your heart and mind to receive truth from Scripture. You don't have to study the Bible alone.
-Read it regularly
If we don't know God's Word, we won't love it. The more we read Scripture and get to know the God who inspired it's words, the more we will delight in its pages.
-Think and study
Dig below the surface of the text to the heart of what God is saying. Ask questions like, "What does this show me about God?" "What conviction does this bring?" "Where else does the Bible talk about this concept?" Use study resources like cross-references, a good commentary, or even dive into the original Greek or Hebrew to get a fuller picture of what the text says.
-Memorize
Meditating on God's Word day and night requires that we have it hidden in our hearts. Keep your heart and mind focused on God by meditating on His Word all throughout the day.
3. Read good books
I'm a book nerd. There are few things that excite me as much as a good book. I've read dozens of books on Christian living and apologetics and each one has given me wisdom and encouragement along my journey of seeking God.
From biographies to Christian living books to volumes on apologetics, here are a few favorites to add to your 2021 to-be-read list.
–Love Riot by Sara Barratt (shameless plug!)
–This Changes Everything by Jaquelle Crowe Ferris
–Mere Christianity by C.S. Lewis
–Radical by David Platt
–Shadow of the Almighty by Elisabeth Elliot
4. Seek to serve and invest in others
When Jesus spoke of following Him, serving was a central theme. Going into all nations to share the gospel is a form of serving. When Christ washed the disciple's feet, He called it an "example, that you should do as I have done to you." (John 13:15)  He even said that He had come "not to be served, but to serve" (Matthew 20:28) and that "whoever desires to become great among you, let him be your servant." (Matthew 20:26)
Jesus gave us a model of servanthood. As we seek to draw closer to Him in 2021, how we follow Christ's command to serve others will have an impact on our walk with Him. Getting outside of ourselves and practically serving and investing in others will draw us to Christ in a deeper way.
Seek ways to serve, even if you just start with your family. Serve in practical hands-on ways and through prayer, encouragement, or mentorship. Invest in and mentor your siblings, pray for your friends, help out your family, give to your neighbors and community, or become involved in a ministry through your church.
5. Clear the clutter
Each year, during the first few weeks of January, I intentionally "clear the clutter" to begin the year with a greater focus on God. Some years that has looked like fasting from social media. Other years I've done certain food fasts. Some years I've cut out all TV and movies for several weeks. This practice has helped me clear my heart and mind from the clutter and noise of the world and refocus my heart on God.
The world is a noisy place. Often my heart and mind can be loud as well. In our culture, we've forgotten how to be still. But a noisy, cluttered heart cannot hear from God.
I encourage you, to draw closer to Jesus this year, be intentional to quiet the noise and clear the clutter. I highly recommend beginning the year by taking time off social media, giving up TV, or doing some other kind of fast to spend more time seeking God. And then, throughout the year, whenever your heart is beginning to feel overwhelmed, take a step back. Delete the social media apps, turn off your devices, and turn your heart toward Jesus.
We don't know what 2021 will hold. But we do know that no matter what we face in the course of the upcoming 365 days, God will be with us. He will be faithful to walk beside us. May our heart's desire be to draw nearer to His heart and grow stronger in His love each and every day. 
Check out yesterday's article Looking Back to Move Forward—Learning and Growing from 2020 and come back tomorrow for the one kind of vision every Christian teen needs in 2021.
---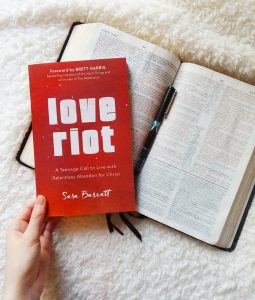 Editor's Note: Hey, Rebelutionary! Want to grow closer to God in 2021? We're kicking off the New Year with this three part series from our lead editor Sara Barratt about looking back, growing stronger, and casting vision for 2021. This series is inspired by content from Sara's new book Love Riot: A Teenage Call to Live With Relentless Abandon for Christ. Brett Harris named Love Riot as his pick for Christian Teen Book of the Year for 2020. Pick up a copy of Love Riot to start off the New Year with a focus on drawing closer to Jesus. Find out more and purchase your copy here.
---