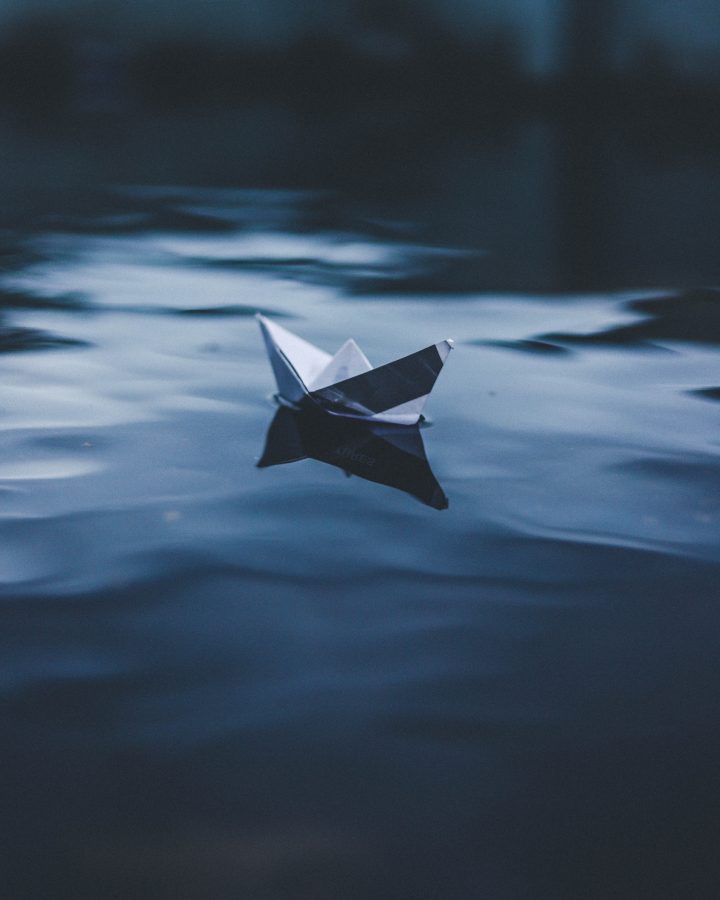 The waves rose higher, beating against the boat. Wind whipped around them, stirring up the surface of the sea and tossing them back and forth. They strained against the waves, but it wasn't any use. Suddenly, on the horizon, a figure emerged. Fear gripped their hearts . . .
Does this story sound familiar? Most of you have probably read it first in the book of Matthew.
"But the boat by this time was a long way from the land, beaten by the waves, for the wind was against them. And in the fourth watch of the night he came to them, walking on the sea. But when the disciples saw him walking on the sea, they were terrified, and said, "It is a ghost!" and they cried out in fear." (Matthew 14:24-26)
I don't know about you, but I have repeatedly seen this pattern of fear in my own life and many others'. We see something that could be scary, so we start to fear before we truly understand what stands in front of us.
"But immediately Jesus spoke to them, saying, 'Take heart; it is I. Do not be afraid.' And Peter answered him, 'Lord, if it is you, command me to come to you on the water.' He said, 'Come.' So Peter got out of the boat and walked on the water and came to Jesus. But when he saw the wind, he was afraid, and beginning to sink he cried out, 'Lord, save me.'" (Matthew 14:27-30)
Who else has found themselves in this unsettling predicament? We ask the Lord to lead us, and when he does, we jump on it, as we should . . . But then we find ourselves presented with these boisterous conditions and sinking.
Stepping Out When It's Not Safe
Unfortunately, I have found myself in this position more times than I can count.
It was clearly stated that the sea was not calm. Yet, Peter asked to be called. He knew of the troubled waters and he still climbed out of the boat. Why would he do such a thing?
He wasn't pursuing attention by his fellow men or a chance to gain riches, but seeking a way to go to Jesus. Jesus was Peter's goal, but when he took his eyes off of this passion—the reason for walking out into the waves—he became fearful and discouraged, causing him to sink.
Just like Peter, we beg God to call us, knowing the conditions of this harsh world. "God, I want to be used. Use me for Your glory!"
Perhaps you have gotten a great opportunity. You asked, and God answered, but nobody informed you of the aftereffect. You started to gain followers, and the vision you once thought was impossible, slowly unravels into a reality.
Then all of a sudden, you cannot breathe. You have come to a screeching halt because you unknowingly (or knowingly) took your eyes off of Jesus. Therefore, you now fear the unknown and the judgment of people.
What we have seen as a childhood Bible story is actually a story that can relate to our lives. While it happened so long ago, it has everything to do with us in the 21st century.
Redirecting Your Focus
For the past several years, a passion has been brewing in my heart. This passion desires to proclaim God's magnificent ways through words. Whether through blogging, short stories, or a work-in-progress fictional novel. The truth be told, I have taken my eyes off the purpose of my writing numerous times. Every time, I sank due to fear.
Here's the lesson: I may have sunk, but I also learned. One way of sinking is another way of finding a path to resurface stronger than before. We don't have to be trapped by fear; we can get back up and continue to push toward our calling.
How? Do what Peter did. Peter cried out with a loud voice, proclaiming that he was afraid and in need of Jesus.
"Jesus immediately reached out His hand and took hold of him, saying to him, 'O you of little faith, why did you doubt?'" (Matthew 14:31)
Sometimes we allow pride to cloud our vision from the salvation that is right in front of us. To know where we fall is one of the greatest lessons.
Jesus did not use a staff to reach out or command someone else to help Peter; He stretched out His own hand and caught Peter. However, He did not do this and leave it be—He taught Peter a lesson, asking him why he doubted.
Why do we doubt? Why do we take our eyes off Jesus and look at the wind and waves around us when Jesus is so much greater?
It's okay to be frightened, but never take your eyes off of God or doubt what He has in store for you. Instead, keep your gaze fixed squarely on Him. The wind may whip and the waves may roar, but our Savior is a constant presence in every storm we'll ever face. Don't look away, don't get distracted.
Because it's only when you take your eyes off Jesus that you'll sink.
If you look at the world, you'll be distressed. If you look within, you'll be depressed. If you look at God you'll be at rest. – Corrie ten Boom
---