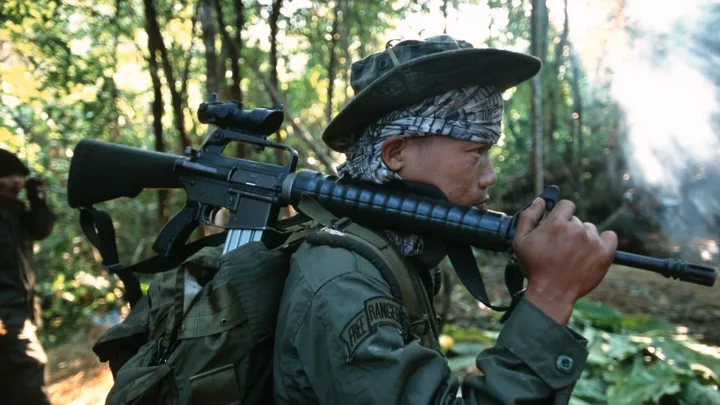 What would you expect from a man who had just lost his wife and child in the middle of a jungle? And not only that, but was stuck in the middle of a raging civil war? Would you expect panic? Fear? Desperation and despair?
The last thing you'd expect is for him to still be able to smile, laugh, and extend his help to others, right?
Meet Eliya Samson
This is the exact kind of man that missionary David Eubank met on the border between Burma and Thailand. Raging for over 70 years, the war in Burma holds the record for the world's longest ongoing civil war. The conflict is mainly a power struggle between the Burmese government and the ethnic groups in Burma. One of the largest ethnic groups is the Karen people.
David was bringing medical supplies to the displaced ethnic people who were being pursued and harassed by the Burmese army. Since he could not drive his truck deep into the jungle, he planned to carry as much of the medical supplies as he could to a village called Lay Ton Ku where 1,150 refugees had gathered, many of them sick or injured. As he prepared to leave, a Karen man wearing combat clothing and carrying an M-16 rifle walked out of the jungle. He immediately smiled at David, and David described him as a "happy pirate" because he was decked out in his war gear and had a ruby-and-gold earring in one ear. The man's name was Eliya, and he was a medic. He offered to help David carry all the medical equipment to the village, where he used his skills to treat the people.
Once they returned from their mission, Eliya declared that he had to go find his wife and son. David was shocked, telling Eliya he didn't know he had a wife and son. Eliya responded, "They have been cut off by the attack of the Burma Army. There was no way I could find them and no way I could know where they were. But I did know where other suffering people were, and I knew my duty was to help them. I had to trust God. God will take care of my family. Now that I'm through with my mission of helping these people, I have to go find my family,"
Stunned, David watched Eliya walk back into the jungle to find his wife and son. Despite it all, he was still smiling and laughing.
Faith Like Eliya
Eliya's faith and trust in God blows my mind. He truly took Christ's words, "Do not worry about your life" (Matthew 6:25) to heart. I believe God loves it when we stare our challenges right in the face, and laugh like Eliya, because we are confident that our God will help us and save us.
(Spoiler alert: Eliya did find his wife and son, and he continued to help David on his missions to serve the ethnic people. He eventually became chief medic for the Free Burma Rangers.)
When we trust God and rest because we know He is helping us, we give Him the opportunity to turn our situation around for our good and His glory. Romans 8:32 tells us that "He who did not spare His own Son, but delivered Him up for us all, how shall He not with Him also freely give us all things?"
If God was willing to give us Jesus, His own Son, how can we imagine that He would be stingy or unwilling to help us in our daily trials and struggles?
Click To Tweet
Our faith in God can only grow and strengthen when we make the conscious decision to lay down our fear and trust in His care for us. In this life, there is much that we cannot control. Yet there is nothing that is out of God's control. As Eliya said, "God would take care of the things I could not."
Our God is all-powerful and all-loving. He is for us, not against us. In the words of the Psalmist, "The LORD is on my side; I will not fear. What can man do to me?" (Psalm 118:6)
With this knowledge, like Eliya, we can laugh in the face of our trials, confident in the strength and care of our steadfast God.
For more information on Eliya and the Free Burma Rangers, check out:
Do This for Love: Free Burma Rangers in the Battle of Mosul by David Eubank
---
photo credit: Thierry Falise/Getty