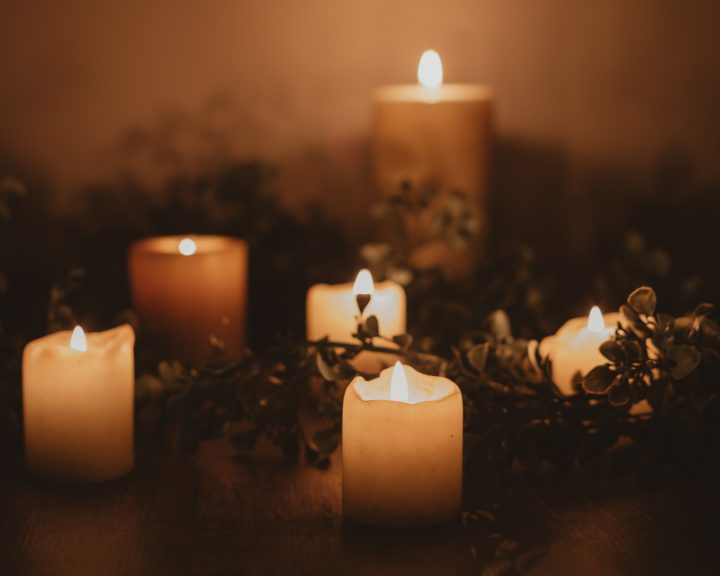 Christmas is supposed to be a time of joy.
It's what all the Hallmark movies tell us, with their over-the-top decorations and picture-perfect events. It's what all the songs talk about (It's the most wonderful time of the year, right?) It's advertised on every commercial and ad: if we just buy this or do that or decorate just so, we'll be happy and we'll have the best Christmas ever.
Yet rather than producing more joy, somehow I've found that this time of year has a more likely way of compounding, instead of lessening, our heartache and sorrow.
The Grief of Christmas
Maybe you're reading this with a heavy heart. If so, I understand. Last Christmas was one of the most painful seasons I've walked through. Two weeks before Christmas, I lost an incredibly precious relationship that left me weeping on my bedroom floor, wondering if the wound on my heart would ever find healing.
How do you celebrate Christmas with a broken heart? I asked myself this question last year, as I set up decorations, watched familiar movies, and tried to sing along to the carols, even though everything in my life felt so very wrong. The weight on my heart was called grief . . . but there was nothing I could do to lift it.
The past several years have brought great loss into many lives. Within my own circle of friends and acquaintances alone, the losses are numerous. The girl who suddenly lost her dad several months ago. The family who was expecting a beautiful, healthy Christmas baby, but are now spending their days in the NICU while their little one fights for her life. Friends facing harsh diagnoses, unfulfilled longings, or another year of chronic pain. The stories are endless. But the truth is that the human experience is one riddled with losses—packaged differently, all deep.
In some way or another, we're all living in the tension of what should have been and what is . . . or what was and what is no longer. We're waiting for the day when we wake up and it doesn't hurt anymore (whether physically or emotionally). We're waiting for the day when that dream or longing is finally fulfilled. We're waiting for the day when the depression lifts or the anxiety loosens or the cloud that always seems to be hovering dissipates. We're waiting for the fulfillment, healing, breakthrough, peace.
The Hope of Christmas
Can hope be found in our waiting? We ask the question with desperate hearts. Much, perhaps, like those who asked this question two millennia ago.
The New Testament opens with a season of waiting for the fulfillment of a promise. Hundreds of years before, a Messiah—a Savior—had been promised to the people of Israel. But as yet, they hadn't seen any hint of a deliverer. The people were burdened by their government as the Roman Empire heavily taxed them, causing suffering for the poor. It was a time of immorality and many were not faithful to God. Those who remembered the promise of a Messiah longed desperately for it to be fulfilled, for someone to deliver them and bring about a new kingdom of peace in place of theirs that was so violent and chaotic. How long would they have to wait? Would they ever see it in their lifetimes? Would it ever actually come to pass?
But in this environment of waiting and struggling, something happens. For years, the question weighing heavy on the hearts of many had been: "When will the Messiah come?" But within the first few pages of the New Testament, we see the proclamation "The Messiah has come." In the words of the angels in Luke 2:11, "For there is born to you this day in the city of David a Savior, who is Christ the Lord."
The Savior has been born, the promise has been fulfilled. But what does that mean for us, two millennia later . . . and how can this story breathe life and hope into our own weary hearts?
1. God redeems our pain and grief for our good and for His glory
God does not cause our pain—but I do believe He can use it. We suffer, we lose, we weep because we live in a fallen world where people sin and where every part of creation has become broken. The very ground beneath our feet is imperfect and cursed because of how sin entered the world and shattered God's originally perfect design.
What we want is for God to remove our pain. After all, He's all-powerful, right? He can do that. But maybe in His sovereignty, He has chosen a better way—a way that includes the working of our pain in our story of redemption.
No other story portrays this so powerfully as the birth of Jesus. Sorrow and loss is threaded throughout the entire narrative of Christ's birth.
Think of Elizabeth—a story of deep pain and sorrow. She was barren for years, living with the shame her culture placed upon her because she had no children. She lived with this ache and longing in her soul for decades. I can't help but wonder if she ever questioned God. Why was He withholding children from her when children were considered God's blessing and the Bible tells us she was a righteous woman, blameless before God? We know God was working through her barrenness and that He would give her a miracle of a son who would be a key player in Christ's ministry, but for decades, Elizabeth only knew the pain of her empty arms.
Or consider Mary, whose story I think we often romanticize. She endured the loss of her reputation and even risked her safety in being willing to accept the role of bearing God's son. Who would believe a young girl's story that an angel told her she would have a baby? Joseph, her husband-to-be didn't even believe her and she was on the brink of losing him when God told him that she was telling the truth. (Matthew 1:19-25) Yet she was given one of the greatest privileges on earth of bringing the very son of God into the world. Her sacrifice and pain brought our redeemer into the world.
Lastly, think about the very One around whom this whole story revolves. Jesus. Why did He come? In truth, He came to die. He left Heaven, put on flesh, and lived in a broken world for over three decades. He suffered temptation. He suffered physical hardship. He suffered loss. He cried. He grieved. And then, He was killed. For us. To save and redeem us and give us eternal life. The darkest day in history when the Son of God breathed a final breath on a bloody cross became the gateway to the brightest day of hope when He rose from the grave. His suffering wasn't the end of the story. It was only the beginning.
Could the same God who worked such a powerful, beautiful, mind-blowing redemption from what appeared to be the darkest day of pain, also work through our pain? If God allowed His own Son to suffer because He had a greater good in mind, doesn't it follow that He is also able to work a greater good out of our suffering? Is He not the same God?
God doesn't waste pain. When we're in the middle of it, the hurt is all we see. And so often we don't understand. How could God possibly work out something good from what is so very hard? How could God possibly bring something beautiful out of something so very broken? Like the people who watched Jesus die on the cross, it doesn't make sense. He was the Savior. Why did He die? For three days, they didn't understand. But on the third day, they did. They saw the plan.
For us, our three days of darkness—the time when we're in the middle of the grief and we can't see the light—sometimes those seasons are long. Sometimes they're life-long. We may never fully see the picture that God was creating this side of heaven. But He sees it all from beginning to end and back again and He promises that He does not waste any of it.
We may never fully see the picture that God was creating this side of heaven. But He sees it all from beginning to end and back again and He promises that He does not waste any of it.
Click To Tweet
2. The Man of Sorrows cares about our sorrows and carries them in His hands
When we're in the middle of loss or sorrow, it can be easy to think God doesn't care about our pain. That He is somehow distant and cold and unfeeling.
But that's not who He is. He is present in our pain and with us in our sorrows. We can be certain of this because He is not a God who remained far away. He is a God who came close, who drew near and came to earth and walked on this earth for the purpose of drawing us to Himself to spend eternity with Him in Heaven. Is that kind of God One who would abandon us in the interim?
Not only does He care about our pain, He understands it. He's not unsympathetic to our suffering. Isaiah 53 calls Jesus, "The Man of sorrows" and one "acquainted with grief."
Connect the two pictures—our Savior, that little baby born in a filthy stable, is the Man of Sorrows. The One who would walk through suffering and pain. And He cares about your pain. He cares about my pain. He knows. He understands. Not only does He not waste our pain, He holds it. It matters to Him because we matter to Him.
3. We have hope beyond this moment and hope beyond this pain
While Christmas tells a story threaded with pain and sorrow, it is ultimately a story of deepest hope, joy, and celebration. Christmas is the promise of everlasting joy.
The most beautiful sound of hope that the world has ever heard was a cry. A cry that echoed with the proclamation: the Savior has come. The waiting is over. Hope has been born. Those who first heard this cry that night in Bethlehem didn't realize what they were hearing. They didn't know how hope was laced throughout every syllable . . . but we do. Because of Christ's birth, the promise of hope was made possible.
The most beautiful sound of hope that the world has ever heard was a cry. A cry that echoed with the proclamation: the Savior has come. The waiting is over. Hope has been born.
Click To Tweet
The other most beautiful sound of hope the world ever heard was again a cry. This time in three words: "It is finished." This cry forever sealed our hope with the truth that no matter what sorrows or struggles we walk through in this life, our eternal life is sealed and secured by the blood of the One who is called the Man of Sorrows. Because He endured the pain of losing His life, we can be assured that one day every tear we've cried will be wiped away, every ache will be mended, every longing finally fulfilled. Our hearts do not break forever, because the Healer of our hearts is the Savior of our souls.
Christmas is a story of hope because it is the story of One who entered into our pain, disrupted our waiting, and brought light into every dark and broken place.
Click To Tweet
Christmas is a story of hope because it is the story of One who entered into our pain, disrupted our waiting, and brought light into every dark and broken place. One day, when we come face to face with perfect love personified, we will know that our hope was not in vain, that our pain was not for nothing, and that in it, we were never alone. Perfect love was holding on to us all along.
---