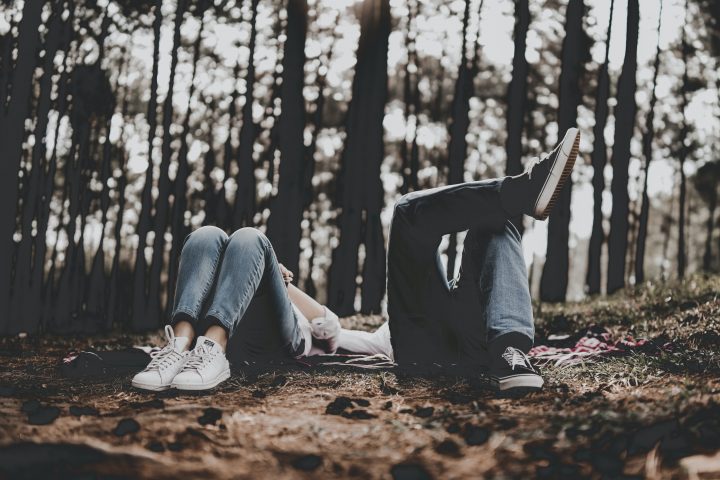 Recently, I embarked on a new sort of journey. One I had previously never known or experienced. I began my first committed relationship for the purpose of marriage. During that relationship, I experienced such a wide spectrum of emotions and grappled with my view of myself, God, and others. As I look back over that short journey, I cannot help but see several lessons the Lord taught me along the way.
1. It is never too early to start preparing
Ever since I was a little girl, I pretended to be a princess waiting for her prince to sweep her off her feet. I wanted to be a wife and mother. I desired to grow up, marry a loving husband, and have several children of my own. Deep inside my little girl heart, I longed for the bond of family. From a very young age, my parents instilled in me the desire to wait and prepare, and I'm grateful they did.
In my early teen years, I developed a list of attributes and characteristics I desired in a spouse. I prayed for my future, my future spouse, and sought to learn and grow in any way I could. I chose not to become distracted by crushes and boyfriends, but to spend those years spending precious time with my friends, my family, and my church.
I also made a list of who I wanted to become. Over the years, I've realized that who I am becoming, is who I will be when I am in college, get married, have children, and become a grandmother. My present choices are the building blocks of my future life. The character traits I develop as a child, a teen, and an adult will remain with me as I live my life. It is never too early to examine your life, write a list of traits you wish to develop, pray for the Holy Spirit to strengthen you, and work heartily unto the Lord as you prepare for the life He has for you.
My present choices are the building blocks of my future life. The character traits I develop as a child, a teen, and an adult will remain with me as I live my life.
Click To Tweet
Although I began to learn this at a young age, the experience of being in a relationship opened my eyes to my inconsistencies and sins in a different way. I examined my life in a more intentional way, and sins I wasn't aware of before became so vividly obvious.
God uses relationships with other sinful people to reveal our inconsistencies and areas of sin so that we might grow and change. While we must not allow areas of needed growth to postpone or even eradicate the possibility of marriage, we must use any time in our life to ask God to reveal our sins so that we might change.
2. Pray and seek the Lord
During any kind of relationship, there are two different extremes that can govern our relationship with God. First, relationships can cause us to press deeper into the Lord and to seek His direction. Second, relationships can cause us to neglect the Lord and to disregard His guidance if we allow them to become a distraction.
During my relationship, I sought the Lord for guidance, but I found myself giving into the distractions of busyness, apathy, and overthinking. Yes, overthinking. My mind became preoccupied with concerns about the future, the busyness of life, and my relationships. This thinking distracted me from drawing near to the Lord and prevented me from relying wholeheartedly on His perfect and sovereign plan.
Isaiah 26:3 says, "You keep him in perfect peace whose mind is stayed on You, because he trusts in You." When our minds are constantly focused on God in trust, we will be held in "perfect peace." When God-given gifts are placed higher than God, they serve to distract us from our primary purpose in life: to "love the Lord [our] God with all [our] heart and with all [our] soul and with all [our] mind" (Matthew 22:37).
Most likely, at some point in our lives, we will be pushed to continue seeking after the Lord while we balance a relationship and begin a family. We cannot forever postpone learning how to keep God as our priority as we pursue relationships. It is important to learn how to maintain a proper balance in every stage of our lives.
Be very intentional about your time with the Lord. If you are in a relationship or a busy season of life, you must ensure that you set aside a specific time to have with God. Open His Word and delve into it. Submit yourself to it and seek the Holy Spirit's help and strength to seek Him first above all others. We can "trust in the Lord forever, for the Lord God is an everlasting rock" (Isaiah 26:4).
3. Be content in the moment God has given you
Jim Elliot was a missionary who died at the hands of those he went to proclaim the gospel to. He once said, Elliot knew that the Lord places His children precisely where He intends them to be. We are to recognize that each moment we experience has been given to live in a manner that glorifies Christ.
"Wherever you are, be all there! Live to the hilt every situation you believe to be the will of God." Jim Elliot
Click To Tweet
A phrase that has encouraged me throughout the years is "live in the moment." Although we often hear and see this statement being used to proclaim self-indulgence and living for oneself, I have also heard it being used as a helpful mantra the Christian can use in his everyday life. Jesus says, "Therefore do not be anxious about tomorrow, for tomorrow will be anxious for itself. Sufficient for the day is its own trouble" (Matthew 6:34).
During my relationship, I caught myself looking ahead to the future, causing me immense stress and anxiety. My mind was wrought with thoughts of the future, tying my stomach in knots. I was worried about where the relationship would go, how to act, what to do, what it could look like further down the road, and how my life could change. I was so busy focusing on the destination that I had trouble finding joy in the journey.
Looking back, I could simply say that this anxiety was caused by my personality. Since I was a baby, I've been set on doing and learning the next thing. Once I could sit up, I was ready to crawl. Once I could crawl, I was ready to walk. I could also say I was merely "concerned." Maybe I wasn't truly sinfully untrusting. I can be merely concerned, right? But once I gave these "concerns" a more comfortable space in my mind, they quickly led to sinful distrust of God.
Whether you are in a relationship or not, enjoy every step of the journey. You will never be able to return to these moments. Remember that no matter where the Lord has you at this very moment, God is preparing you for whatever He has in store for your life.
Each moment He gives you is not earned. You do nothing to deserve each kindness, each laugh, each friendship, each cool breeze, each dawn. Enjoy each gift you experience from day to day. These events in your life will never again be revisited except in memory.
Prepare for the future by seeking the Lord and trusting in His sovereignty, using each moment of every day to glorify God by loving others and enjoying the gifts that He gives you.
---