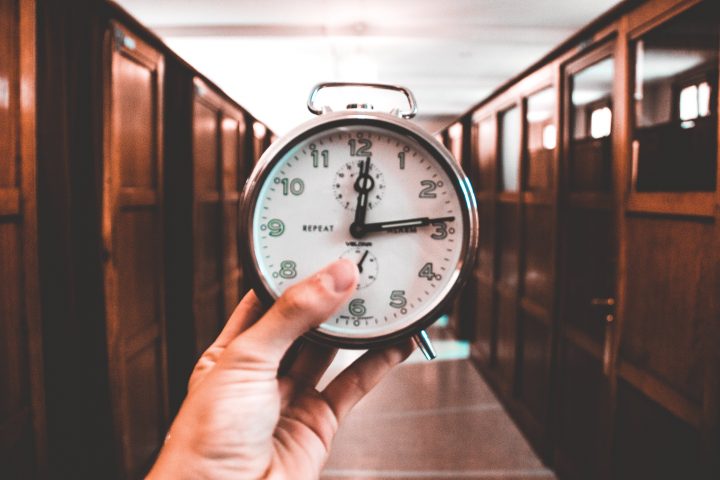 I sit staring at my computer. A million distractions and notifications hum around me, each one tearing at my few remaining strands of focused energy and productivity. I pick up my phone, check a few emails, and give Instagram a 'brief' glance over.
Fifteen minutes later, I attempt to refocus on the task, but my brain is still whirling. When should I reply to that friend? My new post isn't getting many likes, did I use the right hashtags? Wonder what's happening in the news right now?
We live in an endless expanse of mental stimulation that can disintegrate the foundation of a fulfilling life. This leaves us merely surviving on low-battery mode, plodding through the mundane only to return to the glitter and stardust of the next distraction.
Frequently, we resort to time-wasting activities to relieve the pressure of the day instead of seeking time-redeeming pursuits. This harsh reality of the modern, techno-crazed world begs the question: whose time are we really wasting?
Who is the God of Our Time?
Paul reminded the Corinthians that God had authority over their lives: "You are not your own, for you were bought with a price. So glorify God in your body," (1 Corinthians 6:19-20, ESV).
In Ephesians, Paul encourages us to be careful to please the Lord through our time usage: "and try to discern what is pleasing to the Lord. … Look carefully then how you walk, not as unwise but as wise, making the best use of the time, because the days are evil," (Ephesians 5:10, 15-16, ESV, emphasis added).
Scripture reminds us that the purpose of our new life in Christ is to glorify God and share the gospel with others: "and He died for all, that those who live might no longer live for themselves but for Him who for their sake died and was raised. … Therefore, if anyone is in Christ, he is a new creation. The old has passed away; behold, the new has come. … Therefore, we are ambassadors for Christ," (2 Corinthians 5:15, 17, 20 ESV, emphasis added).
What better calling than to glorify our Savior and be His representative to a lost world? Are we allowing this call to inform how we manage our time?
As Christians, God ought to have control of everything, including our lives, our actions, our choices, our circumstances, and yes…even our time.
Click To Tweet
As Christians, God ought to have control of everything, including our lives, our actions, our choices, our circumstances, and yes…even our time. We say we love God, but do we love Him enough to prioritize what He says is important over what we think is fun and fulfilling? We pour time into what we truly love.
We can never regain the time we have already used. Every passing minute is either used to glorify God, to fulfill our sinful desires, or to serve the idol of mind-numbing inactivity. We must remember that our time ultimately belongs to God and therefore we should desire that in "whatever [we] do" – whether that's watching a TV show, helping around the home, going to church, or messaging friends – we do it all "to the glory of God," (1 Corinthians 10:31 ESV).
4 Questions About Time Usage
As you consider how to use your time even more wisely, here are some questions to ask yourself:
1. Is this activity fueling a desire to honor God or to honor myself?
It's incredibly easy to get sucked into a me-myself-and-I mentality, rather than a God-above-all-else mentality. As humans, we are born with a sinful nature that prioritizes self-worship and self-service above God-worship and God-service. But in Christ, we are new creations with a new heart, new desires, and a new purpose for our lives.
We don't help ourselves to stay on track when we constantly feed the appetite for self-service and brush over building our appetite for serving God. Whatever mentality you pour into will be the one that thrives.
2. Am I addicted to this activity?
The quantity of time we spend on something says a lot about how important we perceive it to be. Be brutally honest with yourself about how much time you spend on time-wasting activities instead of time-redeeming ones. There are activities that, while helpful in moderation, you may have to limit so that they don't drain time best spent on deeper activities.
If YouTube is your typical go-to, maybe you need to take a break to get your priorities in order. If your go-to is to spend hours reading 'just the next chapter' of a gripping novel, at the expense of your more-important responsibilities, maybe you need to limit reading until after you've completed your daily goals.
3. In ten years, will I wish I'd spent more or less time doing this?
Swap out time on the wish-I'd-done-less activities and use it for the wish-I'd-done-more activities. We have enough time; we're just sometimes bad at deciphering what is important and fail to prioritize long-term visions over short-term distractions.
At the end of our lives, we will all have some regrets. Let's do what we can to make sure "I wish I'd served God and used my time wisely to make an impact for Him instead of meandering nonchalantly through each day" isn't one of them.
4. Could I be using my time in a way that will glorify God more and better redeem the time?
This is the clincher for me. I'm self-motivated, I like having goals and achieving them, and I used to think I was efficient with my time. I now realize that there are many areas where I can put my time to better use. It's a constant battle to remember that my time is not my own, that I am bought with a price, and that I have a duty and a privilege to use that time to work in harmony with God's plan for my life.
When we get to heaven, we won't be wishing that we had spent a bit more time reading that novel, watching that TV show, or scrolling through reels: we'll wish we'd served Christ more wholeheartedly.
Click To Tweet
When we get to heaven, we won't be wishing that we had spent a bit more time reading that novel, watching that TV show, or scrolling through reels: we'll wish we'd served Christ more wholeheartedly, borne the cross of self-sacrifice more cheerfully, and used our time more wisely.
We Don't Have to Manage Our Time Alone
We're not alone in the struggle against wasting time. We all battle the desire to breeze through life rather than actively engaging in the fight against distraction.
Because we all face this temptation, one of our best defenses is to seek accountability in each other and ask for prayer from one another. It's easier to conquer an isolated soldier than a vast army.
But there's even greater Help available.
When you feel like it's impossible to retrain your mind to have a Christ-focused mentality instead of an instant-gratification mentality, remember that Christ Himself promises to "teach us to number our days that we may get a heart of wisdom" (Psalm 90:12 ESV). He has saved you. He has a purpose for your life, and "He who began a good work in you will bring it to completion at the day of Jesus Christ." (Philippians 1:6 ESV).
Ask for His help. Lean on His strength. Trust in His ability instead of your own.
Time to Glorify God
It's tough to tackle time management head-on; it's a lot easier to just brush it off and leave it for the 'right time' that never comes.
The truth is, as teens and young adults we are blessed with an incredible amount of 'free time'. Yes, we're busy, but we've a lot more flexibility than those with spouses and children. The opportunities we have now are almost limitless, but that also means we face limitless decisions about where to focus our time. Should we work more, study more, hang out with friends more, etc.? This flexibility also means that almost anything can become a timewaster if we let it.
The solution is to keep ourselves focused on long-term priorities, to remind ourselves of Who really owns our time, and to hold ourselves accountable to make the most of our lives. We need to remember the 'why' of our existence – "to glorify God and enjoy Him forever" (Westminster Shorter Catechism) –and then the way we view time management, and our priorities will slowly become more aligned with Christ's will.
---