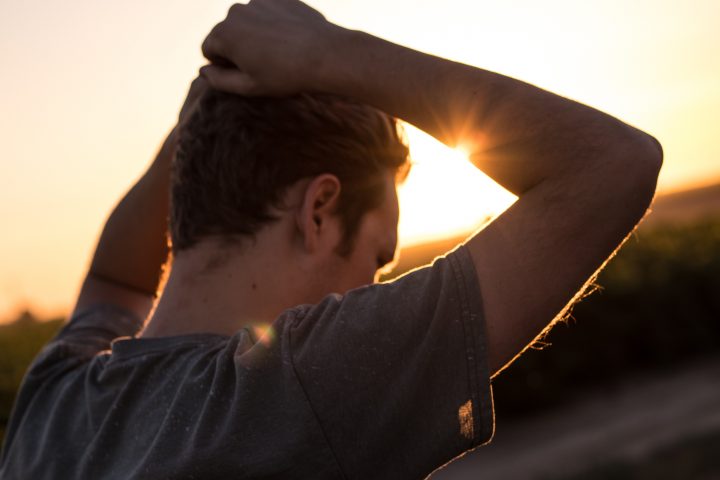 Lately, God has been teaching me about his character, especially his overwhelming faithfulness. I say overwhelming because every time I try to understand it I get…well, overwhelmed. It's one of the craziest and most amazing things I've ever known.
He's also been teaching me about my character—especially my unfaithfulness to him.
Distracted Again
I have a tendency to get distracted very easily. One minute I can be deep in prayer feeling extremely close to God, then the next I'm thinking about what I'll have for lunch, or notice that the painting on my wall is slightly crooked. Next thing I know, the whole day has gone by and I haven't thought about God once. Then days go by. I know I should spend time with him, but it seems so unappealing.
I feel guilty for not wanting to be with him, which puts me even farther away, because I'm sure he wouldn't want me back anyway. Why would he? I've turned away from him for the umpteenth time, and who's to say it won't happen again? It's absolutely miserable, and I'm sure that I've gone too far this time.
But in the middle of my pity party, I hear a quiet whisper in my soul saying, "There is no distance too far or chasm too wide that you can't get back to me. I will always be here waiting for you with open arms. I love you even still, and I always will. Just come back to me."
But He Loves Me Anyway
As soon as I catch that little sound, or a tiny glimpse of his face, everything that I was clinging to outside of him loses all meaning. So I drop it all and run to him. Being in the presence of the Lord is so peaceful, beautiful, and altogether amazing.
I wonder why I ever turned away from it, but then, something else catches my eye. Something new and fun. It seems harmless enough, but it ends up leading me back to where I was. Distant from God, completely uninterested in his word, and the whole cycle starts again.
How many times will he come after me? Why would he want me back after I have turned away so many times?
To answer these questions, I want to take a look at the Israelites. God delivered them from Egypt; he guided them by cloud during the day and by fire at night. He fed them bread from heaven. He provided for their every need, but they forgot his many blessings and tested his power. They turned to a golden statue instead of the one true God. They doubted him and clung to the things of this world.
He released them to their sin and plagued them with disease for choosing their desires over him. When the pain and misery became too much, they cried out in anguish seeking refuge with the one they abandoned. He was waiting with open arms, and as soon as they called out to him he saved them from their distress.
Then it all happened again…and again…and again. They continually turned away and he continually brought them back to him.
"Many times he delivered them, but they were bent on rebellion and they wasted away in their sin. Yet he took note of their distress when he heard their cry; for their sake he remembered his covenant and out of his great love he relented." (Psalm 106:43-45)
I look at the Israelites and wonder how they could forget about him after all that he did. Did they really not see how much he loved them?
I find myself thinking that if God would reveal himself that clearly to me I would never be able to tear myself away from him even if I tried.
But that's not true.
He has revealed himself to me very clearly. Sometimes in big ways and sometimes in small ways, but he always lets me know he's there. I have seen his faithfulness in the day to day. He has always come through for me. But still I wander from the safety of his hand, following whatever has my attention at the moment.
Why Is It So Easy to Lose Sight of What Matters?
My biggest question about my fickleness is: why? Why is it so easy for me to exchange the treasure that is Christ for the counterfeit pleasures of the world? What can I do to keep it from happening again?
It's so easy to get caught up in what is going on around us. I spend time in the world and it seems like there is so much that I'm missing: movies I shouldn't watch, activities I shouldn't partake in, music I shouldn't listen to, and all kinds of other things that I shouldn't do. But everybody else is doing it. How bad could it really be? Besides, they seem so happy.
That is the kind of thinking that gets me in trouble. I forget that I will never truly be satisfied by what the world had to offer. Even if I were to gain the whole world, there would still be a sense of emptiness inside.
We settle for the things of this world because we forget about all of the things that God has in store for us. We lose sight of eternity, because it is so much easier to accept the things that we can see right now than it is to hope for the things that we have been promised.
The devil uses this to his advantage and makes it easier to get comfortable in the world. He provides ways for us to fulfil our worldly desires and he loves nothing more than luring someone off of the narrow road. He blurs our vision and makes it harder to see the truth.
Fighting the Desires of this World
The only way to fight the devil is to let God do it for you. Cling to Jesus and he will keep you from sin. Walk in the spirit and keep your eyes focused on eternity. Continually come back to God even when you don't feel like it, otherwise you will be pulled away.
"So I say walk by the spirit, and you will not gratify the desires of the flesh." (Galatians 5:16)
Based on that verse, I think it's safe to say that the times that I've gone astray, I haven't really been walking by the spirit, and when I look back, I know that it's true. I was trying to do the whole "good Christian" thing on my own, without relying on God.
I was holding on to things that God was calling me to let go of. I was looking around instead of looking up. Thus I became ensnared by the world, giving up truth for a lie, trading the real deal for a phony, but not anymore.
Now, I'm asking God to fill me with a desire for him and only him. Moving forward, I'm seeking only him.
---