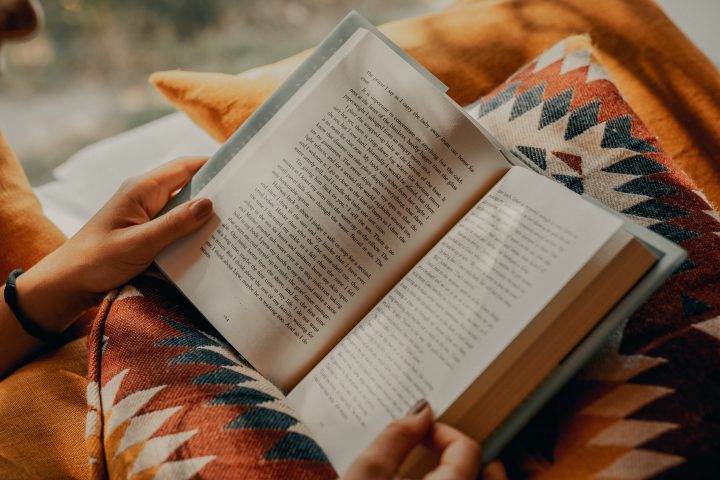 ---
When I was younger, I was a reading fanatic.
I could finish a book in a day, no sweat. I would even read during mealtime (which resulted in at least one book stained with egg yolk).
During the beginning of my teenage years, I got an iPod touch, a laptop, and later an iPhone. These devices competed heavily for my reading time. I still had the desire to read for fun, but I was allowing less important and productive things (like social media) fill up my spare time.
After months of not reading any books (besides ones for school), I finally made a change. I set a timer for an hour and invited my two little sisters to a contest to see who could read the most pages in the allotted time. They were thrilled and for the next hour the house was silent — except for the sound of turning pages. Needless to say, my mom was delighted with the activity we'd chosen.
That hour of reading went by fast. My sisters and I had a blast doing something together, and I was finally reading a book just for fun again!
I quickly realized how beneficial a period of focused reading time is. Now I intentionally set aside time to read every day. I still occasionally miss days, but I'm improving.
Here are five reasons why you should set aside time to read every day.
1. It could prolong your life. Literally.
A recent study by researchers at Yale found that people who read books on a daily basis, on average, tend to live two years longer than those who do not. To quote one of the researchers, Avni Bavishi, as to why book readers live longer, "this effect is likely because books engage the reader's mind more–providing more cognitive benefit, and therefore increasing the lifespan."
2. Reading a book forces us to focus.
The world around us is a distracting place. Most of today's entertainment (such as social media) comes to us in short bursts that we don't have to focus on. In this day and age, we can be mindlessly entertained by social media for hours on end. However, when you are reading a book, you can't scroll through quickly. You actually have to pay attention and catch all the details.
3. Reading is one of the best ways to learn.
Ben Carson, a world famous neurosurgeon, says, "I emphasize that active learning from reading is better than passive learning such as listening to lectures or watching television. When you read, your mind must work by taking in letters and connecting them to form words."
4. We can be mentored through a book.
While we may not have opportunities to work with, or even meet, some of the most successful people in the world, we do have the opportunity to read about them. From reading their stories, we can learn what they did that was so beneficial to their lives and then apply those principles to our own stories.
5. Reading opens up whole new worlds to us.
We may not be able to physically leave our corners of the world very often, but a book can take us to a place far away or to a time long ago. If you feel like heading to England, you could open the wardrobe door and stumble into Narnia with Lucy, or you could travel back farther in time and experience the battle between Bloody Mary and Princess Elizabeth for the English throne.
You could taste what it would be like to run an entire orphanage by faith with George Muller or you could feel the fear of hiding wanted people in your home with Corrie ten Boom. If you are more of an American time traveler, you could wander the prairies with Laura Ingalls Wilder or grow up during the Civil War with Meg, Jo, Beth, and Amy.
Better yet, you can do all of this without leaving the comfort of your home!
I hope this has encouraged you to set aside time every day to read a book. Books take us outside our normal day-to-day life and allow us to experience someone else's life or learn something valuable from another person.
Set aside the time to read. It will be a blessing to you.
Editor's Note: this article was originally published on September 16th, 2016.
---
Share Your Thoughts in the Comment Section!There are currently __ Comment(s)
---
Photo courtesy of Plashing Vole and Flickr Creative Commons.
---