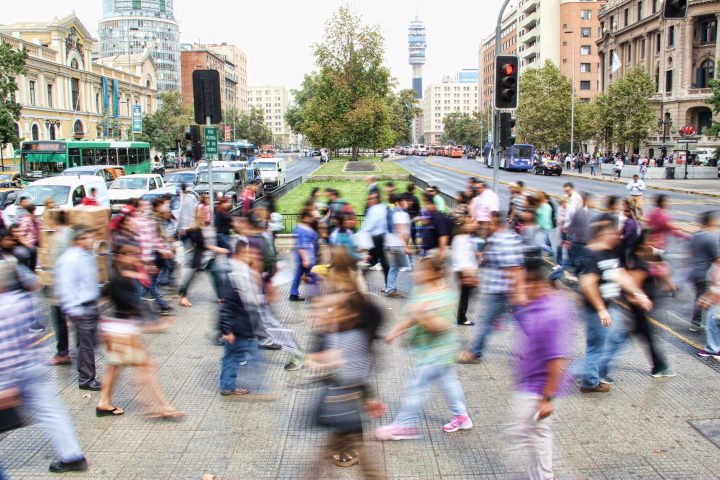 BEEP! BEEP! BEEP!
I groan and fumble in the dark to find my phone. I squint to make out the time. 6:30a.m. I wriggle out of bed and begin getting ready for school. The next thirty minutes are a blur. I finally make it to the car with my breakfast in one hand and my Spanish flashcards in the other.
The school day passes by uneventfully. Classes, tests, quizzes, and lunch just like every other day. I leave school and head straight to cross country practice. By the time I get home, it is already 5:00pm. After a quick shower, I collapse on the couch exhausted and flip on my favorite TV show to let my brain veg out for an hour or two.
Eventually, after dinner and helping my family load the dishwasher, I tackle my homework. I manage to get it done with only a few moments of procrastination. It's now 11:00 pm. I read a few chapters of a new library book before turning off the lights. I made it through the day.
Now, I have to do it again tomorrow.
Where is God in My Busy Life?
I'm sure this scenario sounds familiar to you. This is pretty much my everyday life as a high schooler. Some days are busier than others, but most of the time, I feel like I'm zooming through life at eighty miles an hour. It is easy for me to become stressed and overwhelmed.
I often want to cry out and ask, "God, where have You been?"
It feels like I'm on Earth and He is on Pluto, and I couldn't possibly feel any more distant from Him. Sure, I have church on Sundays and youth group on Wednesdays, but it feels like God is doing nothing in my life.
It takes stepping back and humbling myself to realize that I am the one who is distant.
Lie: I Don't Have Time
This is probably the most common reason high schoolers, myself included, use as an excuse: "I just don't have time. You don't understand how busy my schedule is!"
Think about this. We don't have time to read the Words of God, but we have time to scroll through Instagram? We don't have time to pray to the One who gave us life, but we have time to binge Netflix?
Huh, funny how that works.
I get it. I find myself making the same excuses every single day. There's nothing wrong with relaxing, but I promise there is nothing more relaxing than spending time with Jesus.
"Peace I leave with you; My peace I give to you. Not as the world gives do I give to you. Let not your heart be troubled, neither let them be afraid," (John 14:27, ESV).
If you are stressed and struggling to find rest, know that the peace you can find in Jesus is better than the peace you can find anywhere else. He is the Prince of Peace, and His peace is permanent, unlike the false, temporary sense of peace the world gives us.
Truth: You Can Make Time
It's time to start asking ourselves hard questions.
Where do I spend most of my time?
What do I think about the most?
When you think through these questions, you will find out who or what is the King of your life. If you don't have time for Jesus, you are missing out on living a more joyful and fulfilled life. Whatever you are struggling with during the stressful adventure of being a teenager, whether it's depression, anxiety, or a sin struggle, Jesus is willing to carry the burden for you when you make time to be with Him.
Jesus tells us the Greatest Commandment in the Bible: "You shall love the Lord your God with all your heart and with all your soul and with all your mind," (Matthew 22:37).
If you want to follow this commandment, you won't just make time for God, you will sacrifice to spend time with God.
God shouldn't be just another time slot in your busy schedule. He should be what you base your schedule on.
Click To Tweet
God shouldn't be just another time slot in your busy schedule. He should be what you base your schedule on. Take a step back and ask yourself this question: Is God the center of my life or is He just another part of my busy schedule?
Simply Seek Him
You don't have to read your Bible for hours on end or spend every moment on your knees to spend time with God.
You can start simply.
When you're cleaning, listen to worship music, and thank God for your blessings. On the way to school, listen to a Christian podcast or bring your Bible and read a few chapters. Start reading a book with a few friends. There are so many ways to incorporate God into your life. So many simple ways to seek Him.
One of the most helpful ways I have found to put "first things first" is by thanking God for who He is and what He has done when I first wake up and before I go to sleep. No matter how overwhelming my life becomes, I can find peace and comfort by remembering the greatness and goodness of God.
My prayer is that you will remember how much God loves you and wants to spend time with you. He made the ultimate sacrifice of love so you could live a life knowing Him forever. It not only pleases God but also makes our lives incredibly fulfilling when we prioritize time with Him. He loves us more than anything and desires a relationship with us. It all starts with putting first things first.
---