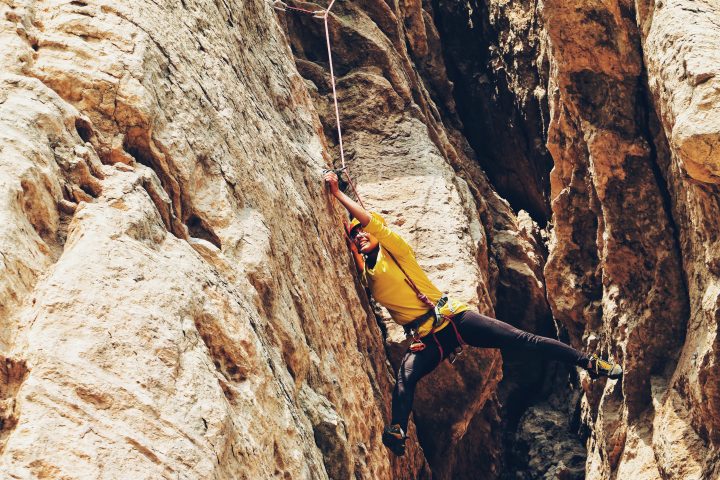 Actions speak louder than words.
Sound familiar? I'm guessing it does.
The thing is though, our actions don't speak–they scream. Our actions are the thing that sets us apart from everyone and everything around us, including the low expectations we are all trying to rebel against.
People nowadays don't have a high opinion of teenagers. They don't consider us respectful or responsible, and their mental pictures of us aren't at all improved by the way culture paints us on TV and in books. They like to portray teenagers as rebellious and irresponsible—powerful ammunition for society's low expectations.
Now is our chance to rebel against those expectations by making a change in how we act, showing them that we don't all follow the stereotype. Let me give you a few small, practical things you can use to change your actions right now.
1. Put the Phone Down
Cell phones. One of the greatest advances in technology–and a consistent factor that leads to low expectations for teenagers. People expect us to live on social media, bury our faces in our screens, and pay no attention to the people and things around us.
The number one way to resist those expectations? Put the phone down, especially when people are trying to talk to or spend time with you. Don't just glance up from the screen and give them a halfhearted answer. Set the screen to the side, make eye contact, and answer all their questions cheerfully– maybe try replying with your own questions to show your interest.
Secondly, make sure that your phone is not interfering with your family time. When you're spending time with your family, put the phone away and engage in conversations or activities. Not only will you grow closer to your family, but this will take you miles down the road of rebelling against low expectations.
2. Be the Definition of Reliability
Everyone's heard stories of irresponsible teenagers. They don't show up for work, they're never where they need to be, and they never follow through. Society's expectations for teens regarding reliability have never been lower, so there's never been a better time to smash through their mental walls and show them just how much we're capable of.
How can we do that? Well, for those of you who have jobs, my first piece of advice is to simply show up for work. Show up early and dedicate yourself to each task you're given.
For those of you who don't have jobs, there are other ways you can show your responsibility. Do what your parents ask you to do, on time and without complaint.
You honor God by honoring your parents, no matter how small a task it seems. You can also go a step beyond and do things they haven't asked you to do–wipe the table, sweep the floor, take out the trash, anything to give them a hand around the house.
And you can even take it a step farther by doing these things with a happy and cheerful spirit, energizing and lifting the moods of everyone around you. People will remember your cheerful attitude, and you'll be on your way to breaking their expectations.
3. Speak to Others as You Would Speak to Jesus
If you were talking to Jesus face-to-face, what would you say? More importantly, how would you say it? Teenagers these days are not famous for respect, but the thing is, we should be speaking to every person as politely and humbly as we would speak to our Savior.
God commands us to honor our father and our mother. Who is He but our eternal Father? He created humans from the dust; He is infinitely more powerful and good than we could ever aspire to be. He deserves every respect we can give Him, and we are called to honor Him by honoring others.
So, speak respectfully to your parents. I know sometimes they annoy us, or seemingly don't care about what we think or want–but here's the thing: they love us more than almost anything else in the world. They put up with our attitudes, take care of us when we are sick or having a bad day, and they deserve our respect.
And be kind to your siblings! No, please don't turn off the computer, I get that siblings can be the most annoying people in the world sometimes. They know how to push all your buttons, and they don't listen to you! But maybe they just need to see you responding patiently, kindly, and respectfully to the things they do or say–even the annoying things! Maybe your actions will break their expectations and even set a good example. Remember, you aren't blameless in every argument, and while that doesn't mean all the blame falls on you, it doesn't fall entirely on them either! Siblings are gifts from God, and being a good sibling can encourage and build up not only your brothers and sisters, but those around you as well! Positive sibling relationships don't go unnoticed these days, and this is a great way to change how society looks at teens.
Don't Condemn, Be the Example
If you make it a point to seriously change your actions, you will inevitably notice teens who comply with society's low expectations more than you used to. You may be tempted to condemn them for their actions.
If you find yourself judging them, consider this quote I saw a while ago–it's actually from Pinterest, but hey, it gets the message across! "Don't judge my story by the chapter you walked in on."
This is especially poignant to me as a writer, and hopefully to you as a reader! If we walked into The Lion, the Witch, and the Wardrobe during the chapter where Edmund betrays Narnia, and then walked out again, we would never see his redemption.
Everyone is at 'a different chapter of their story.' Leave the changing to God and be the influence they might need to start working on those areas in their life.
It's Not About Us, It's About Christ
Our actions, for better or worse, will impact how people see us. It's up to us to decide if we want to use our actions to be respectful and God-honoring, or if we want to cave to culture and become the people everyone already thinks we are.
Our actions, for better or worse, will impact how people see us. It's up to us to decide if we want to use our actions to be God-honoring, or if we want to cave to culture and become the people everyone already thinks we are.
Click To Tweet
If you're reading this, chances are you're looking to rebel against low expectations. Hopefully now you have a few feasible ways to show those around you that not only are you rising above society's standard, but you are filled with something different. You are filled with the Holy Spirit. The Lord is not only alive in you, but He is working and moving through your actions.
Rebelling against low expectations isn't only about changing society's opinion of us–it's about showing Christ to others in everything we do. It's about becoming the people God created us to be so that we can give glory and honor to Him. Through changing people's expectations, you can lead them to Christ.
Low expectations define society's opinion of us. Will you stand back in the shadows, or will you use your actions as a battering ram that breaks society's walls?
---