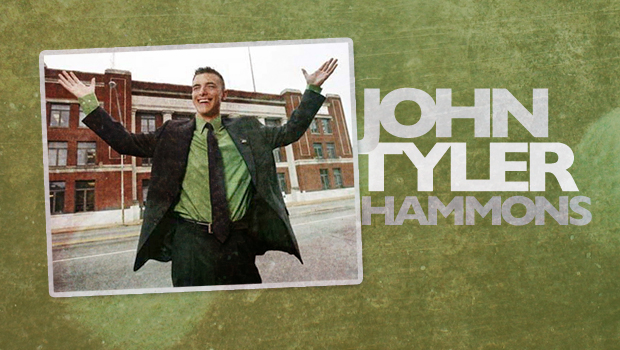 It was three years ago that John Tyler Hammons saw an article about 18-year-old Michael Sessions being elected mayor of Hillsdale, Michigan. "I remember [thinking] that's something I'd like to do," recalls Hammons, now 19. With the encouragement of friends and the support of his family, he decided to give it a shot.
It wasn't easy. Hammons' ran against a 70-year-old former three-term mayor of the city of 38,000. He was outspent nearly five to one. Even so, in Tuesday's election Hammons won in landslide, taking 70 percent of the vote. He calls the win "the greatest, humbling and most awesome experience I've ever had."
Normal Teen. Big Job. Enormous Brouhaha.
"Apart from this passion I have for government, I'm pretty normal," says Hammons, in an interview with ABC News. "I'm probably super normal." And this super normal teen is about to tackle a pretty big job.
Mayor of Muskogee, Oklahoma, is not a figurehead position. The mayor oversees a nine-member city council and supervises an annual city operating budget of $27.83 million. In return Hammons will receive an annual salary of $1 and office space.
Yet, as Hammons tries to hit the ground running as mayor, the limelight is growing. Besides numerous interview requests, he has received a proposal for a book deal, invitations to appear on national talk shows and three offers for a reality television program. It seems that teens doing hard things is so… so… unexpected.
"First and foremost, Muskogee is my one and only interest right now," says Hammons from his office inside the city's municipal building. As mayor, his first priority is to promote openness of government and keep citizens better informed of city operations. "I think that's been a detriment to the trust of the citizens of Muskogee," he said. "Once we have that trust, we can solve any other problem."
Another Teen Mayor Offers His Advice
Michael Sessions, considered the youngest person ever elected mayor, was quick to offer Hammons some advice, urging him to "listen carefully" and "take notes" while he's in office. "[Hammons] is going to be looked at as the outsider and the kid, in some respects, but he he's got to take them on," Sessions told ABCNews.com. "When [the council members] make stupid comments, he's got to refute them."
Hammon, thought conscious of his age, feels like it shouldn't be a major factor. "The only thing I have going against me is that I've never [been mayor] before," Hammons said. "But that's true, even if you're 50."
From The Desk of Alex & Brett Harris
When Michael Sessions was elected there was a similar media frenzy. It's hard to believe that was almost three years ago. At the time Alex and I wrote the following letter of encouragement to Michael. With a few edits we'd like to address the same encouragements to the new mayor of Muskogee.
Dear John Tyler,

The Rebelution is extremely excited for you for many reasons. But primarily because you are one more example of how our culture doesn't quite know what to do with young people who take initiative and do hard things.

The media blitz that you've faced has granted us small glimpses into the mind of a passionate young man with a strong family and with 1 Timothy 4:12 on his campaign website. Knowing very little about you personally, we are encouraged by the character and competence you have demonstrated.

We applaud you Mr. Hammons, but we would also like to offer you the following counsel—two 19-year-olds to another:

Don't stop! Keeping "doing hard things" in public and, more importantly, in private. The true test of character is doing what's right even when it costs you. Even when no one else sees.
Remember that despite the blatant abdication of modern "celebrities" and leaders, you are a role model. Live like one.
You posted this verse on your campaign website: "Don't let anyone look down on you because you are young, but set an example for the believers in speech, in life, in faith and in purity." (1 Timothy 4:12) Think about what it means and how it applies to your new position.
Remember that in our "Fast-Breaking News" society, you can be picked up and dropped again by the media in the twinkling of an eye. Don't let it upset you. We are not called to be famous. We are called to be faithful.
Fight pride constantly! We commend to you the short article, "How To Fight The Sin Of Pride Especially When You Are Praised," by Pastor John Piper, as well as C.J. Mahaney's book "Humility: True Greatness."
Realize that nothing would be a greater shame than for the highlighting of your competence to be the undoing of your character.

In Christ Our King, Alex & Brett Harris
What do you think about John Tyler Hammons?