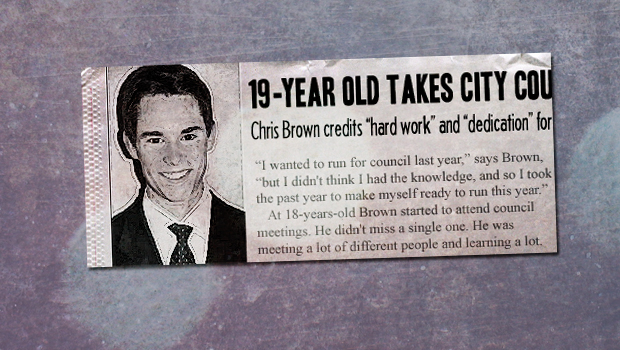 While it's not uncommon for young people to run for public office, they aren't often elected, particularly in cities larger than several thousand residents. Someone forgot to tell that to 19-year-old Chris Brown who was just elected (with 84% of the vote) to the city council of Bedford, Texas — population, 48,000.
"If you're dedicated to something and you work hard, it doesn't guarantee you anything," says Chris, "but without it you don't stand a chance." That's why this teenager attended every single city council meeting for a year. "I wanted to run for council last year, but I didn't think I had the knowledge, and so I took the past year to make myself ready." For Chris, doing hard things paid off.
Teen takes his seat on Bedford City Council
Marice Richter / The Dallas Morning News – Wednesday, May 14, 2008

Last week was especially busy for Chris Brown: He had to juggle the final days of a political campaign with final exams.

The Bedford teenager successfully completed both, winning a contested race for the Bedford City Council by an overwhelming margin and passing finals so that he could advance to his sophomore year at the University of North Texas.

Such a feat might be daunting to most 19-year-olds, but not for Mr. Brown, who contemplated running last year as a high school senior but decided to wait and fully prepare.

"Running for the council is something I thought about for a long time and really wanted to do," the political science major said. "This wasn't just a spur-of-the-moment quirk."

To run for the council, Mr. Brown turned down offers from several colleges, including Baylor University, to stay close to home. Although he lived in a dorm on campus in Denton, he commuted constantly to regularly attend meetings of the council and other city boards and commissions, including the Charter Review Commission, on which he served.

Despite his determination and dedication, Mr. Brown still had to overcome a lot of skepticism because of his age.

After all, he hasn't yet voted for president, held a full-time job or bought himself a beer. And he still lives in his childhood home with his mom, dad and 15-year-old sister, Katie.
Once you've read the rest of the article (make sure you watch the video too!) come back here and let us know what you think about Chris's accomplishment. You can also check out all the rest of our Teens In The News coverage.
Have you ever attended a city council meeting?
Have you ever considered running for public office?
Have you ever run for office at school or in another context? If so, tell your story and share what you've learned.