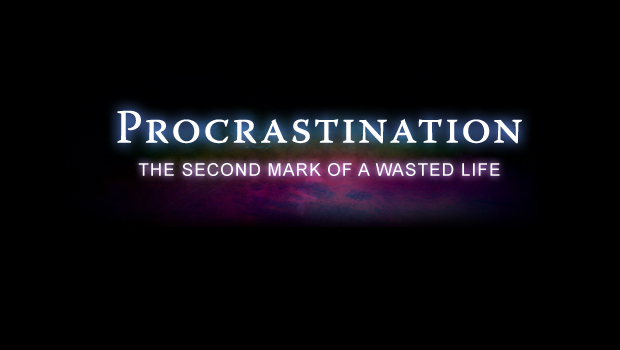 When are you going to get your stuff done? Procrastination can sabotage more than a day's work. Too many of us also procrastinate in much bigger areas of life — things like growing in responsibility, maturity and in our relationship with Christ.
For young people this can be expressed in the phrase: Life starts later. Life begins after high school, after college, later, someday, but not now. We view the teen years as a vacation from responsibility, a time to goof off and have fun. We're like athletes, lounging poolside, not realizing the game has already started.
And you see, what bothers us when young people die is that we think they somehow didn't have a chance to live. But that's only because we've bought into the lie that life doesn't start until after you're married with kids.
I Timothy 4:12 says, "Let no one look down on your because you are young, but set the believers an example in speech, in life, in love, in faith, and in purity."
Speaking for Christ starts now. Living for Christ starts now. Loving for Christ starts now. Faith must be exercised now. Purity is important now.
God doesn't have two standards, one for adults and one for young people. He has a high calling for both. And that high calling starts now.
A wasted life is a life that ends before its owner even thought it had started.
Some questions for discussion:

Almost all of us have a tendency to procrastinate with little things (e.g. homework, homework, etc.) But what bigger life things do you find yourself putting off until "someday?"
Elizabeth's "Bonus" Question from the Comment Section: What practical steps can you take to stop procrastinating in this area of your life?
Natalie's "Bonus" Question from the Comment Section: How do you distinguish between procrastinating and prioritizing?
NOTE: Have another question for everyone related to procrastination? Ask it in the comment section and I'll add it here.