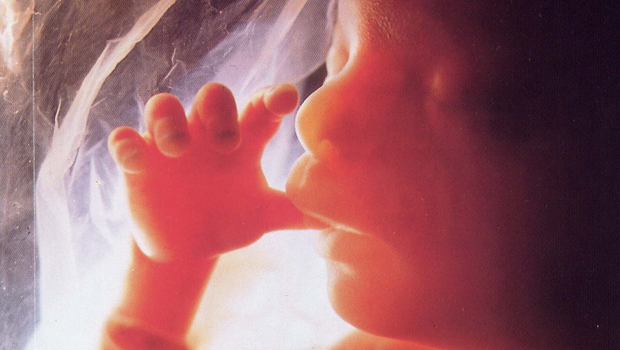 Though overshadowed by the recent murder of abortionist, Dr. George Tiller, the abortion debate does show signs of shifting in a pro-life direction. For the first time since Gallup began tracking the issue, a majority of Americans consider themselves "pro-life" — a reversal of 2006 numbers. Other studies indicate that our generation is the most pro-life generation since Roe vs. Wade — and we can attest that no other cause excites greater devotion among rebelutionaries.
How have you been involved in the pro-life movement? Whether you've volunteered at your local pregnancy resource center, or participated with pro-life organizations like Abort73 and Bound4Life, use the comment section to share your stories and suggestions. Is the abortion debate changing? What should other young people do to get involved? Share a good resource or action-item and we'll add it to this post.
+ Educate Yourself +
———————————————————

Abort73.com :: Abortion Unfiltered

Any young person interested in the abortion issue should start here. Abort73.com is the best youth-oriented, educational resource on abortion available — and one of the best educational resources on abortion, period.

Pro-Life Answers to Pro-Choice Arguments by Randy Alcorn

It's one thing to be pro-life, it's another to know how to defend and articulate that conviction to those who are opposed. This is an encyclopedia of the defense of the pro-life position. Get this book.
+ Activate Yourself +
———————————————————

Bound4Life.com :: A Prayer Movement

This grassroots movement focuses on the simple but critical role that prayer plays in this fight. You've seen these guys and gals on TV. You know, the ones with red LIFE tape over their mouths? Why not join them?

From Steph: "According to Chuck Colson, William Wilberforce and his team spent three hours a day in prayer as they fought to end slavery. Imagine what could happen if a thousand of us dedicated an hour a day to praying for an end to abortion for forty days."

Volunteer at a Pregnancy Resource Center

Every year thousands upon thousands of hurting and confused mothers are served and thousands of babies are saved through the work of local Pregnancy Resource Centers — and most PRC's rely heavily on volunteer support.

From Becca: "We have a pregnancy crisis center in our area. I am too young to volunteer but they always are in need of maternity clothes, diapers, wipes, and so many other things. These small things help keep the center running and this center has saved over 50 babies this last year. Small in number but they are making a difference."
From Anna: "The most practical thing I have done is to collect baby items to donate to the crisis pregnancy center in our area. Most recently for my 16th birthday party, I asked my friends to bring baby gifts instead of presents. Everyone had fun picking out cute baby stuff. The volunteer at the center was so thankful and she said the need for baby things to give to the women is huge. I encourage other rebelutionaries to think about doing something similar."

Rock for Life :: Music and Education

From Rebecca Cicione: "I will be going with them for two weeks this summer to music festivals on the East Coast in order to educate teens and college students on the processes and results of abortion, as well as to provide support and hope. I am also very involved in the Christian music scene, and am booking a concert/one day festival to raise money for their efforts. If anyone is still interested in helping out this cause, I believe that they are looking still looking for volunteers for their three tours."

Steps for Life/Walk for Life :: (and other walk-athon fundraisers)

Whether you like walk-athons, bike-athons, or swim-athons, there are plenty of options to "get out and move" and raise money for pregnancy resource centers at the same time. Your local PRC can plug you into a fundraising drive in your area — and if there isn't one, you better start one. Below are some examples mentioned by rebelutionaries in the comment section.

From Alyssa: "I have participated for many years in the Steps for Life fund-raising event for Pregnancy Resource Centers [in Portland]." This year over 500 walkers from 88 churches raised nearly $150,000 for PRC's in the Portland metro area.
From Todd: "There is a group of us in the Jacksonville, FL area that are putting together a 5K run to raise funds for pregnancy centers who support pro-life options to unplanned pregnancies. Come visit the website." If you like what Todd and his friends are doing, start something similar in your city. That's what they did.

Coins and Quilts 4 Life :: (and other creative fundraising ideas)

Think creatively about ways you can use your unique gifts, abilities, or resources to help the pro-life cause. Bake sale? Yard sale? Quilting? Beading? Below are some of the ideas others have shared in the comment section:

From Tabitha: "I am currently working on starting some sort of nonprofit organization called Coins and Quilts 4 Life. The purpose being to provide hand-made baby quilts and funds to pregnancy resource centers and, personally to say thank you to those young mothers who have chosen life when it would have been much easier to deny it. If you are interested in offering your support please leave a comment on my blog or PM me (Tabitha Hems) through the forums."

Pro-Life Day of Silent Solidarity

From the website: "On October 20th, people from all over this nation will give up their voices for a day in solidarity for these children. Red arm bands and duct tape will identify them as taking part in the Pro-life Day of Silent Solidarity. They will carry fliers explaining why they are silent and educate others about the plight of the innocent children we are losing every day."

From Alex: "I have personally taken part the past two years and it is moving and life changing. The first year it started out just me and my friend. By the end of the day about 75% of the school was not talking."
If you have yet to actively engage in this cause, we'd encourage you to take the above suggestions seriously. Think about it. If the abortion debate really is changing, then you'll wish you'd been in the thick of it. Because, after all, there's nothing more exciting than being part of what God is doing. Don't stay on the sidelines.