Activism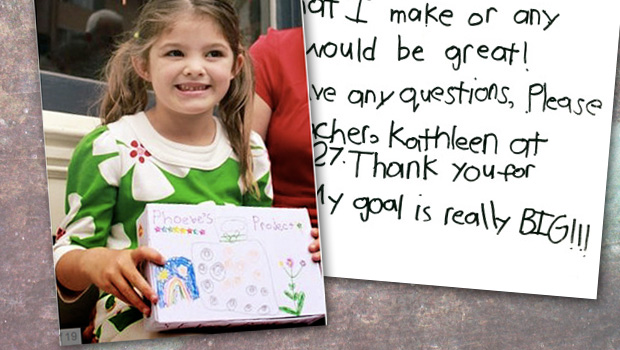 Published on August 3rd, 2009 | by Alex and Brett Harris
Preschooler Helps Feed 18,000
There are many reasons given for why someone else (i.e. not you, not me) should do something to help the needy and oppressed. However, being only five-years-old probably tops the list of effective cop-outs. But five-year-old Phoebe wasn't looking for an excuse — and helped raise $34,000 to feed the hungry. Which makes you wonder: What if we stopped looking for excuses too?
5-Year-Old Helps Feed Nearly 18,000
AOL News – Wednesday, July 29, 2009

(July 28) – Phoebe did something "really big" that raised more than $30,000 to feed poor families in San Francisco last June.

The 5-year-old girl expressed a desire to help feed the needy after seeing a man begging for food through the window of her parents' car when they passed him by during her daily ride to preschool.

Phoebe set a goal to raise $1,000 to feed needy residents by collecting cans.

Her teacher, Kathleen Albert, told her the dollar amount was a "bit ambitious" for a 5-year-old, but the Phoebe was determined.
She was especially encouraged after talking to officials at the San Francisco Food Bank. They told her several agencies had pledged to provide $9 in food for every $1 donated to the food bank.

Albert helped Phoebe draft a letter to the school's alumni asking for canned food donations and matching cash gifts. The response was overwhelming. Her stash piled up as donors delivered bags full of cans and checks to help her meet — and far surpass — her goal.

Phoebe's once overambitious goal seems minuscule compared to the check for $3,736 she gave to Paul Ash, the executive director of the San Francisco Food Bank. With matching donations from the charity's large network, Phoebe's donation will result in $33,624 worth of food — or 17,971 meals — for the city's hungry.

"We get many gifts of this size, but with this one it's a real emotional boost," says Ash. "I'm going to be speaking to a bunch of lawyers tonight, and I'm going to tell them about her. I'll say, 'If Phoebe, 5 years old, can raise $3,700, we as adults can do more than we're doing.'"

"I think it is very important to teach children to give back to the community," Albert said. "I see so many adults who walk around and have no idea of that. It doesn't matter your wealth, you can still give back. It teaches kids that small donations can add up to big donations."
Share your thoughts in the comment section.