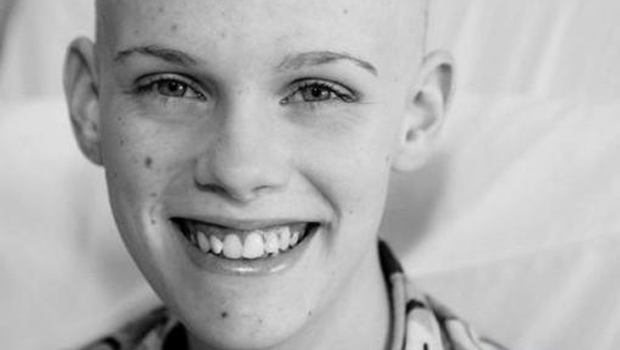 Associated Press • May 8, 2013 • Tamara Lush

In a normal school setting, Tony Colton and Ashley Krueger probably wouldn't cross paths.

He's 13. She's 18. He's short and outgoing. She's about 6 feet tall and serious. He's in middle school, she's thinking about college.

But where they met — All Children's Hospital in St. Petersburg — nothing is normal. Here, in the halls adorned with whimsical paintings and cheery colors and masked nurses, they both faced a deadly cancer diagnosis.

"We make each other laugh, which is important," said Ashley. "Because sometimes that's just what you need."

They became best friends, texting and messaging on Facebook several times a day when they weren't confined to their hospital beds. Their parents took photos of them at every opportunity: Tony with hair and Ashley without; both bald; both with hair; both sick and smiling.

She had a bone cancer occurring mostly in children and teens, and lost part of her shoulder. Tony had a rare form of kidney cancer and lost one of his kidneys. For a brief time in 2012, both were clear of cancer, and their families felt some relief.

Then, Ashley was diagnosed with T-cell lymphoma in September. She needed a bone marrow transplant and would be in isolation for months.

Tony knew how that would affect Ashley's family financially.

"Car payments, their house payments, little tweaks and stuff that they had to fix around the house before Ashley comes back from her bone marrow transplant," Tony said.

Starting with a garage sale and car wash, he gathered donations. Then he opened an account with www.giveforward.com , a site dedicated to raising money for people with medical bills. Within months, Tony raised about $25,000 for Ashley.

Ashley's mom, Pat Myers, who had quit her job as a website programmer so she could care for her daughter, was overwhelmed.

Myers recalled thinking: "I hope we never have to repay the favor."

But two weeks after Ashley's diagnosis, Tony discovered his cancer returned. He would need costly treatment in Bethesda, Md., at the National Institutes of Health.

Ashley, from her hospital bed, told her mother that she wanted to start an online fundraiser for her friend.

"Tony did this for me, I have to do this for him," said Ashley, who is in isolation following a bone marrow transplant.

So far, she's raised $3,700.
Ashley's Give Forward Page:
https://www.giveforward.com/fundraiser/dhg1/ashleysjourney
Tony's Give Forward Page: https://www.giveforward.com/fundraiser/z4x1/tonystriumph
---