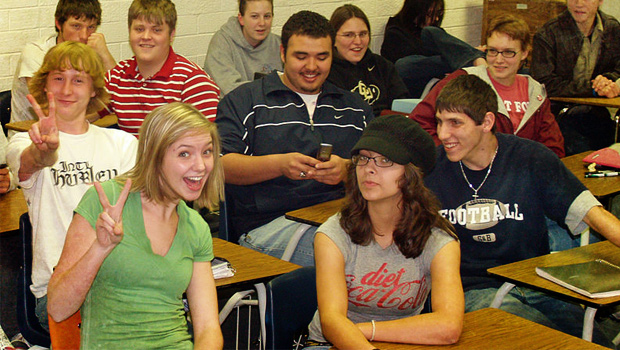 ---
I became a Christian in high school. And I found high school a challenging place to live out my faith, especially in the earliest days of my walk with God.
Now, five years later, here are 5 things I wish somebody had said to me back then:
1. Witnessing is Only Worship if It's About God's Glory
I was a mega-witnessing maniac when I was first converted.
I'm talking aggressive and arrogant – enough truth to be saving, but so little love, humility or compassion.
God is good, and He blessed those times. A number of people made professions of faith, and some are still walking with God.
But when I reflect back, the reality is that most of the evangelistic endeavor I was engaged in was more about vindicating to myself my own decision to follow Christ, and wasn't motivated by a passion for Christ to receive the praise He deserved from the people around me.
John Piper wrote, "Missions exists because worship does not."
And that's the core of it. Don't make your attempts to share Christ with friends at school or college about point-scoring and religious one-up-man-ship.
Make it about the extension of Christ's Kingdom, for the glory of God.
2. Grapple With The Bible, But Not At The Cost Of Your Studies
I've always been a bit of a book worm, and during high school, I devoted almost all of my spare time to theological reading.
God blessed this, and I trace much of my doctrinal stability to the good books I was given and read in those days.
The first Christian book I read straight through was Luis Berkhauf's Systematic Theology – no mean feat, and I don't pretend I understood most of it!
You should be very serious about grappling with theological, biblical and spiritual issues whilst you're at high school, and your mind is flexible and used to taking in new information.
But I made the mistake of prioritizing Theology (not Bible study!) over my studies, and this was reflected in that I didn't achieve as I could have done.
Academic performance isn't the be all and end all of existence, and I personally think sometimes we can take it too seriously. But if you're a Christian, and you're in education, it's your duty to work had, always, as if for God, and that means honoring Him in your studies (Col. 3:23).
3. Use This Period of Your Life to Learn About the Local Church
Whether you have Christian parents or not, when you become a Christian you are called to join the Body of Christ, expressed in connecting with and belonging to a local church family.
When I was in high school, before I settled down in a church and began to experiencing discipleship, I flitted around from place to place for a little while, largely lead by whichever building had the biggest speakers and the coolest music in it.
I believe the music we use to worship God is important, but it's not the defining factor in determining the quality of a church family, and its ministry.
Get stuck in!
You have youth, energy and enthusiasm on your side and you can be a highly useful asset to the local church in your high school and college days.
Don't buy the lie that you're a second-rate, less important or somehow inferior member of the Kingdom of God just because you don't pay council tax and can't vote yet.
God can, and does, use young people for His glory, in and through the local church. Get busy.
4. Beware The Shiny Objects
There are plenty of things about high school and college life that can be distracting, and especially things that can distract you in your spiritual life.
Romantic relationships, sports teams, coursework, clubs, proms, trips, theatre productions, music projects – all of these things are legitimate and acceptable pastimes and activities.
But if your timetable is busy and you can't cope, don't make your spiritual life that part that gets pushed out.
Shiny objects are attractive, and often legit, but they distract you from the primary purpose.
Quit the tennis club if you have to!
Drop Basketball!
Let somebody else star in the production.
It's not because it's wrong for you to do those things – it's because your life is no longer your own, and you can't let anything (even good things), compete with Christ.
I made that mistake. Don't do it too.
5. Ignore Peer Pressure
Some Christians in high school find it tough because of what people will say or think of them if they're too public with their faith, or speak out too often.
It's so hard at the time – these people are people you have to see everyday, and high schools and colleges can be filled with the meanest kinds of backbiting and gossip.
But now, five years later, in the world of work, what those people thought of me back then is making absolutely 0% difference to my life.
I should've been less afraid toward the end.
If you value people's respect more than you value their souls, you haven't learned Christ aright.
Peer pressure is tough. What if they label me a Jesus Freak? Well, there's no denying the truth!
Be without fear, and speak the truth in love.
---