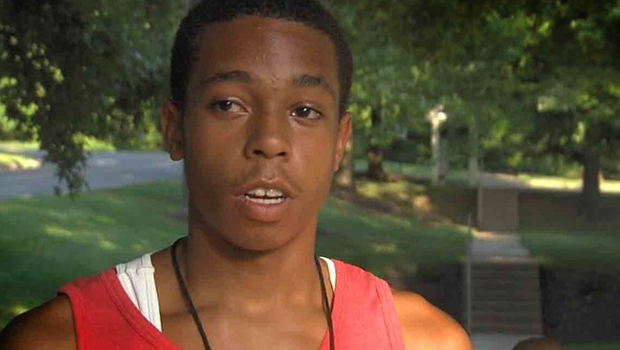 ---
(Lancaster Online) — Temar Boggs had a feeling he'd find the 5-year-old girl who was abducted Thursday in Lancaster Township.
He was right.
Boggs, a McCaskey freshman who lives in Gable Park Woods, had been hanging out with a friend at nearby Lancaster Arms apartments and helping move a couch when a man came by asking if they'd seen a missing girl.
They hadn't, Boggs said, so they went to watch TV.
A short time later, his friend went outside and saw lots of police officers and people from the neighborhood looking for the girl.
Police said that the girl had been taken that afternoon from the 100 block of Jennings Drive.
Boggs and about six friends joined the search.
"We got all of our friends to go look for her. We made our own little search party," Boggs, 15, said Saturday, though he didn't know the girl or her family.
They walked through some nearby woods and along a creek where they were told the girl might have gone.
When Boggs and his friends returned to Lancaster Arms on Jennings Drive, they saw more police officers and TV news crews.
"The whole block was filled," he said.
That's when, Boggs said, "I had the gut feeling that I was going to find the little girl."
A friend asked Boggs to hold his bike. Boggs figured the bike would help him search for the girl.
So he and another friend, Chris Garcia, rode on area streets — Michelle Drive, St. Phillips Drive, Gable Park Road — looking for her.
That's when a maroon car caught his eye. (He had gotten a bit ahead of Garcia.)
The car was on Gable Park and turned around when it got near the top of a hill toward Millersville Pike, where Boggs said several police officers were gathered with the kind of cart used to carry an injured football player off the field.
The driver, an older white man, then began quickly turning onto and out of side streets connecting to Gable Park, Boggs said.
The neighborhood is something of a maze; many of its streets are cul-de-sacs.
Boggs got close enough to the car to see a little girl inside. Garcia was nearby.
The driver looked at Boggs and Garcia, then stopped the car at Gable Park and Betz Farm Road and pushed the girl out of the car. The driver then drove off, Boggs said.
Boggs said he didn't see where the car went.
"She runs to my arms and said, 'I need to see my mommy,' " Boggs said.
Boggs scooped the girl onto his shoulders and began riding the bike toward home, but then decided that wasn't safe, so he carried her and walked back while Garcia pedaled along, guiding the bike Boggs had been using.
Back at Lancaster Arms, when Boggs and Garcia arrived with the girl, someone summoned a firefighter or law enforcement officer.
Boggs said the girl was reluctant to leave him and go to the official.
"She didn't want to leave me because she thought they were going to do something to her. I said, 'No, it's OK,' " he said.
---