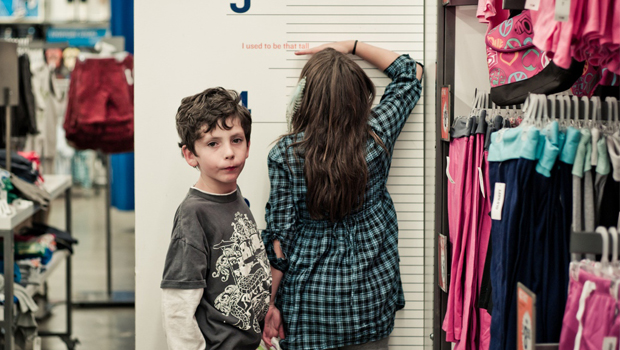 "If anyone thinks they are something when they are not, they deceive themselves. Each one should test their own actions. Then they can take pride in themselves alone, without comparing themselves to someone else, for each one should carry their own load." — Galatians 6:3-5
Comparing is something I struggle with daily. There are days that don't go smoothly for me, and I fall into the trap Satan gives me called self-pity. I have wasted so much of my time crying over things I didn't have or couldn't do, and it embarrasses me.
If someone has more free time than I, I will be griping. If someone has flawless skin and amazing clothes, I will be searching online for more things I don't need. I even compare myself to bigger families, wishing my family was as big as theirs! Obviously when I think things like that I am not taking reality into account.
There is always going to be something that you won't be able to get or become.
"And I saw that all toil and all achievement spring from one person's envy of another. This too is meaningless, a chasing after the wind." — Ecclesiastes 4:4
We are so stuck in this world that we get our priorities messed up. We want to impress the world, so we try our hardest to fit in and make sure that we measure up. We look to those around us and think that we need to prove ourselves to them by becoming better than them. There are so many things we do, think, and say that we really would never do if we would just try to be who God created us to be.
It is so easy for us to look at other people's lives and see only the good things. We never take into account that they had a family member die, or that they have to move every two years. We just look at their vacations, their possessions and their accomplishments.
But isn't it ironic? People are looking at you and thinking the exact same things! The grass is always going to look greener. We are always going to want what we don't have. Doesn't comparing sound bleak, tiresome and boring all of a sudden? There is no win! All we get is a headache and a feeling of ungratefulness.
We try to fix ourselves by looking to the right and to the left, when we should be looking up.
"We do not dare to classify or compare ourselves with some who commend themselves. When they measure themselves by themselves and compare themselves with themselves, they are not wise." — 2 Corinthians 10:12
When we compare ourselves, we either feel inferior or superior. Have you ever secretly rejoiced at people's failures? When my friends get lower grades in school than me, or I hear that someone failed the driving permit test more than I did (It took me 3 times to pass it, so you don't meet people like that often!), it makes me feel better about myself in the dirtiest way. So why do I still do it?
Comparison doesn't just hurt me; it affects everyone around me. When I compare how far along in school I am to what others are doing, it hurts my mom because I am not acknowledging all that she is already doing.
When I compare the behavior or character of my siblings to how other kids are acting, instead of encouraging my siblings, I am breaking them down.
I can get bitter when I feel like I don't have as much as the people around me.
How many people have I caused to stumble or not see God in me because of my selfishness?
So once we realize that no earthly achievements are going to change God's love for us, we are safe from ever comparing, right? Wrong.
Who else reading this compares spiritual achievements? Like, "That person prays more than me! I need to pray longer!" Or, "That person is so on fire for God; they can't stop doing good works in his name! I have to do more!" I compare myself to people memorizing entire books of the Bible or praying for everyone they know every morning, and I feel… inferior.
You will never find peace in comparison, but only in the eyes of God.
"Peace I leave with you; my peace I give you. I do not give to you as the world gives. Do not let your hearts be troubled and do not be afraid." — John 14:27
In trying to become better than those whom I was comparing myself to, I tried to accomplish as much as I could in a day. At the end of the day I would go to bed feeling angry and defeated because I did not cross everything off my list.
But the day that I sat down and asked God to lay on my heart what HE wanted me to accomplish, something amazing happened.
I didn't finish that sewing project, or write that friend, but I did finish all that I had written down.
God knew what the day would hold and just what I would be able to get done, and He wanted me to find this out long ago.
Don't make the same mistake I did.
There is emptiness in us because of our need for a Savior, for something more lasting and promising than this world. We try to fill that emptiness with affirmation, but no amount of earthly "encouragement" will fill that void. God, the Creator who spoke and made the universe, is trying to tell us, His creations, in so many ways every single day how He sees us.
If we realized that the only affirmation that will ever fill us up isn't found in comparing ourselves to others, but just keeping our eyes on God, how much peace would we have?
Yes, we are seriously messed up. Yes, we have a lot of growing to do. But we have to let God work in us so His plans can be fulfilled in us.
We will go to bed at night not accomplishing what we wished we had, but as long as God is at the center of our life and we are letting him handle our days, we will feel peace.
God has a life purpose that is uniquely for you, so why would you want someone else's life?
We should learn to say, "I want to take my cues from God. I want to see myself as He sees me; as a person messed up and yet so beautiful to Him. A person that Has a lot of growing to do, is far from perfect and needs a lot of changes in his/her heart and life. But a person that God loves without having to perform: to have that job, or be that person. Nothing I do is going to change how God looks at me."
Whose measurement or standard should you use when it comes to evaluating yourself? Yours? The people around you? The people on TV or in the magazines who don't really look or live that way? Or God's?
So how do you compare?
---
Share Your Thoughts in the Comment Section!

There are currently __ Comment(s)
---
Photo courtesy of Sergey Sus and Flickr Creative Commons.
---