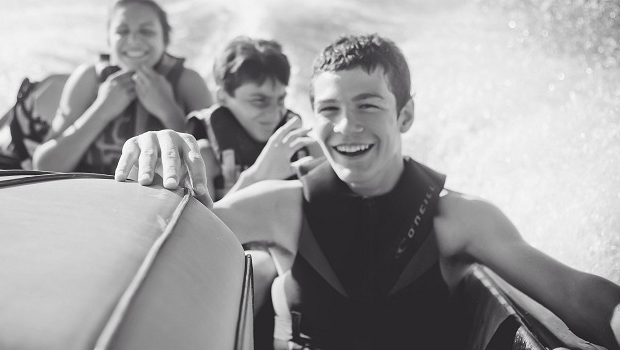 ---
We're going to play a game. It's called "Fill in the Blank." I want you to fill this blank with the first negative word that comes to mind.
Ready?
Teenagers are the most ________ people.
What word came to mind? Distracted. Destructive. Disturbed. Depressed. Desperate. Just a few on my mind…
Why?
We can blame our society. We can blame pop culture. We can blame the government, the school system, or even ourselves, but that's not the problem.
"Teens are just that way! It's who they are."
Well, history is there to prove you wrong. It may be who they are, but it is NOT who they are meant to be.
It was a teen that slew a giant. It was a teen that gave birth to the Messiah. It was a teen that held onto his faith in Babylon. It was a teen that was taken to Egypt as a slave, and still believed God was good.
Teens can be the most energetic, the most passionate, the most powerful people group in the Body of Christ.
And Satan knows it.
So, where are the Davids? Where are the Marys? Where are the Daniels and the Josephs? We're in a war! Where are the warriors?
Mary would have showed up today, but she looked in the mirror, and felt ugly, and unusable.
David's here. He's on the battlefield, but while shells explode around him, he's staring at a screen that plays images of espionage, the program of the Enemy, meant to steal, kill, and destroy him.
Daniel's around here somewhere, but he's so scared. He can hear the roaring Lion that is our Enemy, and it renders him useless, so he flies under the radar. No one's really sure what side he's on.
And as for his friends, Shadrach, Meshach, and Abed-Nego, they tried to stand up to that idol, but their peers all cracked under the pressure, and even the adults in their life told them, "It's what all young people do."
Esther is here too, but that crush of hers may as well be a king, because he rules her heart. She knows it's wrong. She knows he isn't the right one, but she can't say no because she can't bear the break up. She's so afraid of being alone.
Where are they? They're here. They're slowly being lulled to sleep by the lies.
And I, for one, am done watching it happen.
In the 1730's and 40's there began a movement that would come to be known as the Great Awakening. One of the key leaders of the day was a Pastor named Jonathan Edwards. At age seven, he had studied Latin, Greek and Hebrew. At the age of 13, Edwards entered Yale, and it was there he found God. As he began to preach the Spirit of God began to move. Edwards recorded the movement in his book, A Faithful Narrative of the Surprising Work of God:
"The town seemed to be full of the presence of God. The noise amongst the dry bones waxed louder and louder. The revival struck the hearts first of the young people and then of their elders all over the town …"
Less than a century later, a group of college students, attending Williams College and Andover Theological Seminary got caught in a thunderstorm. They all ran for shelter under a haystack. There, in the dark, one of them shared his desire for foreign missions. Then another, and another, and another. These students stayed up all night in what has been called "The Haystack Prayer Meeting."
Four years later they formed The American Board of Commissioners for Foreign Missions. They sent out Adoniram Judson to Burma, Lott Carey to Africa, Jonathan Goble to Japan, and Asa Thurston to Hawaii.
Just a bunch of kids. In a haystack.
I'm done watching kids go over the edge. I'm done watching hearts break. I'm done playing tea party in a war zone. Parents, pray for your kids! The Enemy is after them, not just so he can get to them, but so he can get to you!
When I was little one of my favorite movies was Pixar's "The Incredibles." It's still one of the best animated films of all time in my mind. There is a line in that movie that hits home with me. As Mrs. Incredible is describing the enemy to her kids she warns them, "He won't exercise restraint because you're children. He will kill you if he gets the chance. Do not give him that chance."
Let me tell you something. You are powerful. You are not destined for mediocrity. You have all that you need for life and godliness. You were meant to change the world. You were meant for so much! Don't be deceived. Don't let this culture lie to you any longer. You have a choice. You can rebel against low expectations for the glory of God. And it can start right now.
---
Share Your Thoughts in the Comment Section!

There are currently __ Comment(s)
---
Photo courtesy of Amanda Tipton and Flickr Creative Commons.
---