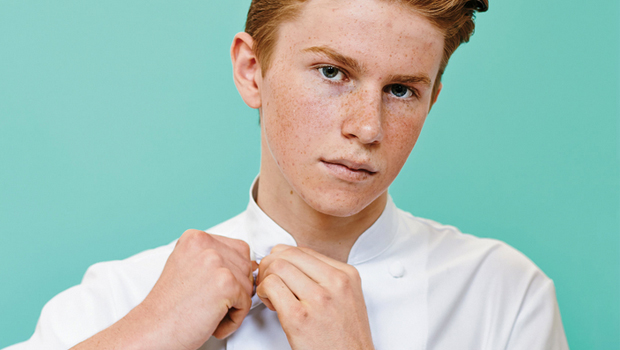 ---
(New York Times Magazine) — One weekend in February, in the kitschy, barnlike house he shares with his mother and grandmother in the San Fernando Valley, Flynn McGarry was preparing an eight-course tasting menu for 15 guests.
The McGarrys' living room, which is dominated by a gigantic brick fireplace, had been cleared to make room for four tables draped with white tablecloths that his mom, Meg, steamed and pressed before moving on to the silver. "We're having a 'Downton Abbey' moment here," she said.
McGarry, who turned 15 in November, has been hosting his supper club — which he calls Eureka, after the street where he used to live — since he was 11½. Cooking what he calls "progressive American cuisine" is a time-consuming endeavor, and the $160-a-head tasting menus can take somewhere on the order of eight days to prepare.
---
By noon on Saturday, McGarry had finished making the ember-roasted carrot gelée to go with the smoked egg yolk that would be served alongside compressed mango, pickled mustard seeds and coffee-pickled carrots. The beets for the beet Wellington, a dish inspired by a photo of rare beef Wellington that he saw on Instagram, sat in the smoker; they had already been roasted over wood chips and steamed.
The beets would eventually be swathed in a mushroom duxelle, dotted with beet greens, enveloped in puff pastry and accompanied on the plate by a smear of creamed sorrel, a beet bordelaise sauce made with reduced ember-roasted beet juice and a single smoked, glazed date.
On Sunday, Huy Nguyen, the 36-year-old executive sous chef at Faith & Flower, a new restaurant in downtown Los Angeles, and Josh Graves, its 27-year-old pastry chef, arrived to help out in the kitchen. Nguyen made the kale purée for the abalone, or sea snail, course, while Graves made rolls and sliced mangoes.
At one point, McGarry entered the kitchen with a tray of flowers and herbs from his yard, where he grows the things he can't find anywhere else or — in the case of "supertiny lettuce," say — to the exact size he wants.
"Are those daisies edible?" Meg asked.
"Yeah, they're not daisies," McGarry replied. "They're St. John's wort."
"You have to be careful with those," she said. "They're medicinal. They're for depression. I wouldn't put it on people's food."
"They get one petal," he insisted.
"They won't be depressed," Graves joked.
"Is that really what it is?" Meg asked. "Maybe that's why we're so happy here."
Around 7 o'clock, the guests — among them were a couple of actors (Dan Byrd of "Cougar Town," Michaela Watkins of "Trophy Wife"), a producer, an editor, a lawyer, McGarry's manager and several restaurant people — milled around the house and chatted on the porch before sitting down to eat.
McGarry emerged from the kitchen with each course, to both present it and finish it at the table. A snack of puffed trout skin was followed by blanched asparagus tips, wrapped in grilled asparagus gelée and garnished with the controversial petal. Served on a rustic slab of gray slate, they resembled an exotic species of snail. Diners praised the clean flavors and the way each ingredient was "elevated" rather than obscured. ("People use butter as a crutch," one griped, by way of praising McGarry's palate.) They also teased the chef for not yet being old enough to drive.
"When I'm little, I want to be Flynn," said Max Shapiro, a real estate broker and an amateur chef who runs B.R.K., a private supper club ("a hobby turned psychotic," Shapiro said of his elaborate dinner parties) in West Hollywood. He was sitting beside his friend and supper-club partner Max Coane, a sommelier. Both are regulars at Eureka. "Want to smell some wine?" Coane asked McGarry.
McGarry is small, very slender and lightly freckled, with thick auburn hair that swoops to the side in a style that one diner described as "a perfectly tossed salad." He comes across as preternaturally calm and poised, though not entirely un-self-conscious.
This may have something to do with the degree of attention trained on him at all times. Dinner, for instance, was filmed by a documentary filmmaker; McGarry's father, Will, a professional photographer, took pictures throughout. And while McGarry's mother has retired her YouTube channel, Dining With Flynn, and his sister no longer posts on her blog, The Sister of a Culinary Prodigy, diners snapped pictures of their food on their iPhones as each course arrived and posted them to Instagram. Later, Tyler Florence, the Food Network star, left an encouraging comment about the beef course. "Tight brother," he wrote.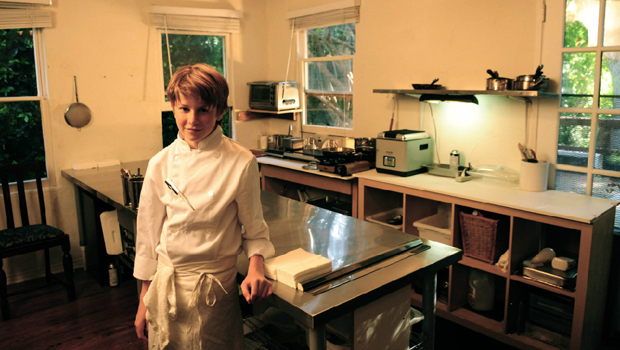 (Flynn at age 12, in his kitchen/bedroom)
McGarry's story reflects many of our prevailing pop-culture obsessions — precocious kids, superparenting, esoteric food, homemade celebrity — and he has already appeared on "Late Night With Jimmy Fallon," the "Today" show and NBC's "Nightly News." He has consulted on a sitcom about a teen chef, inspired by his life, that was in development for a while at NBC. He's working on a book about his experiences and his approach to food. After turning down countless reality projects, he's in the process of developing an unscripted travel series with RipCord, a production company founded by the actor Mike White, that will soon be pitched to networks.
As a way to cull through all the inquiries, Meg, whose mother was once an executive at NBC, initially instituted an NBC-only press policy. But as interest grew, the family handed over the task to professionals. McGarry now employs a manager and a lawyer, and requests go through his agent at U.T.A.
Yet the formidable machine that has been assembled to catapult McGarry to the culinary equivalent of Bieberish heights is, in some ways, at odds with his real ambition. The danger of child stardom is that it can undermine adult credibility. McGarry prefers not to think of himself as a kid chef, but rather as a kid who happens to have aspired to be a Michelin-starred chef since he was 12.
To that end, McGarry, who is home-schooled through an online program, cooks an average of 160 hours a month. He has apprenticed at some of the best restaurants in the country — at Grant Achatz's restaurants Next and Alinea in Chicago, and at Daniel Humm's Eleven Madison Park in New York, where he has staged, or interned, five times.
He was invited to help prep a dinner at the Modernist Food Lab in Seattle, under the chef Maxime Bilet, and asked back a few months later to help put together a charity dinner with guest chefs, including the departing White House pastry chef, Bill Yosses, who helped him land a gig cooking on the White House lawn during the Easter Egg Roll. McGarry posed for a picture with the Obamas.
Last September, after he became a regular at the Eureka dinners, Shapiro took McGarry to Alma, in downtown Los Angeles, which was named Best New Restaurant in America in 2013 by Bon Appétit magazine.
Ari Taymor, Alma's 28-year-old owner and chef, asked McGarry if he'd like to help out the next day at a private event, a collaboration dinner for 150 people at a farm near Bakersfield. McGarry said yes, and they spent five hours cooking two whole goats over an open fire in pitch dark 40-degree weather.
"It was pretty gnarly," Taymor recalls. "I got smoke-inhalation poisoning, and he looked like he came out of a chimney."
But Taymor was impressed by the young chef. "He's a prodigy," he says. "He's only been cooking for two or three years. I've had people working for me for eight or 10 years — it's just the way he handles, the way he moves. It's kind of an innate thing for him."
McGarry, who is technically in the 10th grade, now works at Alma a couple of days a week. Meg wants him to finish school as quickly as he can so he can work full time at a restaurant. "He's a professional," she told me. "I think he can learn more being out in the world."
---
Share Your Thoughts in the Comment Section!

There are currently __ Comment(s)
---
Photo courtesy of The New York Times Magazine and DiningWithFlynn.com.
---