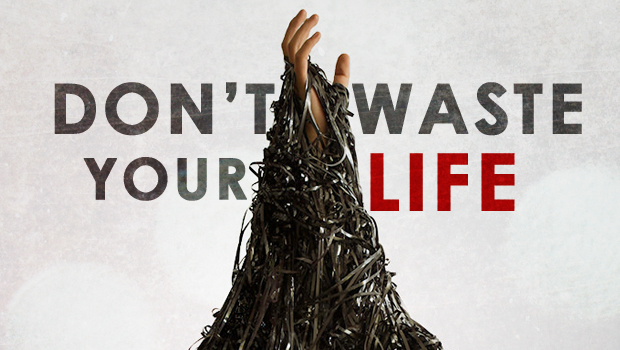 ---
Dust gathers on my keyboard, maple leaves stick to pavement, tests keep me awake at 12:30 a.m., shuffled papers and empty coffee mugs clutter my desk by the window, and I sit, staring into space, with so many thoughts I cannot fathom into words.
Sometimes I have to wonder if the world really does spin faster as we get older, time slips between our fingers like sand, and the ticking of the clock never slows, never wavers.
We as young people are told our goal in life should be to follow our hearts. Pursue our dreams. Find true love. Do what makes us happy. You only live once, so we should wander blissfully and aimlessly through life like a paper airplane doing what we want to do until the hourglass stops.
But is that really what God has in store for us?
We Christians are not promised a life of prosperity or ease.
"If they persecuted Me, they will also persecute you; if they kept My word, they will keep yours also. But all these things they will do to you for My name's sake …" — John 15:21

"Everyone who wants to live a godly life in Christ Jesus will be persecuted." — 2 Timothy 3:12
You look at Paul, and see how much he impacted people, how much God used him, and yet he had to go through countless trials and difficulties.
"Five times I received at the hands of the Jews the forty lashes less one. Three times I was beaten with rods. Once I was stoned. Three times I was shipwrecked; a night and a day I was adrift at sea; on frequent journeys, in danger from rivers, danger from robbers, danger from my own people, danger from Gentiles, danger in the city, danger in the wilderness, danger at sea, danger from false brothers; in toil and hardship, through many a sleepless night, in hunger and thirst, often without food, in cold and exposure." — 2 Corinthians 11
Paul didn't have an easy life, but he dedicated it to God and He did great and mighty things through him.
Job survived through many sufferings. He lost his kids, his house, his riches, and his health, and he still had faith in God through it all (though he struggled).
Esther risked being put to death for her act of boldness, but she sacrificed her life and comfort to save her people.
I could go on and on. But what I've come to learn is that our lives are not meant to be easy. We are called by God to suffer through many trials, dangers, and difficulties.
Our culture glorifies youth. We have the health and strength to accomplish a lot more things than we probably will be able to when we are older. We are made to pour our passion and energy into what we love most.
But our lives are not meant to be easy. God has called us to go to great lengths, to suffer through difficulties, dangers, and trials, to pour our energies into glorifying Him and enjoying Him forever.
And it's so easy in our world today to waste out lives on trivial pursuits, empty gain, earthly pleasures, and to lose focus on what's truly important.
The World Life Expectancy chart states that the average person lives up to the age of 77 . How are we going to spend those years? How are we going to live our lives? Are we going to use that time doing the things we want to do, staying tucked away, safely, inside our comfort zone, or are we going to charge across the frontier of conquering some amazing – maybe even crazy – adventures God has in store for us?
Are you willing to surrender your life to Christ, no matter the cost, no matter the difficulties, no matter your shortcomings, or feelings of incompetency, to do hard things, right here, right now, for the glory of God?
The choice is yours.
---
Share Your Thoughts in the Comment Section!

There are currently 7 Comment(s)
---
Photo courtesy of Daniel Cely and Flickr Creative Commons.
---