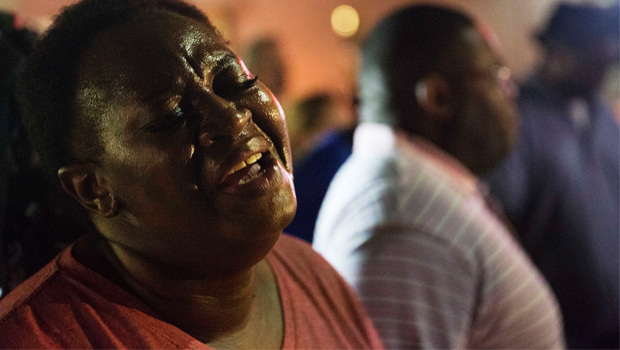 ---
It's been almost a month since the Charleston shootings, almost a month since that night of June 17 when nine lives were claimed at Emanuel African Methodist Episcopal Church.
It's been almost a month since nine of our brothers and sisters were killed for their faith and their race.
Yet we're still grieving.
The shock and the tragedy are still fresh and the families of the victims will continue to grapple with this pain for the rest of their lives.
Our minds are still reeling at how this injustice could be done — today, in America, in 2015. As Christians, we need to know how to process evils like this. What is the right response to the injustice and racism and murder that took place at a Bible Study in South Carolina last month?
To provoke your own thoughts in answer to this question, we've compiled a few resources that we think will assist and bless you as you consider this tragedy in light of the gospel.
---
RussellMoore.com • June 26, 2015 • Russell Moore
When we forgive, whether in the wake of an enormity such as this one or in the more mundane ways we have been hurt, we are not saying vengeance is not due. We are saying that vengeance is God's, not ours (Rom. 12:19). We don't need to exact justice from one who has sinned against us, because we know that God will judge every sin either at the Judgment Seat or, more hopefully, at the cross as the offender unites himself to the One who is "the propitiation for our sins and not for our sins only but also for the sins of the whole world" (1 Jn. 2:2).
That sort of forgiveness frees us to work together for justice, including justice against murderers and terrorists, because these matters remain matters of public justice, not of personal payback. More importantly, though, such forgiveness frees us from being enslaved by the one who has hurt us. We don't have to store up bitterness, keep a record of wrongs, or try to dream up means of retaliation.
---
TheGospelCoalition.com • June 25, 2015 • Kevin DeYoung
Charleston is a beautiful city and there have been beautiful gospel scenes broadcast from that city in these last days. But obviously all is not beautiful in South Carolina, just like all is not beautiful in Michigan, and all is not beautiful in the human heart.
I've grown up my whole life hearing that racism was wrong, that "prejudice, discrimination, or antagonism directed against someone of a different race based on the belief that one's own race is superior" (to use one of the first definitions that popped up on my phone) is sinful.
I've heard it from my parents, from my public school, from my church, from my college, and from my seminary. The vast majority of Americans know that racism is wrong. It's one of the few things almost everyone agrees on. And yet, I wonder if we (I?) have spent much time considering why it's wrong. We can easily make our "I hate racism" opinions known (and loudly), but perhaps we are just looking for moral high ground, or for pats on the back, or to win friends and influence people, or to prove we're not like those people, or maybe we are just saying what we've always heard everyone say. As Christians we must think and feel deeply not just the what of the Bible but the why.
If racism is so bad, why is it so bad?
---
DennyBurk.com • June 20, 2015 • Denny Burk
This is one of the most gut-wrenching and beautiful things I've ever seen. Through tears and raw emotion, the families of Charleston victims forgive the man who murdered their loved ones, and they call him to repent. I can hardly imagine how difficult it must have been for them to offer these gracious words. Even more unimaginable is how they will maintain this grace in the long days ahead. The Lord will sustain His people.
This testimony needs to be seen far and wide.
---
Ligonier.org • October 1, 2013 • R.C. Sproul
I don't think God has revealed to us a full and final answer to the problem of evil and suffering. However, that doesn't mean that He's been silent on the issue. Scripture does give us some helpful guidelines:
First, evil is not an illusion — it's all too real. Some religions teach that evil is unreal, but the Bible never minimizes the truth of misery and pain. Moreover, the biblical characters show us that a stoic detachment from evil is not the right response. They tear their clothing, offer up lamentations to God, and cry real tears. Our Savior Himself walked the Via Dolorosa as the Man of Sorrows who knew our grief.
---
Share Your Thoughts in the Comment Section!

There are currently __ Comment(s)
---
Photo courtesy of David Goldman and the Associated Press.
---