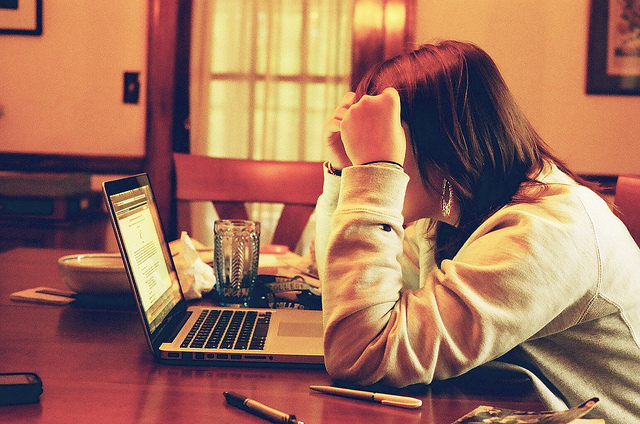 ---
One day as I was listening to one of my favorite preachers, I was struck with a sudden surprise.
As part of the tech-savvy generation, rather than listening to his sermons week by week over the radio, I had simply streamed the sermon online. Then I could multi-task, the only interruptions being when I needed to walk over and press a button every half-hour. Normal, everyday, I-have-everything-at-the-touch-of-my-fingers life.
The third segment of the sermon finished, I strolled over, pressed the back button, and stared confusedly at the screen. Where was the final segment, waiting ready for my attention? I searched about the site for a minute, thinking "Maybe it is somewhere else," before the strange reality sunk in.
It hasn't been posted yet.
"What, I have to wait to listen to the rest?" I mentally griped. But I stopped myself, and realized that a little delay had revealed something interesting.
Our Lost Understanding of Patience
I usually consider myself a fairly patient person. After all, I don't get (too) frazzled when I'm stuck in traffic. I'm not furious about having to wait thirty minutes for my food. I can survive the wait at the doctor's office.
But, honestly, when was the last time I truly had to patiently wait for something?
I need information for a report? Google or Britannica online instantly gives me pages and pages. Do I want to hear from a friend who lives across the country? With a call, text, or email, I can hear from her in five minutes. Even when I am convinced that I have spent several days in the doctor's waiting room, it is has truly been perhaps an hour.
Now, there is nothing inherently wrong with online resources or modern communications, but they are examples of how little I am accustomed to actually waiting.
If it only takes a stagnant loading-bar for me to lose my cool, what does that say about my patience?
But I greatly need to cultivate patience in my life. So often we hear that "Love is patient" (1 Cor. 13:4). Yet this seems so succinct and simple that I believe we often skip over why we need patience so desperately.
Patience is Foundational to the Christian Life
Miriam-Webster defines patience as "(the habit of) bearing pains or trials calmly or without complaint, manifesting forbearance under provocation or strain."
This trait is one of the most useful, if not necessary, aspects of the Christian life. For is not our journey often filled with the fierce battles of trial and pain? And in the midst of it all, we are told to "do all things without murmuring" (Phil. 2:14).
The very essence of patience is that which we are commanded to do as Christians. "Endure thou therefore hardship as a good soldier of Jesus Christ" (2 Tim. 2:3). We are constantly provoked and attacked by the Enemy, and only through patience can we forbear during such times.
For don't all the best things in our lives require patience?
Relationships do not flower in a day; these tender plants only thrive when watered with forbearance and love. Having a holy mind is not the work of an hour, but rather an on-going labor which takes all our endurance.
It does not take only a minute to walk faithfully before our God.
We are to wait upon the Lord (Isa. 40:31). We are to be followers of those who through faith and patience inherit the promises (Hebrews 6:12).
It is patience which helps us to reflect more and more the light of Christ to this irascible, instant-gratification world.
Patience is something that I often allow to wilt within me. And it is not easy to regrow it. Only through constant effort, daily dying to self, can I bring it back.
I need to bite my tongue before snapping at my siblings. I need to consciously smile at the lady at the front of the line slowing everyone down. I need to not bite my nails over when and whether the important letter will arrive.
Ultimately, I need to place all my annoyances and worries into the hands of the only One Who can do anything about it.
After all, the longest wait, the hardest trial, the most annoying situation, will be nothing but a tiny blip on the timeline of eternity, while the jewel of patience will ever shine in our crowns of honor.
So whether it is with trials, with the people around me, or simply with the wait until the next podcast of a sermon is broadcasted, I must "let patience have her perfect work, that ye may be perfect and entire, lacking nothing" (James 1:4).
How do you encourage patience in your life?
"Therefore, seeing we also are compassed about by so great a cloud of witnesses, let us lay aside every weight, and the sin which doth so easily beset us, and let us run with patience the race that is set before us" (Heb. 12:1).
---
Share Your Thoughts in the Comment Section!

There are currently __ Comment(s)
---
Photo courtesy of Jessie Jacobson and Flickr Creative Commons.
---