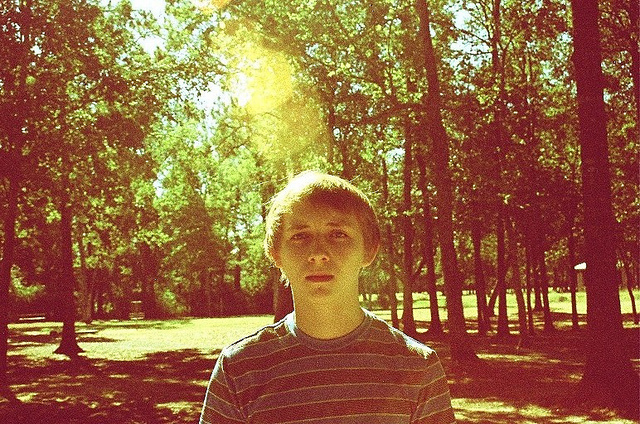 ---
A few weeks ago I sent a query to the editors of TheRebelution about writing an article for the readers who frequent the site and apply the words of wisdom that they find there.
I was initially hesitant to send a message as I thought that I might be too old to add my voice into a conversation about equipping teenagers to rebel against low expectations.
I've come to the realization, however, that I'm still raging against low expectations at 33-years-old.
In other words, God is teaching me to do harder things.
If you recall the home page logo of TheRebelution, 1 Timothy 4:12 underscores the significance of letting your character reflect your Creator. Paul encourages Timothy to not let anyone look down on him because he is a young man, but to set a godly example for all to see and mimic.
As it turns out, this verse is still the one that I cling to at 33, a life verse if you will. I memorized it at a church camp as a kid.
In fact, I will still be quoting it at 83 (provided I'm still around).
I'd like to return to those harder things I spoke about in the aforementioned paragraph, though.
Since high school I have walked through some major changes in life, but I believe these experiences have undoubtedly molded my character. I've made some mistakes and have met with some success.
Here's a brief list of hard things to do now that, at least in my estimation, become harder as you age.
1. Invest in education.
Be it a university, a community college, or a trade school, keep learning and apply this knowledge towards a career of interest. Speaking of knowledge, don't stop reading either.
Though the books you are likely to come across in high school and college are of an academic nature, seek out novels, non-fiction, and even some poetry to enrich your mind and bolster your vocabulary.
Keep digging into the Good Book too.
2. Serve others at your local church.
At seventeen I went with my dad to purchase my first suit for high school homecoming. I thought I would only wear these new duds for the dance and Easter or Christmas services at church, but a youth group leader (who was also an usher at the time) asked me to perform usher duties (e.g. collecting tithes and offerings and serving communion) one Sunday morning.
I did this for about two years, and I felt deeply honored to serve alongside men who were two or three times my age.
First Timothy 4:12 was ringing in my years.
I drifted at serving during my twenties, but I picked it up again this year as my wife and I serve in the nursery at our local church.
Serving can be hard at times as it does require commitment and inconvenience to your schedule – but it matters greatly to God and those it directly impacts.
3. Exercise.
I played baseball as a kid but stopped short of continuing in high school (as I feared being plunked by a wild pitch). I tried out for the high school basketball team but didn't make the cut due to a lack of conditioning. Exercise waned a bit during college.
I wasn't sedentary but I wasn't an active person either.
Nine years ago I had this thought to try running and I haven't looked back since.
Since 2007 I have completed nine marathons and numerous races of shorter distances. When it comes to exercise, the possibilities are plentiful: running, walking, cycling, hiking, climbing, surfing, kayaking, and hitting or kicking or throwing a ball of some kind. We can leave deflating off the list though.
I'd implore you to never let exercise become work to get through though; make sure it is always defined by a sense of play and fun.
4. Seek out a mentor.
I've had numerous men pour into my life since middle school, and I will be forever grateful to God and to them for taking the time to invest in my character.
They have nudged me in subtle and not so subtle ways to chase after God and draw closer to Him. They are part of the "cloud of witnesses" (see Hebrews 12:1-3) that has formed in my life, men and women who spur me to chase after God and His principles and provisions.
Though I don't have a mentor at the moment, I'm planning to ask a good man I know in the next few weeks as I transition into a new season in life.
Find someone you trust and ask them to do the same for you.
5. Cling to your faith.
I'm taken aback at how quickly the world seems to change on a daily basis.
Technology is helping us simplify our lives, and yet it seems to also facilitate a sense of envy and isolation (e.g., Facebook).
Poverty is rampant across God's glorious earth, as are terrorism and hate and violence against one another. I want to be optimistic about the future; I desperately hope that our best days are still ahead of us.
But I still have doubts about this. I'm scared sometimes.
In Psalm 63, David writes, "I cling to you; your right hand upholds me." In Romans 12, Paul encourages us to cling to what is good. Hold fast to God. Pray earnestly. Find him in the Scriptures on a daily basis.
Put others before you. Cling to the cross and to Christ and to the forgiveness you have received through His life, death, and resurrection.
This clinging will lead you into the doing of hard (and harder) things worth doing in this life.
---
Share Your Thoughts in the Comment Section!

There are currently __ Comment(s)
---
Photo courtesy of Lauren Rushing and Flickr Creative Commons.
---