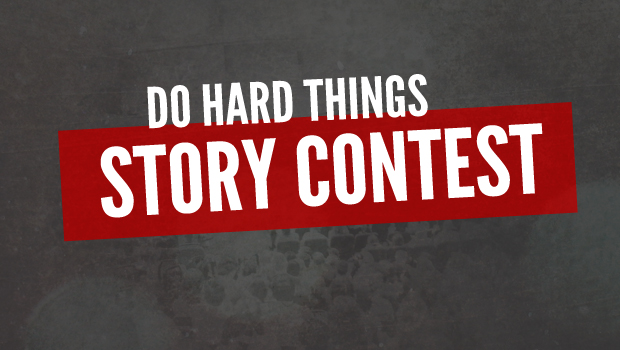 ---
After reading so many great entries for the Do Hard Things Story Contest, we've decided to highlight a story on TheRebelution every week for the rest of the year. Each story emphasizes how Do Hard Things has impacted these rebelutionaries. Today, meet Isaac!
---
When I first read Do Hard Things at 13-years-old, little did I realize the impact it would have on my life.
Soon after finishing the book, God challenged me to do a hard thing in the form of the National Bible Bee. The Bible Bee is a rigorous event beginning in June and reaching its climactic conclusion in the fall when the National Champions are crowned.
There are two levels of competition, the first of which is the regional competition, which is based upon a two-hundred question, SAT-style test required to be completed in under an hour. Following this local competition, the top competitors are invited to a prestigious national contest to compete for prizes ranging up to $100,000.
For the past five years, I participated in the Bible Bee, and in that time, God grew me in ways I would never have imagined!
During my first years in the Bible Bee, God ingrained in me an attribute which is often overlooked: consistency in small things.
Sometimes some of the hardest things in life are simple yet necessary tasks which require faithfulness. I find that it is easy for me to get excited when I look at the big picture goals, but unfortunately, it is extremely difficult to muster up the same amount of enthusiasm for menial tasks like studying consistently.
I found this to be true with the Bible Bee; I was hyped up by the chance of winning $100,000, but quickly found myself falling behind in my study of the assigned book of the Bible.
By the halfway point of the competition, I was two weeks behind from where I should have been minimally. Competing, I was discovering, required consistency in the small tasks.
I was frustrated with my failure and with my pitiful excuses and so sought counsel from my dad. He gave the truth to me straight: I needed to be consistent even if it was hard.
From that day onward, I began to wake up at 5:30 a.m., groggy-eyed but determined to study for the competition.
Many times I was tempted to simply hit the snooze and go back to bed, yet even though I did occasionally sleep in, I persevered in my efforts until I was caught up.
To my utmost delight and complete surprise, despite my initial setbacks, in my first year in the Bible Bee I qualified for Nationals!
In the years which followed, God continued to teach me lessons through the Bible Bee and my scores continued to improve.
In 2011 I barely squeaked into the national competition as the 100th contestant out of 100 spots; what made this even more miraculous (at least in my mind) was that I had tied with five other people for the final spot, but because of a technicality, I was chosen to advance onward.
Each of the following years, my rank improved steadily until in 2014 I qualified as 21st in the nation. That year was my final year competing in the Bible Bee and I decided to give it my all.
The National competition in 2014 was different than years past, however, as I had only eight weeks to memorize nearly 800 verses in addition to my Senior year classes.
Such a demanding deadline required great discipline as there was such little margin for error.
I sacrificed many things in order to compete to the best of my ability – social media, entertainment, time with friends, and sleep. During those eight weeks I worked as never before, waking up at 6:00 a.m. and often not getting to bed until 12:00 a.m.
Nevertheless, a nagging feeling of doubt whispered that all my hard work, sacrifices, and perseverance was futile – I wasn't going to win anything.
I tried to quench these thoughts, but my fears were realized when I failed to qualify for semifinals at the national competition.
I felt disillusioned and defeated. After working so hard, failure was a tough pill to swallow.
Then God comforted me with a beautiful realization: though I had failed outwardly, He had given me true success.
The intense period of training and study in preparation for the 2014 National competition had grown me in more ways than I can recount here.
It had refined my character, strengthening my work-ethic, increasing my faith in God, and bolstering my diligence. Speaking practically, the Bible Bee taught me the value of time-management; I realized that I am not Superman and therefore must prioritize my life in order to stay sane.
Most important of all, I know my time was not wasted because it brought me into closer fellowship with God. If this had been the only result of my eight-week intensive study, it would have been sufficient.
After investing thousands of hours into Bible Study and memorization over the past five years without ever qualifying for even a single semifinals, some might ask, "Was it worth all your effort and time?"
Yes! It was worth my time!
If I had the opportunity to do it over again knowing that I would not win first place, I would do it over again in a heartbeat – God has blessed me richly as a result of my time in the Bible Bee.
In March, I received a letter from a local university offering a full-ride, four-year scholarship.
The lessons which God had taught through the Bible Bee, namely the importance of consistency and hard work, enabled me to earn good enough grades to win that scholarship. Without those characteristics, I doubt I would have won it.
I did not fail in the Bible Bee, God used it to prepare me for future success. Thank you God for seeing more than I can.
---
Share Your Thoughts in the Comment Section!

There are currently __ Comment(s)
---