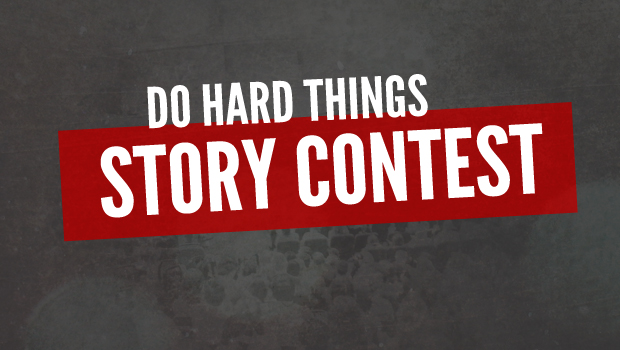 ---
After reading so many great entries for the Do Hard Things Story Contest, we've decided to highlight a story on TheRebelution every week for the rest of the year. Each story emphasizes how Do Hard Things has impacted these rebelutionaries. Today, meet Audrey!
---
My name is Audrey and I am fifteen years old.
I live in the scorching hot sun of Arizona. I read Do Hard Things a couple of weeks ago, and I basically finished the whole thing in three days flat.
It was a huge encouragement for me seeing that there are other young adults trying to do things that many people think we are too young to do.
Lately I have felt completely out-numbered by teenagers who adhere to very low expectations. It meant the world to me to read the testimonies of other young people shedding the title "teenager" and instead rising to be "a young adult."
Like the average young adult out there, I face daily challenges.
The hard choice and the easy choice sit before me. One of the daily challenges I am currently facing is geometry.
I got terribly behind in my geometry book this year due to me escaping on the easy road, which is simply "avoid math at all costs" when I really should have been bravely plunging into it daily.
But the geometry book wasn't getting any closer to getting done.
In fact, it was just becoming more ominous day by day.
As I was reading Do Hard Things, I ran across the chapter where the Harris brothers were listing a few common excuses that teenagers might say when they are avoiding doing hard things.
One was, "I'm really not a math person."
I realized that those were common words out of my mouth.
I determined then that even though math was difficult for me, I wasn't going to let it beat me.
Today, I sat down with my trusty Math-U-See dvd's and got busy completing a few days worth of math.
I got the pleasure of telling my mom that I did geometry without her even asking me to!
Needless to say, she was just a little bit shocked. Okay … that might be an understatement.
I was praying practically the whole time I was doing math, asking God for wisdom and understanding.
I can happily say that He in no way failed me! Since that first push to get some geometry done, I have kept consistently working on geometry almost every day.
God has been right there with me giving me the wisdom and motivation I need to get through the next page.
Another thing that really bogged me down was social media.
Over time, I've had tiny spurts where I stayed off blogs, Facebook, and Twitter. I would get a little better at controlling it, but I would slip right back into my old ways.
Truth is, I would often try to use Facebook and Twitter as ways to be rid of anxiety, but in reality it would only make it worse.
None of the stuff I was looking at was evil; in fact everything I read or looked at was by Christians.
To put it simply, it was just a waste of time.
Sometimes we need a little help to conquer bad habits, and my parents were just the help I needed. They cut off my access to Facebook and Twitter (praise God!) and I've actually been living my own life instead of reading about other people's lives.
I've been without it for a few weeks, and the freedom I have felt has been incredible.
I've actually been excited about getting to have one of my dear friends over for a sewing day, or going to church to practice a skit for kid's ministries.
It makes really seeing people in person all the more special.
While texting is fine and social media is okay, it just can't beat the real thing.
A few months ago, I was in the Easter play at my church this year, and during one of our practices the ladies had a little break because the men were rehearsing the Last Supper scene.
To this particular meeting I had brought my crocheting project instead of my phone. I was sitting right between two ladies I knew fairly well, hoping one of them would like to chat.
Unfortunately, we completely missed the opportunity.
They were both on their phones, on Facebook, while real live people were sitting around who would have loved to chat.
I know I'm guilty of the same thing. We pay more attention to a friend's like on a Twitter post than we would a friendly hello from them.
That is kind of sad. Our society has completely changed in the years of technology coming on the scene.
I think my overall favorite part of the book was the chapter entitled, "Small Hard Things."
Right now, it seems like I have a lot of little things I have to conquer on a daily basis.
It can be hard – okay maybe more like impossible – to stay motivated when things really don't seem to be making an impact. Doing geometry every day or staying off of social media isn't one big overall decision. It is the minute by minute decisions that have a huge impact.
I haven't felt God calling me to start my own organization, so I have tried to spend as much time helping other Christian organizations and ministries.
Sometimes it is hard to stay faithful in volunteering because it feels like you are trying to empty the beach of its sand with a pair of tweezers.
I have to remind myself that no act of love is insignificant.
One of my favorite Bible verses is Galatians 6:9, which says, "And let us not grow weary while doing good, for in due season we shall reap if we do not lose heart."
Consistency is hard, but so worth it.
If any of you are struggling with those little hard things, be encouraged that you are not alone. The key for me conquering little hard things has really been relying on God's strength.
You can't do it on your own, but with the Holy Spirit living on the inside of us, nothing will be impossible to us who rely on Him!
---
Share Your Thoughts in the Comment Section!

There are currently __ Comment(s)
---