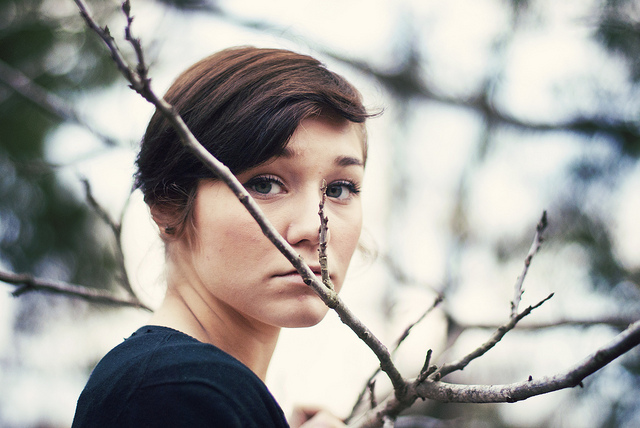 Have you ever seen a hurricane sweep in?
I have; at least, I've seen the remnants of one sweep in. It's quite a sight. One moment it seems to be a normal afternoon, with an overcast sky and some wind.
Next moment, the world goes dark.


Life can be that way too.
Everything can be okay, but then the storm comes barreling in.
There's a variety in the storms. Some of them come with lightning and thunder that shakes the earth. The lightning goes off 100 yards from you, and the "crack!" is something you never forget.
But some storms are more silent. They just turn the world to night and pour down rain endlessly. If you get caught in one of these storms, you can't help get drenched.
The cold and wet sink right down to the bone.


Regardless of what type of storm life brings along, I find there is a common experience of all who get caught in the storm: we feel alone.
We huddle up somewhere where we feel a little bit sheltered and try to hide. There's no one else in sight.
This is where most people feel a 'survival' instinct kick in.
It's easy to envision the scenario if you take our storm illustration out to sea. Most people run around trying to save their ship that seems to be sinking in the hurricane winds and rain. They are determined to keep afloat.
But that is not the experience of all of us. For some of us, the prospect of saving our vessel seems to be hopeless. We are convinced that the ship is going to sink, so why try to save it?
In the nautical nightmare, our veins pulse with the message, "Abandon ship!"


They call this instinct to give up on life and choose death being "suicidal."
When people talk about suicide, their words are often derisive. Those of us who want to choose death over life in the midst of our struggles or nightmares feel like lepers.
And yet, our logic seems so sensible! Everyone around us fears death, but we have come to see it differently. After all, isn't death release?
I for one have often been much more afraid of living than of dying.
If you are one who looks at your apparently sinking vessel of life and contemplates jumping overboard, you probably feel that you are indeed utterly alone.
You probably also feel cursed. Well, I am here to tell you that you are not alone, and you are not cursed. I know that you are not alone in your struggle with suicide because I have been there, and I have slowly begun to meet other people who have been there too.
There are many of us.


And as to being cursed, no one who has been saved by Jesus is ever cursed. Being cursed means having God turn his face away from you.
That's what happened to Jesus on the cross: God the Father turned his face away.
Since Jesus bore that curse for us, we will never have to bear it. Instead, God has turned his face toward us, and we are blessed.
Are those not the words that God has instructed to be said over his people: "The Lord bless you and keep you; the Lord make his face to shine upon you and be gracious to you…"?


And as to life being impossible, it isn't.
Here's some wonderful news: the ship is not going to sink. After all, has God not said of you, his treasured vessel: "He who has begun a good work in you will complete it until the day of Jesus Christ"?


Life may very well seem impossible. But we believe in a God for whom nothing is impossible.


An example of how to live in this storm is actually found in a woman who lived thousands of years ago.
She was about to prepare her last meal for herself and her son in the face of a merciless famine, when a prophet of God asked her to feed him as well. She must've thought that the prophet was either unashamedly insensitive or crazy.
But he went on to say to her that if she would just have faith, God would provide enough food for her until the end of the famine.
Day by day, the prophet promised that her supply would be enough.


Amazingly, the woman listened to the prophet. She obeyed God's word by feeding His prophet, and God kept his promise. Her supplies did not run out until the end of the famine.


Living in the midst of our pain, and in the face of suicide, can seem impossible.
But if we will just listen to our loving God and take life one day at a time, he will give us enough strength one day at a time. It will be hard, but it will be worth it.


I hope that these thoughts can be to you as the sun peeking through the clouds. I hope you feel a little hope arising inside of you. And I hope that you know now that you're not alone.
By God's grace, we can face this together.




For further encouragement, please consider reading two works by Dr. Ed Welch: "Shame Interrupted" and "Depression: Looking up from the Stubborn Darkness."
---
Photo courtesy of Lauren Rushing and Flickr Creative Commons.
---