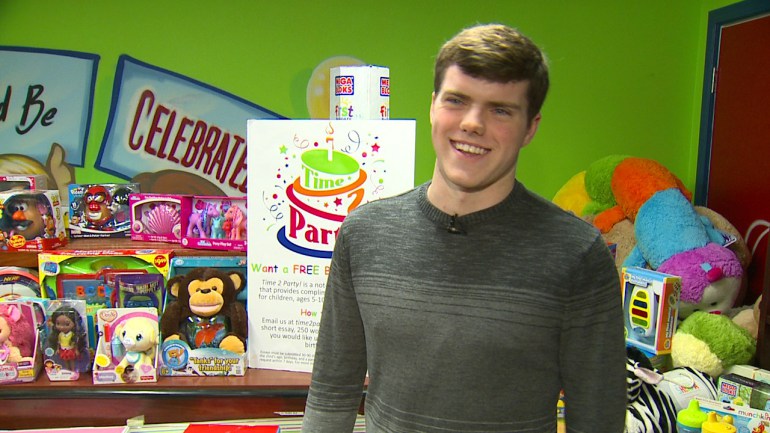 ---
(The News Tribune) – When Spencer Broden was a first-grader, he accompanied his parents when they volunteered at the Tacoma Rescue Mission, and he almost always made friends.
One of them changed his life.
"I became fast friends with another kid, Justice, and one day I went to his house," Spencer recalled this week. "Like all little kids, the first thing I wanted to do was check out what toys he had so I could play with them. I couldn't find any.
"I asked my mom why he didn't have any toys, and she said his parents couldn't afford them."
When he got home, Spencer went to his room and began piling up toys he wanted to give Justice and other kids from the Mission.
His next two birthdays, instead of getting new ones, he asked that any toys meant for him be sent to kids at the Mission.
Mark Reed didn't meet Spencer until Spencer was about 8 — the same age as Reed's son — when the two boys began swimming at the aquatics center in Federal Way.
"He was a driven kid," Reed said. "When he started swimming competitively, he really got into it. He has a room full of medals and ribbons, and at one point I know he was in the top 25 breaststroke swimmers in the country."
Spencer is now 17, a senior at Mount Rainier Lutheran High School. Last year, with the Seattle Summer Swim League, he was all-city champion in the 50-meter breaststroke.
Having never forgotten that young boy with no toys, the Spanaway resident wanted to start a nonprofit to help children, but first he consulted with Puyallup Food Bank executive director Shanna Peterson.
"I listened to his idea," she said.
The idea: hosting birthday parties for children whose parents couldn't afford to give them one.
"I've done this 17 years and seen people with wonderful ideas and little follow through," Peterson said. "If he was not going to follow through, children could be unnecessarily hurt. I wanted to make sure that didn't happen."
Spencer recalled the meeting.
"She basically told me to go prove myself and come back," he said.
So he did. He went fundraising, held a candy bar sale and a spaghetti dinner — and hit up all his friends.
"He got me, of course," Reed said with a laugh. "Good cause, though."
With close to $2,000, Spencer went back to the Puyallup Food Bank.
Now he had money and a plan. This was how it was supposed to go:
"The party, including the birthday child, would have eight kids and any parents who wanted to come," he explained. "Beforehand, I ask where they'd like the party held, what kind of cake they want.
"From there, I'll buy supplies, book the party, send them invitations to give their friends. I bring the cake and meet them at the party. I'm in charge of setup and teardown.
"I bring balloons and goodie bags for each child in attendance."
All he needed was children.
"I put posters up in the Food Bank and at church, got emails from two people," he said. "In all, since last June, we've had four birthday parties."
Peterson said you can't underestimate the value of what Spencer is doing.
"Four parties doesn't seem like much, but it's huge," she said. "That's four children whose lives have altered in a positive way."
Read the rest here.
Share Your Thoughts in the Comment Section!

There are currently __ Comment(s)
---
Photo courtesy of Fox News.
---