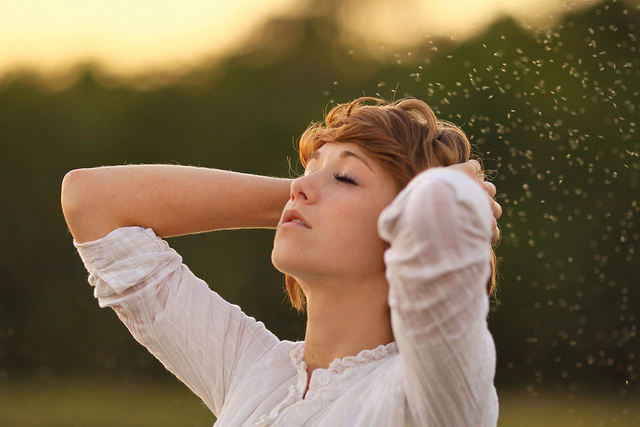 ---
This is the final part of a three-part series on coolness and godliness. In this post, John looks at what it means to be cool according to God's idea. View Part 1 or Part 2.
"For to set the mind on the flesh is death, but to set the mind on the Spirit is life and peace. For the mind that is set on the flesh is hostile to God, for it does not submit to God's law; indeed, it cannot. Those who are in the flesh cannot please God. You, however, are not in the flesh but in the Spirit, if in fact the Spirit of God dwells in you. Anyone who does not have the Spirit of God does not belong to him. But if Christ is in you, although the body is dead because of sin, the Spirit is life because of righteousness. If the Spirit of him who raised Jesus from the dead dwells in you, he who raised Christ Jesus from the dead will also give life to your mortal bodies through his Spirit who dwells in you" (Romans 8:6-11).
With this passage fresh in our minds, let's unthaw the coolness of our hearts and plunge into the fundamentals of zeal for God.
You'd think a homeschooler would be immune to coolness. You'd think the author of these articles would be immune at least. I'm not.
I'm learning these lessons even as I'm writing them. I need this just as much as anybody.
So what does God say about coolness? Here are three fundamentals.
1. Set your mind on things above.
Everyone's heard those songs that just get stuck in your head. Some of us have fought day in and day out just to get impure thoughts from our mind. Or going to when we were younger, trying to block things we've seen from movies so we can sleep without nightmares.
Unfortunately, it never works to try to not think about something. Usually, it only makes it worse, and it's the same with being cool.
When we're constantly trying not to be cool, we end up being just as self-focused as if we were being cool, and not only self-focused but judgmental of others.
We also become sin-focused. Maybe we think we should be focused on sin (not on harboring it of course but on eradicating it.) God says differently in the passage we just read: "The mind that is set on the flesh is hostile to God."
We can't obey Him when we're constantly focused on our sin.
Instead God says, "Finally, brothers, whatever is true, whatever is honorable, whatever is pure, whatever is lovely, whatever is commendable, if there is any excellence, if there is anything worth of praise, think about these things" (Philippians 4:8).
Maybe some secular music falls into this category, but likely we'll be listening to this music for very different reasons than the ones we had in the past.
We might ask, "Does God like this music? Do I like this music?" rather than, "Do my friends like this music? Will I be left out if I don't?"
2. See how great God is.
The most truthful, honorable, pure, lovely, commendable, excellent, and praiseworthy person is God.
God! That's what Christianity is all about – not our sin but our redeemer.
Ephesians 1:20-23 reads, "[H]e worked in Christ when he raised him from the dead and seated him at his right hand in the heavenly places, far above all rule and authority and power and dominion, and above every name that is named, not only in this age but also in the one to come. And he put all things under his feet and gave him as head over all things to the church which is his body, the fullness of him who fills all in all" (emphasis mine).
Imagine that.
Well, you can't. We can't even imagine how great other humans will be in the age to come, and God says He's even greater than them. Even greater than we will be.
God says we, the body of Christ, are the fullness of Him who fills all in all. All in all. Everything. So why don't we find God in that secular music? See how God fills it. He might show us something cool, or, eh awesome!
3. Love.
Not many of us can honestly say we don't care what other people think.
We might not care what the cool kids think. Oh, we've tried them for acceptance. All they do is put us in a corner.
And we probably don't care what a select group of weird or younger people think. If we cared what they think, everyone else would think we were weird.
But there is always someone's opinion we care about. Our best friend. The girl (or guy) we like. Our parents? Cool people who haven't already let us down.
It's time we stop caring what people think and truly love them. Love the weird people. . .
Yes. Those who are younger than you.
Those who talk about Nerf and Lego until you can hardly bear it (or girls and books and theology if you're not like me.)
Those who are different than you.
Those who, like you, may feel excluded from the cool crowd.
But it doesn't just mean loving the weird people, since we might fit in better with them anyway. It means loving the cool people.
No, not trying to impress them. Loving them. Forgetting about them … and yourself … and just loving them.
Bonus fundamental: God's sovereign. You're single. That's okay.
Enough said. My two favorite biblical characters were also single.
So to sum it all up, let's not try to be cool. NO! That would be going against the first fundamental. Let's stop thinking about whether or not we're cool.
Let's forget ourselves. We're tiny. God's great.
As my friend likes to say, "Cállate la boca" and listen to God.
---
Share Your Thoughts in the Comment Section!

There are currently __ Comment(s)
---
Photo courtesy of Lauren Rushing and Flickr Creative Commons.
---