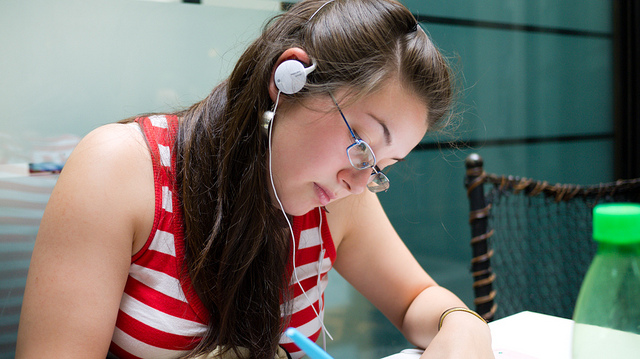 ---
Building wells in Africa, serving orphanages in China, bringing the Gospel to lost souls in jungle tribes…
We long for this kind of adventure. We often view these "hard things" as true victories for Christ—these are the images that come to mind when we think of the Great Commission.
But flash back to reality, and we're not risking our lives in third world countries. We're here, laboring away on another Algebra problem, or writing another paragraph in another essay, or studying for another test.
The gloom of another dark winter school day is enough to make us despair of ever finding the joy, the purpose, the adventure in life.
For many of us, this struggle in the everyday is our "hard thing." Mainstream evangelicals and our modern culture have trained us to live for the highs in life—those times when we feel most empowered to make an impact, whether for Christ's Kingdom or for success in our own lives.
Truthfully, our day to day routines are mundane. It is difficult to see the purpose of persevering through just one more day of classes or chores.
Despite our feelings, God doesn't see our daily and weekly routines as boring or unnecessary. In fact, it's through the ordinary lives of His people that He works to fulfill His promises: sanctifying His people and increasing His Church. Because of this, we don't have to dread the mundane—instead, we find joy.
On one particular day in my Junior year of high school, I found myself doodling on my math assignment in a state of utter boredom and discontent. I didn't see the purpose in doing yet another problem. But there was a purpose.
There is purpose in all that happens to us, whether that is a triumphant victory in our quest to do hard things, a fiery trial, or simply enduring the mundaneness of life.
God is the author of the story of our lives, and we trust that He uses everything to bring glory to Himself and for the good of His people. As teens, this is especially encouraging for us.
That means despite all our failures, our sins, our troubles, we rest assured in the belief that God is orchestrating our lives to draw us closer to Himself. What greater joy is there for forgiven sinners than this?
Since my Junior year, I've learned a few practical ways to purposefully seek the joy in everyday life. Here are my tips:
1. Be in the Word of God. Daily.
There we discover the reason for joy, even in the times that aren't so joyous.
Psalm 90:14 "Oh, satisfy us early with Your mercy, That we may rejoice and be glad all our days!"
2. Recognize God's plan and remember His promises in the light of eternity.
When you are faced with the temptation to despair, ask yourself what matters the most to you—does your heart find its home in the Heavenly? Or are you more entranced with the temporary pleasures of this life? When we think about the pure joys that await us in Heaven, the cares of this world fade to the background.
Romans 8:18 "For I consider that the sufferings of this present time are not worthy to be compared with the glory which shall be revealed in us."
3. Actively seek the goodness and beauty in God's creation.
School work is much more bearable when we see the artistry of our Creator.
4. Make thankfulness a habit.
Be mindful of the ways God has blessed you.
Philippians 4:8 "Finally, brethren, whatever things are true, whatever things are noble, whatever things are just, whatever things are pure, whatever things are lovely, whatever things are of good report, if there is any virtue and if there is anything praiseworthy—meditate on these things."
5. Pray.
Prayer tends to redirect our focus on what truly matters. Pray for thankfulness and joy even when you don't feel these things. Pray for opportunities to "give a defense to everyone who asks you a reason for the hope that is in you," (1 Peter 3:15).
6. Learn to love your church.
God has promised to bless His people through Sabbath rest. Through this means, God strengthens, convicts, and encourages His people for the week ahead. The local body gives us a faint glimpse of the joys of Heaven.
My friends, place all your hope in things eternal. Remember that God is using those boring routines to prepare you for His plan for your life—and who knows, it just might be that He calls you to a remote part of the world to spread the Gospel.
But even if you find yourself in the same small town you've always known, there is joy, peace, and contentment in promises the and plans of God.
---
Share Your Thoughts in the Comment Section!

There are currently __ Comment(s)
---
Photo courtesy of Francisco Osorio and Flickr Creative Commons.
---