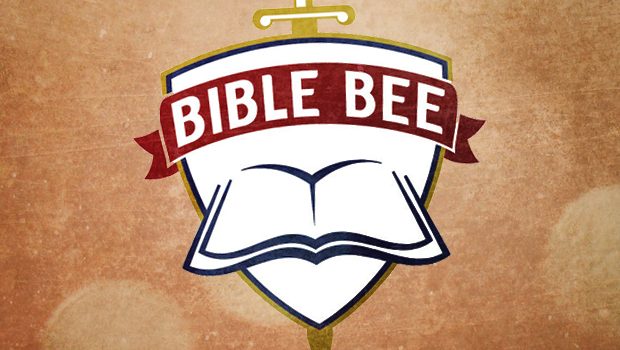 ---
What is the largest number of verses you can imagine memorizing in three months?
Thirty? Fifty? One hundred?
For contestants in the National Bible Bee competition this fall, that number could be as high as almost nine hundred.
What is the National Bible Bee?
The Bible Bee is a nationwide competition that begins in June, as participants across the country study a book or passage of the Bible and memorize selected verses in preparation for an online test in August. The top 120 scorers in each age division (7-10, 11-14, and 15-18) qualify for the national competition held in November – and receive a new book or passage to study, as well as hundreds more verses to memorize.
I've participated in the Bible Bee since its inception in 2009, and it's been literally life-changing for me. Through studying many different books of the Bible and memorizing thousands of verses all together, I've learned to love God and His word more than I would have believed possible.
I don't know how God will use these scriptures in my life and the lives of those around me in the future; but I do know that He will – His word never returns void (Isaiah 55:11).
The Challenge of the National Bible Bee
The Bible Bee contestants have a task that seems impossible at times. There are innumerable challenges – from balancing study with school, relationships, and work, to perfecting those tricky Genesis passages, to deciding what areas of study on which to focus.
Although the rewards are eternal (and far greater than the $100,000 prize for the first place senior division winner), the difficulties can also be immense.
The contestants have great need of prayer.
The Project: Operation Pray for Bible Bee
That's why Delie Moss (a Bible Bee alumna) and I have put together this project. Through Operation Pray for Bible Bee, you can sign up for a contestant, pray for them throughout the fall, and write them a note of encouragement in November that they will receive at Nationals.
Will you join us in praying for God to work in and through these contestants, and for His glory to be displayed in their lives?
If you're interested in participating, or you just want more information, email Delie at [email protected].
You can also find out more about the Bible Bee at www.biblebee.org.
May God bless you as you walk in His truth and seek to know Him more!
---
Share Your Thoughts in the Comment Section!

There are currently __ Comment(s)
---