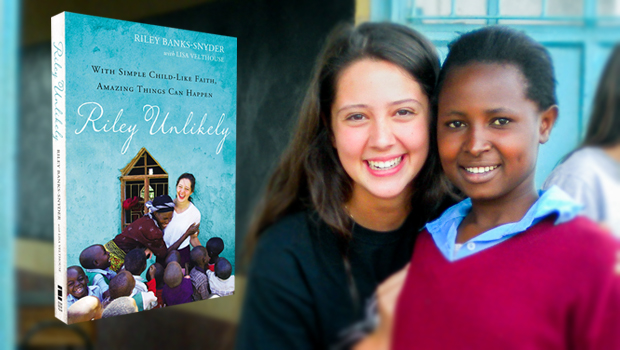 ---
Telling stories is the best way I know to motivate and inspire young people.
That's why our book is full of stories.
Because it's one thing to tell you to do hard things and rebel against low expectations…
It's another to SHOW you what that can look like.
It's one thing to promise you that adventures await those who step outside their comfort zones…
It's another to PROVE it with real life examples.
That's why I love the story of Riley Banks.
She's the shy girl who went to visit Kenya at 13-years-old and repeatedly felt in over her head.
In fact, Riley even fainted while trying to help care for babies at a Kenyan hospital (see picture below). Not a great way to start your missionary career!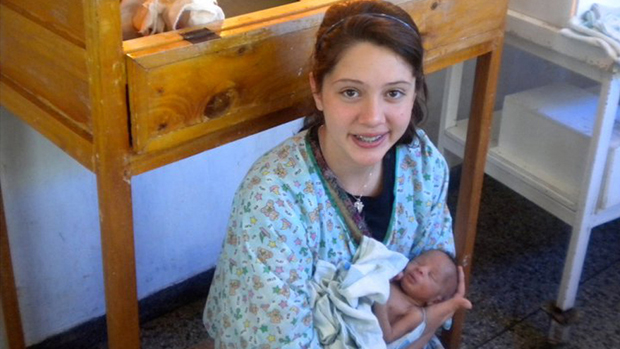 But rather than letting herself give up and crawl back to Branson, Missouri to live a normal teenage life, Riley decided to go back to Kenya the following year…
And the year after that…
And the year after that…
And the year after that…
Seven years later, Riley runs her own non-profit organization, operates a school in Kibwezi, and oversees a thrift shop and food pantry in Branson to fund operations.
In the near future she'll be opening a five-acre community center in Kenya with a feeding program for kids and a training facility for single mothers to learn a trade and provide for their families.
She is changing lives… And it has changed her life.
Here's how Riley puts it:
"God doesn't call the bravest, the strongest, or the smartest, but when He calls and we respond with simple child-like faith, amazing things can happen."
Isn't that inspiring?
That's why when I first stumbled across Riley's story back in 2014 I contacted her and asked if I could help share her story with the world.
Because young people need to see exactly what it looks like to discover your passion and start pursuing it — despite low expectations and massive obstacles along the way.
Well, Riley said yes… So I became her "agent" and we were able to land her a book contract with Zondervan Publishers.
Now, almost two years later, the book is finally out.
It's called Riley Unlikely.
(Here's an early review that's come in…)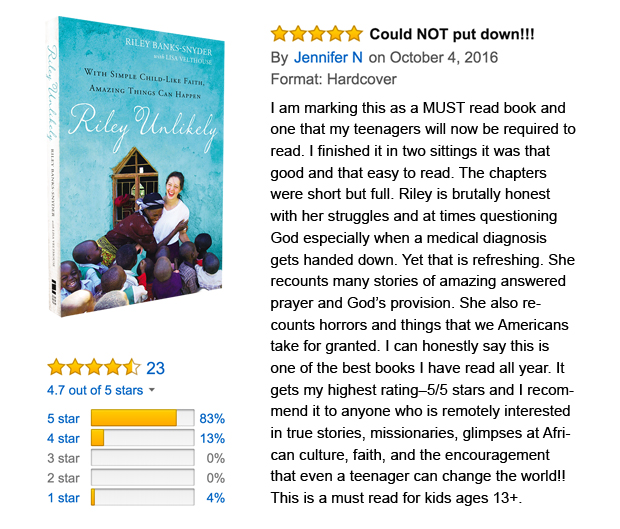 I would love for every teenager in the world to read this book. I think it could change your life.
But I'm also realistic.
I know you're busy.
I know you're probably not looking for another book to read.
And I know without some special incentive you'll be tempted to just add Riley's book to the long list of books you plan to read "someday" — which often means "never."
So last week I called Riley with an idea.
"What if we put together a bunch of cool resources and give them away to everyone who buys your book before the end of October?"
She thought that was an awesome idea, so we got to work.
Here's what we've put together:
– Video tours of Riley's school and community center in Kenya
– My interview with Riley for Do Hard Things University
– An extra chapter called "The Story Continues" (includes Riley getting married)
– A PDF version of the book so you can start reading immediately
– A live online hangout with Riley and me (Limited Spaces)
Basically, you get all this as a gift when you order Riley's book before the end of October.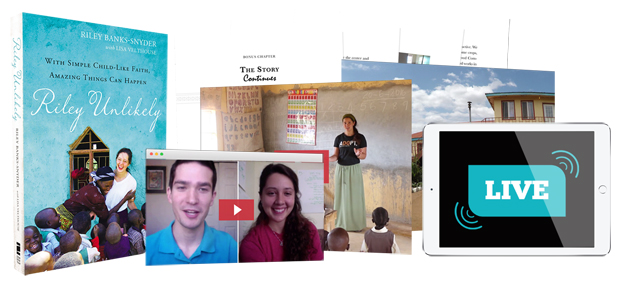 Here's how it works:
1. You purchase Riley's book from anywhere you like.
2. You email your receipt to [email protected]
3. I send you a link to access your bonus gifts.
4. You revel in your abundant riches. 😉
Click here for all the instructions and more details about the bonus gifts.
Closing Thought: This Is Up To Us
I'd love to see us rally behind Riley's book and help make it a success. She doesn't have a big organization or her own online platform. She has us.
Together we can show the book industry that inspiring stories of young people rebelling against low expectations are worth publishing.
Click here to order Riley's book and claim your bonus gifts.
---