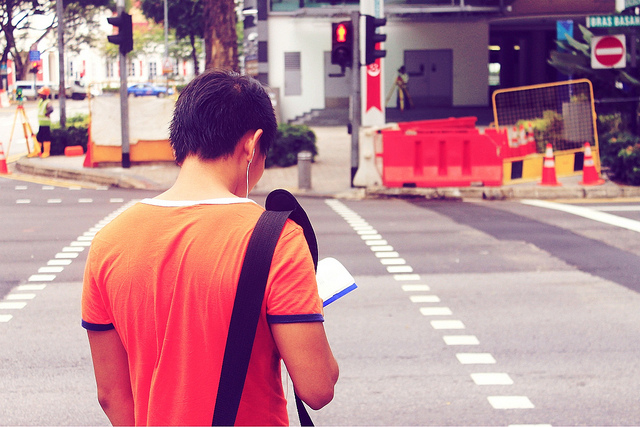 At 21-years-old, I quit my job.
My dream was to work in ministry. Almost zero pay? No big deal. A non-existent teen group? I promised myself I would turn it around.
After making that crazy decision 8 months ago, I don't regret it. What I didn't expect was how hard it would be. And every time there is self-doubt, confusion, lack of clarity – I turn to the life of Moses.
When Moses' Faithfulness Was Boring
If anyone had everything going for him, it was Moses. He went from the son of a Hebrew slave to a prince of the most powerful nation on earth.
But that was the past.
Now he just trudged through deserts. Leading helpless sheep that were not even his. Nothing like working for your father-in-law in backwater Midian.
It makes you wonder how many times Moses stopped to think about:
Where his life was going
Why God had him here in the middle of nowhere
What God was planning for his people still stuck in slavery back in Egypt
How all this fit together.
Yet Moses continued to work. And that is when God came for Moses.
Moses Keeps the Flock
When God calls Moses in Exodus 3:1-2, the verses seem to state the obvious.
Now Moses was keeping the flock of his father-in-law, Jethro…
Of course, Moses is keeping sheep. That's what he does. What we don't realize is the amount of time that has passed.
40 years.
Moses fled from Egypt to Midian at 40 years of age. He has been running around with sheep for another 40. When God comes to Moses for the monumental task of liberating the Hebrews, Moses is at the ripe age of 80.
Why the wait?
How God Trained a Leader
Over those 40 years, God had been training His man. Lead thousands of sheep through the Sinai wilderness for 40 years? Then you're ready to lead 1.5 million people through the exact same wilderness.
It would have been so easy for Moses to neglect the training. He could have said:
"Forget this. It's time to retire from leading sheep."
"Why God did you dump me here in the middle of nowhere with no future and no direction? I'm out."
"I don't know what God is doing, but I'm done running around the woods. I'm going to get those Hebrews out of Egypt right now."
But that is not what Moses does.
When God finds Moses after 40 years, he is not in a tent resting. He is not trying to come up with a crazy plan. He is taking care of what God had given him – even in the face of an uncertain and confusing future.
God used shepherding to train Moses for leadership
God used the wilderness to prepare Moses for hardship and challenges
God used the lonely barrenness to ready Moses for the alienation he would feel
After 40 years, what God finds is a prepared – and faithful – leader.
Choosing Faithfulness
I'll be brutally honest with you.
Reading how God waited 40 years before calling Moses makes me uneasy. It took forty years to train Moses? Like a four and a zero? Why so long? Couldn't God have sent Moses through a 6-week leadership crash course on "How to Lead 1.5 Million Stubborn People"?
Instead, God draws us deep into the wilderness to train us in faithfulness. To experience an intimate relationship with Him.
The question I have to ask myself is this: "Am I in the tents wishing for a better future or creating a better plan? Or am in the woods being faithful with what God has given me?"
Living Faithfulness
Choosing faithfulness is easy.
But choosing faithfulness every. Single. Morning. Now that is hard.
Despite being in ministry for less than a year, that is often how it feels. I want quick results and rapid growth. Then I look at the reality of the situation – no momentum. No growth. No clear direction forward.
That is exactly what Moses faced. Yet he made the decision to take care of the flock. To be faithful with what God had given him every. Single. Day. For 40 years. Now that is real faithfulness.
When I remember Moses' life, training in the wilderness becomes a lot easier. Because when He calls me to the next task, I want to be found in the wilderness faithfully tending the sheep.
Trained and ready.
---
Photo courtesy of Melran and Flickr Creative Commons.