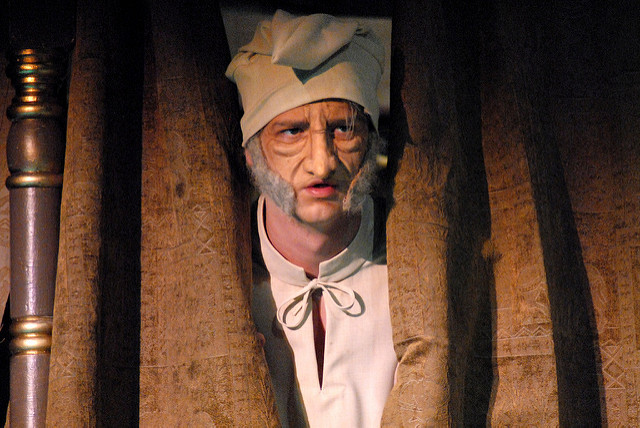 ---
"Scrooge was dead: to begin with."
Wait – Ebenezer Scrooge doesn't perish in A Christmas Carol, though his harrowing encounters with three supernatural specters likely scared him to death. His partner, Jacob Marley, was the one that croaked.
"Old Marley was dead as a door-nail."
Scrooge wasn't fazed by the passing of his colleague, though; no, this miser had business to tend to at his counting house. And Christmas? According to Scrooge, Christmas is for "idiots" who should be boiled in pudding and buried with holly through the heart. What a grim outlook on life.
Scrooge had the countenance of a dead man, the temperament of a corpse. He had no time and no regard for others. And yet this greedy, callous, skinflint wasn't beyond the reach of redemption. The good Lord looked down from on high and decided to intervene in the life of Ebenezer Scrooge. His was a journey that would lead him to the grave and back. Scrooge wasn't dead, to begin with – but he undoubtedly wondered if the fate of Marley would be his own before Christmas Eve was over.
A Christmas Carol, written by English novelist Charles Dickens in 1843, illustrates the coming together of a broken man, the restoration of a shattered life. What's in a name like Ebenezer Scrooge? Much, it seems.
A Curmudgeonly Character
What's in a name? Scrooge reeks of dastardly connotations. People who refuse to open their wallets or purses are regarded as Scrooge-like. They are cheapskates, skinflints, stiffs, tightwads.
Ebenezer Scrooge, however, is a man who transcends the simplistic definition of a cheapskate; he is a miser in emotion and spirit too. He keeps his clerk Bob Cratchit at arm's length and underpaid; he dismisses the glad tidings of his nephew Fred with a grumpy "Humbug!"; and Scrooge grimaces at the mere thought of charity towards others. Goodwill is met only with "Good riddance!"
Dickens describes Scrooge like this:
"Oh! But he was a tight-fisted hand at the grindstone, Scrooge! a squeezing, wrenching, grasping, scraping, clutching, covetous, old sinner! Hard and sharp as flint, from which no steel had ever struck out generous fire; secret, and self-contained, and solitary as an oyster. He carried his own low temperature always about with him; he iced his office in the dog-days; and didn't thaw it one degree at Christmas."
Since its 1843 publication, A Christmas Carol has continued to retain its potency as a robust moral tale. Furthermore, the book has been adapted in numerous ways, including theater, film, television, opera, ballet, and radio. Though some of the actors who have portrayed Scrooge are arguably better than others, I've yet to see someone who hasn't captured the intensity of this miser well.
Take George C. Scott. This is the guy who portrayed George S. Patton, a senior officer of the United States Army in World War Two. A few select scenes of the 1970 film Patton provide a glimpse into the raging intensity of Scott channeling the decorated war hero. Mr. Scott toned the anger down as Scrooge in the 1984 film adaptation of A Christmas Carol, but the raucous demeanor still emanated from his icy countenance.
Scott isn't the only actor to don Ebenezer's hat, though. Patrick Stewart took a turn, as did Michael Caine (with the help of a few Muppets), Alastair Sim, Albert Finney, Mister Magoo, Yosemite Sam, and, to no one's surprise, Walt Disney's Scrooge McDuck in Mickey's Christmas Carol (1983).
They all bring a unique flair to the role, but the miserly mannerisms of Ebenezer Scrooge shine through to the viewing audience every time. Scrooge is a man who's regularly defined by the connotations of his last name.
But what of his first name? Ebenezer. The Scriptures, oddly enough, provide some powerful clues about this man Ebenezer and the journey that he embarked upon, a journey of finding something, anything.
The Lord Has Helped Us
Scrooge reeks of despair; Ebenezer, however, points to hope. The Scriptures reference this word three times, and the last instance occurs in 1 Samuel 7:12. "Then Samuel took a stone and set it up between Mizpah and Shen. He named it Ebenezer, saying, 'Thus far the Lord has helped us.'"
The prophet Samuel is acknowledging the aid of a great and grand God to the people of Israel. As for Scrooge, the idea of God is likely the furthest thought from his mind. But I sense that his encounters with the three spirits hint at a supernatural awakening in his soul. The past, present, and future are going to liberate him from great bondage, from shackles that weighed him down for far too long and exacted a heavy, unforgiving toll on his life.
After conversing with Marley's ghost and hearing that his destiny will likely be that of his partner, Scrooge, once again, dismisses the winds of change swirling around him. Consider the foreboding words of Marley though.
"At this time of the rolling year, I suffer most. Why did I walk through crowds of fellow-beings with my eyes turned down, and never raise them to that blessed Star which led the Wise Men to a poor abode! Were there no poor homes to which its light would have conducted me!"
My Chains Are Gone. I've Been Set Free.
"Amazing Grace" is an amazing song. I've heard many renditions over the years, but I continue to be struck by Chris Tomlin's reworking of this timeless anthem to the Lord's universe shaking kindness and love. Tomlin's iteration of "Amazing Grace" includes the language of chains being loosed for good. "My chains are gone. I've been set free."
This is the tale of Ebenezer Scrooge as he walks with the spirits through past, present, and future events. Ever so slowly, the chains are released. Like Saul, the scales slowly fell from his eyes as he started to see the world anew (see Acts 9).
Scrooge didn't see the chains he was forging as a miscreant businessman and human being, but Jacob Marley made sure that the miser would receive a glimpse of his impending shackles upon his death. Incidentally, the entire story turns on the entry of Marley's ghost; he implored Scrooge to heed his warning and have the courage to right his sinking ship.
Accordingly, Scrooge reluctantly stepped into revelation by way of three ghosts, ghosts that imparted truths Scrooge wasn't willing to fully acknowledge without a bit of tough love.
A Journey Through Time
The dialogue in the exchange with the spirits highlights the unfolding reclamation of Ebenezer Scrooge. The first spirit spoke of his welfare; the second, revelation; and the third, avoiding tribulation. Scrooge had this to say about the Ghost of Christmas Present upon meeting with him for the first time. "I went forth last night on compulsion, and I learnt a lesson which is working now. To-night, if you have aught to teach me, let me profit by it."
Reconciliation was unfolding in the midnight hours.
St. Paul, as it turns out, has a story not that dissimilar to Ebenezer Scrooge. As Scrooge was consumed with his money, so Saul was consumed with the Law – and persecuting those who would follow this man named Jesus who died but rose from the dead three days later. The book of Acts unpacks this remarkable transformation. Consider verse 3 of chapter 8: "Saul began to destroy the church. Going from house to house, he dragged off both men and women and put them in prison."
Saul was oblivious to the prison that ensnared him, a prison without walls and bars.
On a journey to Damascus, however, the prison would crumble as Saul had an encounter with Jesus. He was blinded by a light and subsequently became blind, but after receiving a prayer from Ananias, his sight was restored. The Scriptures indicate that Saul preached "at once" that Jesus is the Son of God.
Saul became Paul. What's in a name? Much, it seems.
Saul crossed over from death to life. Scrooge took this path too as the final spirit showed him events that were going to commence if Scrooge made no efforts to change his crooked ways. But the miser had his eyes opened too. He became a changed man. Scrooge describes this new outlook as he tightly clutched the robe of the Ghost of Christmas Future. "I am not the man I was. I will honour Christmas in my heart, and try to keep it all the year. I will live in the Past, the Present, and the Future."
Waking in his own room, Scrooge was "fluttered and glowing with good intentions." Like the green and ghastly Grinch out of the Dr. Seuss story, Scrooge didn't stop Christmas from coming – it came all the same. A new morning and a new life were waiting outside his bedroom windows, waiting to be clutched, held tight to his bosom, and fully realized. Scrooge's new lease on life brings to mind the words of Paul in the book of Philippians as he likely was reflecting on his former life.
"But whatever were gains to me I now consider loss for the sake of Christ. I consider them garbage, that I may gain Christ and be found in him, not having a righteousness that comes from the law, but that which is through faith in Christ – the righteousness that comes from God on the basis of faith" (3:7-9).
Here I Raise My Ebenezer
Scrooge decided that he would not gain the world and forfeit his soul (Matthew 16:26) to an eternity of misery and shackles and absence from the Almighty. What is this if not hell? Scrooge had journeyed there as he looked over his life, but he emerged on the other side as a restored man.
A Christmas Carol is a tale of redemption, reconciliation, and reclamation. Though Scrooge was once a fitting name to summarize this blind miser, he would now be known to all by his first name: Ebenezer.
The Lord has helped us.
The Lord has helped me.
This is the commemoration of divine assistance, supernatural intervention.
Dickens describes the events that follow on that divine Christmas morn.
"Scrooge was better than his word. He did it all, and infinitely more. He became as good a friend, as good a master, and as good a man, as the good old city knew, or any other good old city, town, or borough, in the good old world. He knew how to keep Christmas well, if any man alive possessed the knowledge."
May it be so with us.
God bless us, then, everyone.
---
Share Your Thoughts in the Comment Section!

There are currently __ Comment(s)
---
Photo courtesy of Mraz Center for the Performing Arts and Flickr Creative Commons.
---